Politicians who ask not to politicize tragedies, are often the ones politicizing tragedies to benefit themselves. Just look at the consequences of 9/11 and American Imperialism.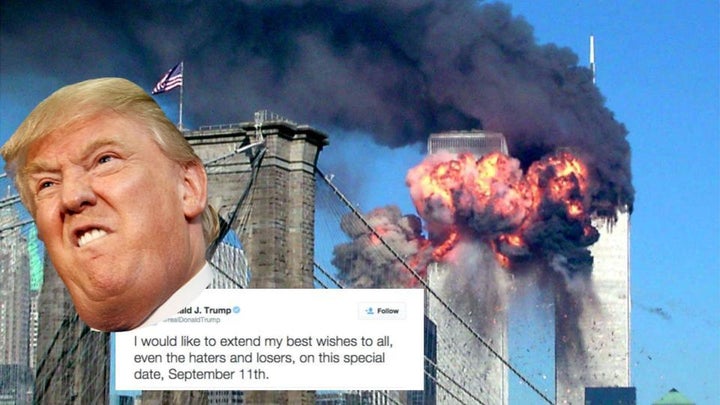 On this day, September 11th, while we remember one of the US's greatest tragedies, it's important to note the silver lining:
Close to 3000 Americans died on 911 but on the bright side at least Trump's Tower on 40 Wall Street became the tallest in Manhattan once again. Even though it was built after the WTC.
Ladies and gentlemen, our 45th president.
By the way, please spare me your "I can't believe you're politicizing this catastrophic event" bulls**t because Trump is not alone in his distasteful approach — more "acceptable" figures in both parties have been using 9/11 to accrue political brownie points for 16 years.
But look, here's Trump lying about it to garner support around hating Muslims:
When the WTC came tumbling down, and I watched in Jersey City, NJ - where thousands and thousands of people were cheering as that building was coming down. ― President Donald Trump
But enough about Trump's rude behavior; let's talk about the aftermath of 9/11 and how the U.S. exploited this tragedy to, among other things, increase discretionary military spending by 50 percent as our spending on social programs designed to benefit average Americans only increased by a comparatively measly 13 percent.
It's almost like Eisenhower saw the future when he considered the negative consequences of lobbying and the economic interests of the Military Industrial Complex as the largest threat facing our nation.
Even prior to 9/11, the United States had been the dominant global military power, outstripping the rest of the world in defense spending many times over.
But skyrocketing military spending represents just one of the major shifts we've witnessed since 9/11. For many in my generation and younger, the US has been at war for our entire lives. And the single event that kicked the US's already imperialism-driven foreign policy into overdrive was 9/11.
9/11 was the justification used to invade Afghanistan and Iraq, continuing a longstanding policy of international destabilization as we invaded with boots on the ground, decapitated region leaders, and still consistently perform precision strikes in countries that had even less to do with 9/11 than Afghanistan.
While constant war has been fairly profitable for the ballooning military industrial complex, the death toll numbers are in the millions. By 9/11/2015, these wars in the Middle East had taken the lives of 5,000 American soldiers and cost 1,160,521 their lives in Iraq, Afghanistan, Syria, Yemen, and Libya.
Aside from the human toll, the War in Afghanistan alone has cost US taxpayers trillions of dollars, with essentially zero benefit to the people of Afghanistan we're ostensibly trying to help.
Aside from the human toll, the War in Afghanistan alone has cost US taxpayers trillions of dollars, with essentially zero benefit to the people of Afghanistan we're ostensibly trying to help.
And what about Iraq? At this point literally not a single sane American thinks Iraq is better off now that Saddam is gone - not to mention that his ouster led directly to the creation of ISIS, which the US partially funded.
Libya is now a failed state, and a big part of the reason why "Hillary 'Warhawk' Clinton" lost the election to an orange white supremacist sympathizer.
And Yemen, after being senselessly pulverized by US drones for a decade, now faces a humanitarian crisis nearly the size of the Syrian war since that's what we desperately needed in the Middle East, another proxy war with Iran, Saudi Arabia, the US and Russia. We needed that as much as we need another Transformers movie, and both catastrophes will undoubtably happen.
Since September 12, 2001, Christian terrorists have been responsible for 73 percent of the extremist incidents that have taken place on US soil.
And instead of looking at the consequences of these disastrous failed wars, we increase military presence in Afghanistan and give Eric Prince, a war criminal with very close ties to the Trump administration, a platform to decry that the privatization of the military is a viable economic solution to our continued colonization of the middle east. Eric Prince's of any other nation would be in jail, in the US - he goes on CNN to promote Blackwater, and writes "New York Times" op-eds about the benefits of using his mercenaries.
So on this day, remember all the lives that were lost. Also remember how our leaders exploited those deaths for political ends ― with disastrous results across the globe. And never forget the way those same politicians treated first responders who died prematurely or are still suffering from debilitating illnesses in the aftermath of their heroic work at Ground Zero ― it only took Congress 14 years to pass a reauthorization bill to take care of all the people who worked in the rubble. All while spending trillions of dollars destroying other countries overseas.
Let this day be a reminder that we don't like spending money on healing our nation, but for a tidy profit ― we like wasting money on destroying ours and others.
REAL LIFE. REAL NEWS. REAL VOICES.
Help us tell more of the stories that matter from voices that too often remain unheard.