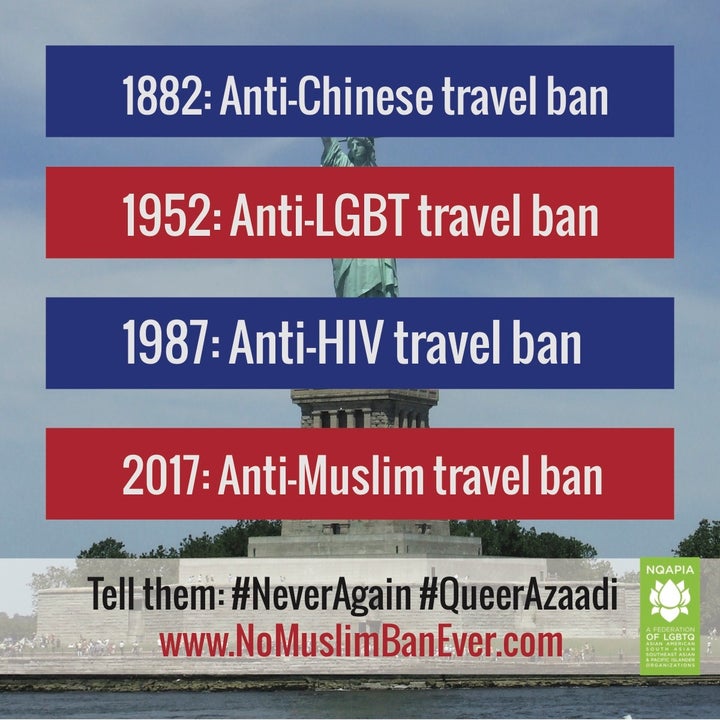 In 1952, there was an anti-LGBT travel ban. For 38 years, Congress voted and the Supreme Court held that LGBT people had "psychopathic personality" who were barred from traveling to the United States.
In 1987, there was an anti-HIV travel ban. For 23 years, Presidents Reagan and Bush issued Executive Orders barring people with AIDS or who were HIV+ from entering the United States.
Back in 1882, there was an anti-Chinese travel ban. The Chinese Exclusion Act was the first piece of federal legislation that singled out a minority group for invidious discrimination and barred their entry.
In 2017, Trump ordered 3 anti-Muslim Travel bans. Last week, Trump revised his anti-Muslim travel ban by changing a few of the named countries. It was a thinly veiled attempt to show courts – which have consistently struck down his prior travel bans – that they weren't really anti-Muslim. Just mostly anti-Muslim.
And, for the time being, his strategy worked. The U.S. Supreme Court scheduled oral arguments in two lawsuits challenging his travel ban on October 10. But the Court abruptly and surprisingly canceled the hearing and then dismissed the case as moot. We're back to square one.
Trump's anti-Muslim Travel Ban v. 3.0 bars people from six (6) majority Muslim countries –Chad, Iran, Libya, Somalia, Syria, Yemen – and North Korea and Venezuela from coming to the United States and delays all refugee entries. (Disturbingly, a number of other Muslim countries which have a Trump Tower were not included, such as Saudi Arabia, Turkey, the United Arab Emirates, Egypt and Indonesia.)
We'll fight Trump's new travel ban too. The National Queer Asian Pacific Islander Alliance has been leading a national campaign in the LGBT community protesting the ban in court, building awareness, and lifting up the stories of LGBT Muslims in America.
On the day after Trump's first travel ban was announced, on January 27, chaos broke out in airports across the nation with travelers being stopped, detained, and turned back. NQAPIA received several urgent complaints and provided legal assistance to LGBT Muslims and allies at airports who were caught up in Trump's ban. We organized LGBT Asians and South Asians to join massive protests at Los Angeles LAX, Chicago O'Hare ORD, and New York JKF airports.
We filed an amicus ("friend of the court") brief in court along with NYC Gay & Lesbian Anti-Violence Project and Immigration Equality, with the pro bono assistance of Skadden Arps Slate Meagher & Flom LLP, to show how Trump's ban have a direct impact on the lives of LGBT people and tears our families apart. Multiple lower courts have ruled against Trump and suspended the travel ban.
Our brief shows that homosexuality is criminalized in the counties subject to the ban. Many LGBT people in those countries are fleeing oppression due to their sexual orientation or gender identity. But, Trump's travel ban prevents them from reaching safety and from escaping persecution and life-threatening conditions in their home countries or in refugee camps abroad.
LGBT U.S. citizens and lawful permanent residents (LPRs) who have partners and LGBT family members abroad who are seeking refuge in the United States are also affected. Trump's travel ban threatens the lives of immigrants and refugees from all walks of life.
LGBT Muslims and South Asians have endured an unconscionable amount of violence, harassment, and profiling since 9/11. Last year, on the 15th anniversary of 9/11, we shut down a street in Washington DC's gayborhood to raise awareness to this state sanctioned violence. This year, on the weekend of the 16th anniversary of 9/11, we organized local actions in seven (7) cities –Austin, Boston, Chicago, Los Angeles, New Orleans, Philadelphia, and Washington, DC – called "#QueerAzaadi" which translated means "Queer Freedom." We held:
community funerals to lift the names of Muslims and those perceived to be Muslim, people of transgender experience, women, African Americans, and undocumented immigrants killed in hate crimes this year;
storytelling speak-outs of LGBTQ Muslims and experiences of violence over the last 16 years; and
mock checkpoints targeting white people to replicate the profiling that South Asians, Muslims, and people of color experience at airports and in government buildings.
300 people participated in the actions that unveiled the interlocking systems of Islamophobia, transphobia, xenophobia and anti-blackness.
Sasha W., NQAPIA Organizing Director, said "The Muslim bans are not about preventing terrorism - if they were, they would ban white men from acquiring guns. They do not keep us safe. As we see again and again, most recently in Charlottesville and Vegas, U.S. terror most frequently comes in the form of white men with unbridled access to guns and histories of toxic masculinity, white supremacy and wealth."
"As LGBTQ API communities, safety means eradicating borders for ALL of our families - given, chosen, and imagined. We will continue fight Trump's Muslim Bans, anti-Trans bills, and all policies that criminalize our communities by building up our own power, strategy and resilience." Sasha continued.
There are countless personal stories of LGBT Muslims and South Asian with harmful experiences of policing and profiling.
These experiences are not simply because we are Muslim or brown-skinned, they are compounded by our sexual orientation and gender presentation. At NQAPIA, we assert the intersectioanlity of all of our identities.
Trump's anti-Muslim travel ban has a direct impact on the LGBT community. We've seen this before. We must never forget the travel bans that afflicted on our own community. Let's never again have another travel ban against another community. No one is free until we are all free.
The writer, Glenn D. Magpantay, is a lawyer and Executive Director of the National Queer Asian Pacific Islander Alliance. NQAPIA is a nationwide federation of LGBT Asian American, South Asian, Southeast Asian, and Pacific Islander organizations. Contact Glenn at glenn_magpantay@nqapia.org
Related
Popular in the Community