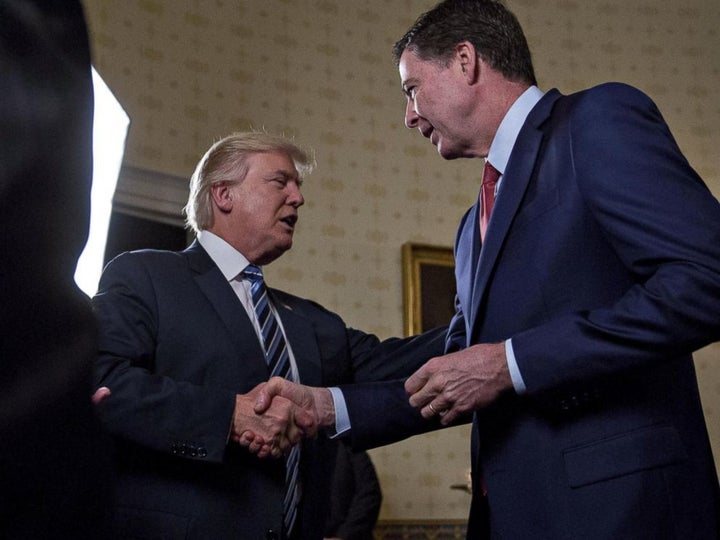 Trump is bold. I'll give him that.
This decision was met with almost universal disdain because Comey was actively investigating 45's campaign's possible link to the Russian Government. Then, in a move emboldened by living over 60 years in the body of a mediocre white man, Trump had the audacity to meet with Russian Governmental officials the day after he fired the FBI director.
Anyway, it appears that Trump lied. Or, at least, Comey said as much when testifying before the Senate Intelligence Committee yesterday.
But we already knew that the president was shady. Hell, white folks knew he was sexually assaulting white women and still voted for him, so I wasn't shocked by anything I heard yesterday… but I'm confused.
Look, I understand that we all like to feign outrage at every little thing that happens at the White House these days. And yeah, Comey was dropping some bombshells yesterday… but when did black folks fall in love with the FBI? Why are ya'll out here talking about Comey like he just earned an invitation to the good cookout—not the one with hotdogs, the one with chicken?
You get a book deal, a speaking tour in Wisconsin and an endless supply of craft beer (IPA, I presume) when Trump hands you a pink slip.
Let's not forget that Comey is partially responsible for getting us in this mess to begin with. If he had not reopened the investigation into Hillary's emails days before the election, we would all be living in a very different country. The Falcons would have won the Super Bowl; Kaepernick would have a job; Caine would still be alive; and the Cavs would be winning in the NBA Finals. But no, we are not in that world because Comey decided to sabotage the election.
Further, this dude is gon' be alright. Getting fired by 45 is like hitting the liberal white people lottery. You get a book deal, a speaking tour in Wisconsin and an endless supply of craft beer (IPA, I presume) when Trump hands you a pink slip. I'm not going to treat this guy like he is a martyr or the second coming of John Brown just because he told the truth at a Senate hearing.
Finally, and I cannot express this enough, this dude was (and for the most part still is) the Feds. In fact, he is the Fed-iest of Feds. Given the history of J. Edgar Hoover's anti-blackness, the paucity of black folks in the FBI, and COINTELPRO's harassment of Martin Luther King, Jr., Malcolm X, and The Black Panthers, I find it difficult to muster a single ounce of solidarity in response to anything Comey has to say. What we have is a clear case of one white dude telling the truth about an evil white dude all while maintaining a system that subjugates black and brown people.
Comey did a good job, but he ain't earned any cookies.
Calling all HuffPost superfans!
Sign up for membership to become a founding member and help shape HuffPost's next chapter
BEFORE YOU GO