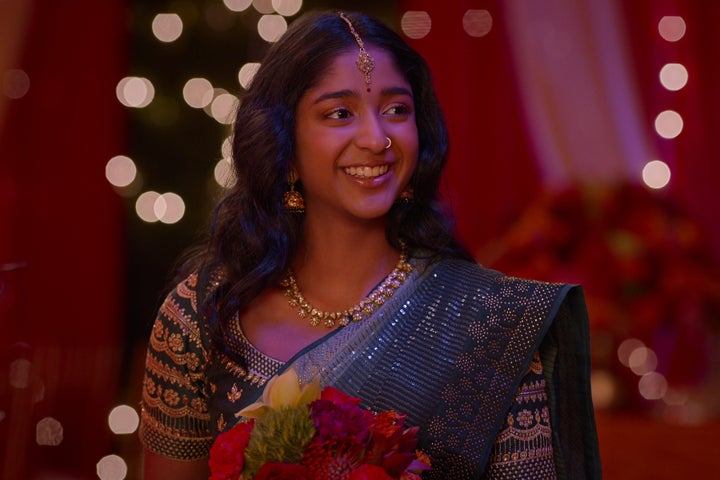 This article contains spoilers for the final season of "Never Have I Ever."
"Never Have I Ever," the series created by Mindy Kaling and Lang Fisher, is now streaming its final season on Netflix. Those 10 episodes prove that the show was never really about which boy Devi Vishwakumar (Maitreyi Ramakrishnan) is dating. In the fourth season, the love triangle between Devi, Ben Gross (Jaren Lewison), and Paxton Hall-Yoshida (Darren Barnet) dissolves into a single line pointing in one very clear direction: Ben.
(TV and film writers, including those who worked on "Never Have I Ever," are currently on strike over pay and working conditions.)
To understand how the show pulls off the perfect slow fade of the teen love-triangle trope, it's necessary to go back to the beginning. The pilot episode opens with Devi praying to the Hindu gods before the first day of her sophomore year. She desperately wants to be normal and asks for three things typical of a 15-year-old: to be invited to a party (with alcohol), to look different (thinner arm hair), and, most importantly, to get a boyfriend (but not a nerd from one her AP classes; she wants a guy who plays sports and can "rock her all night long").
When she's praying, Devi's grief is fresh. Her dad died in the spring after having a heart attack during her orchestra concert. In Season 1, to cope with the trauma of losing the parent to whom she was closest, Devi focuses on a very unlikely but possibly attainable goal — to have sex with Paxton. He's the most popular guy in school, and pursuing him becomes the distraction Devi needs.
"I'm gonna have sex with Paxton" is also the only thing she writes in the grief journal that her therapist, Dr. Ryan (Niecy Nash), gives her to process her pain.
I understand Devi's obsession with Paxton during the first season because I understand her grief. My mom — the parent who understood me best — died a year and a half before "Never Have I Ever" first aired. When she died, I had just turned 27, and even though I wasn't a teenager anymore and even though I'd just had my first baby, I still felt young, and my grief was still raw. I related to Devi.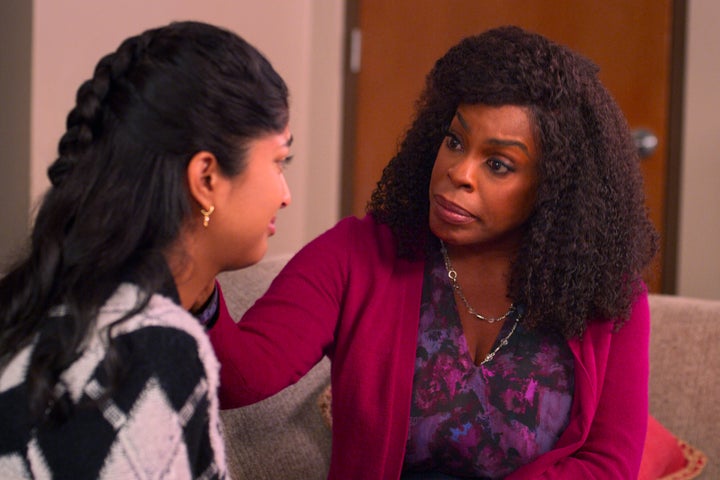 The possibility of dating Paxton connects Devi to a world that no longer makes sense and helps her move through days that are filled with painful reminders of what she's lost (her dad's weed-filled vegetable garden, her mom's unsympathetic words, her un-played harp). As someone also in the thick of grieving, I understand Devi wanting Paxton more than anything because he lets her forget that her dad is gone forever, that everything is different.
And, in that first season, Devi really wants Paxton more than anything. At least, until the final episode when she also surprises herself because she really wants Ben. In that season's final scene, Devi, just minutes after scattering her dad's ashes, is making out with Ben in his car while Paxton is calling her on the phone. Suddenly, but not unexpectedly, a teen love triangle is born.
This love triangle emerges as Devi's grief enters a new stage. She says goodbye to her dad when she scatters his ashes in the Pacific Ocean with her mom (Poorna Jagannathan) and cousin Kamala (Richa Moorjani). After, she must accept that her dad is gone and navigate the unexpected and frequent pangs of grief that happen when she misses his voice, his advice, his jokes.
This is why the love triangle with Ben and Paxton is the strongest during the second season. Both guys add levity and a much-needed dose of normalcy to her life at a time when she is still in so much pain.
It's also why I sympathize with the cluster Devi gets herself into when she thinks she's moving to India and decides that the only logical decision is to date both Paxton and Ben until she flees the country. Of course, having two boyfriends backfires, hurts both guys and manages to end Paxton's swimming career when he runs away from Devi's house and is "yeeted by a Chevy Volt." The rest of the season, Devi tries to repair the damage she's done and win back Paxton, which she does successfully.
But, as Dr. Ryan warns her in the pilot, "having just any boyfriend, no matter who he is, is not going to make you happier or change who you are." During the third season, Devi reckons with what happens after you get the most popular guy in school but don't have enough confidence in yourself to trust the relationship, and you still miss your dad.
Just three episodes into the season, after a round of self-destructive paintball, Paxton breaks up with Devi. He tells her that they can't have a real relationship until she likes herself. As time passes and Paxton moves on, it becomes clear that they aren't getting back together any time soon, and the show's love triangle trope becomes unsustainable. Most of that season focuses on Devi dating a new character, Des (Anirudh Pisharody), but there's no direct competition. Ben is jealous, but the heat between Devi and Paxton seems to be fading.
This is clearest in the final episode of that season when Paxton is speaking at his graduation and credits Devi with pushing him and helping him get into college. When Paxton is talking about her to the whole school — something that she had dreamed about for years — she doesn't feel any butterflies. Then, after the ceremony, Devi cements the beginning of her friendship with Paxton when she thanks him for helping her get through the death of her dad, and there are still no butterflies.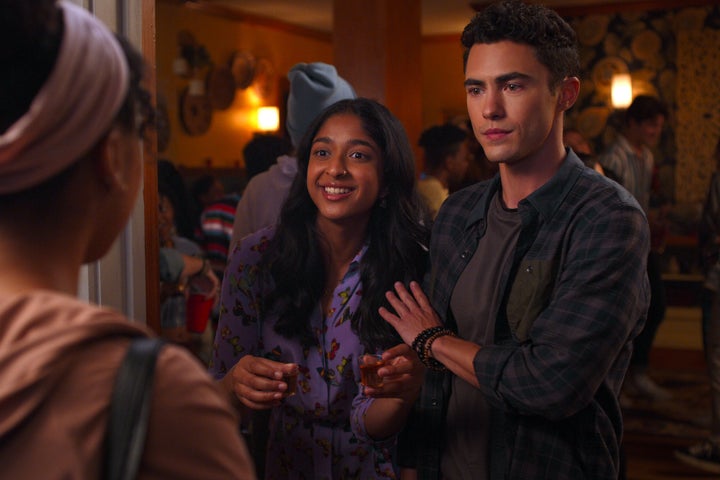 Devi doesn't feel them until she sees Ben, and later that night, they have sex. But, contrary to what 15-year-old Devi thought, losing your virginity doesn't solve all your problems. In Devi's case, it creates more.
The fourth season picks up after Devi and Ben's awkward sexual encounter and the typical misunderstandings that ensue when you're not sure if someone else likes you, especially in high school. However, despite the drama that unfolds when Ben begins dating Margot and Devi experiments with bad boy Ethan (Michael Cimino), it is obvious that Devi and Ben still like each other a lot.
It's also obvious that Devi and Paxton are now purely platonic. They share only one spark-filled moment all season, which happens when they are locked in the equipment closet together. Given the context, it makes sense. Devi wouldn't be Devi if she hadn't made out with him, but it doesn't change anything between them. It's also a relationship that can't happen because Paxton works at the school after dropping out of college because he felt like he didn't fit in. The reality of Paxton's new job automatically squashes the love triangle possibility for the fourth season.
That's fitting. Unlike many classic and contemporary teen TV shows, "Never Have I Ever" was never supposed to be reduced to its love triangle. Paxton and Ben were never meant to be Dawson and Pacey, or Ben and Noel, or Chuck and Nate, or even Conrad and Jeremiah from "The Summer I Turned Pretty."
The reason is that the show is not about which boy Devi chooses to date. Instead, it's the story of a girl dealing with the death of her dad, and how that changes her relationship with everyone in her life and shapes who she becomes.
The real conflict of the fourth season is if Devi will get into the college of her dreams — Princeton. At first, she is waitlisted, but eventually, after multiple missteps, Devi gets in. She writes a supplemental essay, an essay that begins "A long time ago someone told me to write my college essay about my father, but I didn't want to because it felt exploitative and wrong. However, I don't think there's a way to really know me without knowing about him." She goes on to say that she's learned she can't lose him because he's always with her.
Once again, Devi is entering a new phase in her grief, a phase in which she actually has the self-confidence and emotional bandwidth to be someone's girlfriend. After a season of pining, it makes sense for her to date Ben, especially after he flies across the country and shows up at her grandmother's wedding to tell her that he loves her.
But the show didn't need that moment. The show was never about a love triangle or Ben or Paxton. Instead, it's about Devi navigating the process of grieving and learning how to live with a loss that never goes away.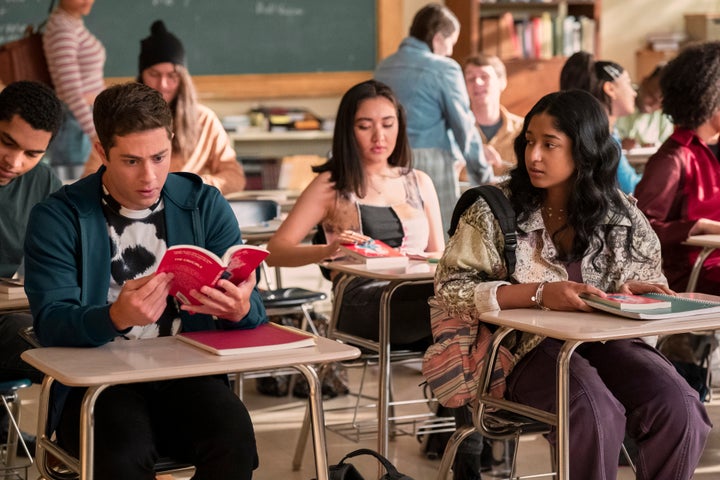 My favorite scene in the finale takes place before Ben even shows up. It's when her mom sends her to her room to pack, and she's freaking out because she doesn't know what to put in her suitcase, and she envisions her dad talking to her. Unlike other scenes in past seasons when seeing him brings her comfort, this time it makes her more upset, and she yells, "You can't help me. You're not even here. You're not even real." Devi knows she needs more emotional support than her old memories, but she still wants her dad.
At that moment, Devi's mom walks in. Together, they pack her suitcase, and Devi opens up to her mom, lets her mom comfort her and tells her mom that she is going to miss her. It's a moment four seasons in the making, a moment that reveals how the Vishwakumar women are finding a way forward, together.
Devi understands that her mom's support is a gift. It's why the next day before she leaves for college, she runs back upstairs to pray to the gods. Instead of asking for things for herself and focusing on what she doesn't have, she thanks them for the "awesome life full of dope people" who care about her and love her.
It's nice that one of those people is Ben, but it's not necessary. Devi would have been fine if he'd never shown up at the wedding. But I will admit I'm still glad they're getting their chance. At least, to borrow the words of narrator John McEnroe, "for now."
Whatever happens, Devi will be OK. She will still be a hothead; she will still miss her dad; she will still make mistakes, and I'm sure more than a few of those mistakes will involve boys. But, as Dr. Ryan tells her, losing her dad taught her that she can overcome any obstacle.
This is why it doesn't matter who Devi's dating. The final season of "Never Have I Ever" is not about which boy she ends up with; it's about where she's going. For now, she's choosing to go to Princeton, "where the princes go."
Support HuffPost
The Stakes Have Never Been Higher
Popular in the Community