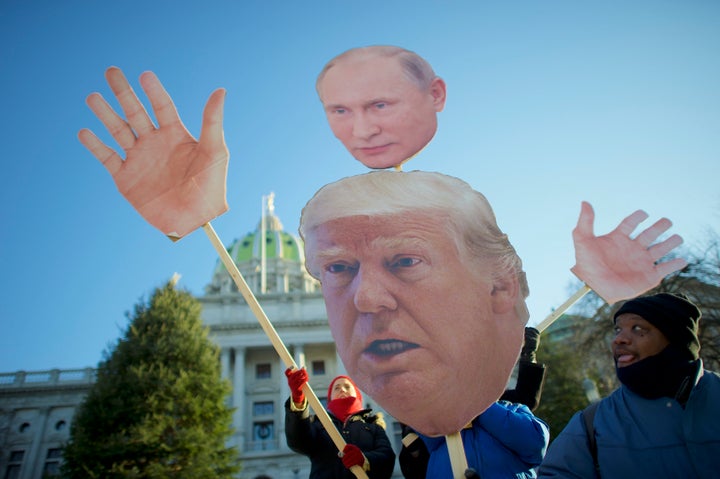 Now that a majority of electors have cast their ballots in favor of Donald Trump, he will have the lawful powers of the presidency, as prescribed in the Constitution and the laws of the United States. Legal authority is not equivalent, however, to political legitimacy, moral authority, or entitlement to civic respect.
Trump's legal authority will give him the power to issue executive orders and repeal existing ones. If he signs bills passed by Congress, those enactments ― however stupid or destructive they may be – will be the law of the land, unless the courts find them unconstitutional. Similarly, Trump will be the Commander in Chief of the armed forces, because the Constitution confers that power on the holder of the office. As a result, as long as Trump's actions are consistent with law, opponents can and should publicize the costs and hazards of those actions, but will lose if they mount legal challenges.
Though Trump has legal legitimacy, he totally lacks political legitimacy. He seized power through a cumulative set of actions that thoroughly undermine the integrity of the election outcome. These illegitimate actions include voter suppression engineered by the Republican Party; highly inappropriate and outrageous interventions in the election by the Director of the FBI; persistent demonizing and intimidation of a free press; and, most egregious, a deliberate attempt (openly encouraged by Trump himself) by a hostile foreign government to influence the election in his favor. Taken together, these actions fatally undercut the political legitimacy of Trump's presidency.
He also lacks the moral authority normally associated with the Presidency. Trump's deficiencies of character undercut any notion that he deserves moral or civic respect. His deep flaws have been on full exhibit before, during, and after the election campaign. These character failures are revealed in his blatant and persistent lies; the scapegoating of vulnerable groups; eight years as a birther; a disgusting history as a sexual predator and racist; and conflicts of financial interest so wide and deep that he will be impeachable on day one of his presidency.
How should Americans treat a president who has bare legal legitimacy but lacks both political legitimacy and moral authority? Some say that all Americans should wait and see how he performs in the job, and that other leaders should work with him where common interests can be found. They argue that, for the good of the country, we should put the election behind us and treat Trump with political and moral respect – that is, that we should strive to normalize his presidency.
We respectfully but emphatically disagree. It would be a grave error to ignore his political illegitimacy and lack of moral authority. Other elected officials, the media, and the citizenry at large have no obligation to afford him the slightest political respect. Rather, the next four years should be a time of resistance and outright obstructionism. Opponents of Trump should be at least as aggressive in challenging the political legitimacy and moral authority of his presidency as Republicans were in disrespecting President Obama, whose political legitimacy and moral authority were beyond reproach.
"In short, Democrats should learn the lesson Republicans have taught them: Don't bring boxing gloves to a knife fight."
What concrete presumptions flow from the political and moral illegitimacy of Trump's presidency? Here are four:
Everything Trump speaks, writes, tweets, or otherwise expresses should be presumed false, unless there is reliable (to the listener) evidence that it is true. He has lied so often and so blatantly, and his followers have so persistently rejected the idea of objective truth, that no responsible citizen should believe a word he says unless it can be independently verified. The press will be acting irresponsibly unless it covers him according to this principle.
Trump should never be presumed to be acting in the best interests of the United States. His actions with respect to his business interests and his family's wealth suggest that his highest loyalties are to those personal concerns, and his loyalty to the nation is completely secondary. His encouragement of the Russian cyberattack on the election is just the most extreme example of his loyalty to himself over loyalty to his country. Every move he makes should therefore be presumed to represent a conflict of interest, unless he can demonstrate that no conflict exists.
The wealthy donors and others he appoints to office should be presumed incompetent and riddled with interest conflicts until proven otherwise. His emphasis on a cult of personal loyalty, insensitivity to conflicts of interest, alliances with bigots, and willingness to appoint people wholly ignorant of, and indeed hostile to, the tasks associated with a particular office, mean that the burden of proof should always be on Trump to demonstrate the competence and honesty of his appointees. Unlike what routinely occurs in a normal presidency, Senators should give absolutely no deference to his choices. Indeed, nominees requiring confirmation should be questioned at length and scrutinized with care, in order to expose their flaws. Confirmation of nominees should be slowed down and blocked in every procedural way possible.
Trump's substantive judgments should be presumed ignorant, and, at times, dangerous. His unwillingness to educate himself about crucial details of national security and domestic policy, or to surround himself with expert and trustworthy advisors, means that every substantive judgment he makes is highly likely to be flawed.
Democratic leaders should take every opportunity to act in accordance with these presumptions. Common inter-branch traditions and norms of civility should be laid aside for the duration of the Trump regime. For example, Senate Democrats should never provide unanimous consent, including to allow Trump's incompetent and financially conflicted nominees to be confirmed prior to January 20. Democrats should force votes at every turn and use the filibuster aggressively, as Republicans did during the Obama years. The goal should be to prevent the smooth flow of Senate action in order to stall Trump's illegitimate agenda as much as possible.
On January 20, Democrats should boycott Trump's inauguration. As befits a lying president, Democrats should be quick to shout "You lie!" when Trump addresses joint sessions, just as Republicans shouted at President Obama. When Trump praises Vladimir Putin or Russia in formal addresses, Democrats should rise and chant "Puppet! Puppet!" In short, Democrats should learn the lesson Republicans have taught them: Don't bring boxing gloves to a knife fight.
At noon on January 20, 2017, we will have a new president. The office of the presidency deserves respect, but the new occupant has relied on illegitimate means to seize power, and he deserves moral contempt. Polling reveals that these concerns are widespread among the electorate. Two thirds of Democrats want to see resistance, and well fewer than half – just 38 percent ―of the entire electorate believe Trump to be minimally qualified for the presidency. Democratic leaders should take notice and act accordingly.
Nancy J. Altman is the founding co-director of Social Security Works. Ira C. Lupu, a constitutional law scholar, is the F. Elwood & Eleanor Davis Professor of Law, Emeritus at George Washington University Law School
Support HuffPost
The Stakes Have Never Been Higher
Popular in the Community