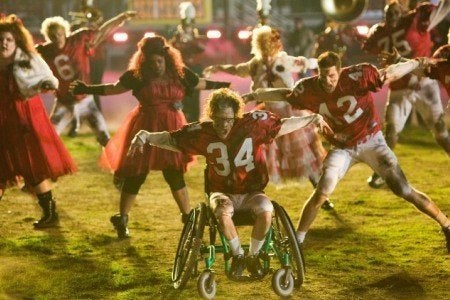 This week's Glee is all about comebacks. Sam (Chord Overstreet) decides to woo Quinn (Dianna Agron) back by forming a Justin Bieber cover band, which is far more successful than you might think. Rachel (Lea Michele) tries to gain popularity, enlisting Brittany (Heather Morris) as a living Barbie doll to sing Rachel's fashion praises, but it backfires and earns Brittany a spot in Teen Vogue. And over at the now-disgraced Cheerios headquarters, Sue (Jane Lynch) finds she has nothing to live for without hopes of a national cheerleading title. Emma's (Jayma Mays) ill-thought-out solution is that Sue should spend a week singing her heart out with the glee club. But would Sue Sylvester sing if she were a member of New Directions? Here's a look back at the music of Glee's "Comeback." — Rachel Stuhler, Hulu
"Baby," Justin Bieber
After trying out his "Justin Bieber Experience" on the road (at a couple of local rowdy bat mitzvahs), Sam decides he's ready to perform for the group. Though the other guys think the teen sensation is a joke, it takes only a few melodic notes before the girls are enthralled and can barely stay in their seats.
"Somebody to Love," Justin Bieber
Worried that their girlfriends have come down from the "Valentine's Day high," Mike Chang (Harry Shum, Jr.) and Artie (Kevin McHale) ask to join Sam's band, and Puck (Mark Salling) shockingly wants in, too — after all, he's run out of new and inventive ways to pursue Lauren (Ashley Fink). The second Bieber in the series is a four-part harmony version of "Somebody to Love."
"Take Me or Leave Me," from the musical Rent
Just because she's pure malice, Sue stirs up a rivalry between new friends Mercedes (Amber Riley) and Rachel. To solve their differences, they do what divas do best - compete for supremacy in a sing-off. Since this is TV and all manner of teen-inappropriate material is available to them, the girls choose "Take Me or Leave Me" from Tony-winning musical Rent. Sue's plan backfires when the duet actually brings the girls back together.
"This Little Light of Mine," gospel children's standard
In an attempt to get Sue to step outside of herself, Mr. Schuester (Matthew Morrison) takes her to a local pediatric cancer ward to sing with the kids. The experience melts even Sue's icy heart and she vows never to forgive Schue, which he rightly takes as a compliment.
"I Know What Boys Like," The Waitresses
Making her glee club solo debut is Lauren Zizes, also known as Puck's latest obsession. She shares a rare moment of insecurity with Puck about her ability to perform in front of the group, and he sweetly agrees to not only back her up, but also divulge his secret to overcoming her fear of performing: the good old "imagine the audience in their underwear" trick. The laughable image is enough to help Lauren break through her stage fright and bust out a naughty little rendition of one-hit wonder The Waitresses' "I Know What Boys Like."
"Sing," My Chemical Romance
Though Sue kept mostly silent during her week in glee, she of course ends her experience believing she can do it better — and with a better song. Decking out the group in plaid flannel (and somehow finding a plaid track suit for herself), Sue leads the group in an anthem-rock version of My Chemical Romance's "Sing." SPOILER: the rush of the performance convinces Sue to coach rival Oral Intensity in their bid to once again keep New Directions from nationals.
Now that Sue got her groove back, does New Directions stand a chance at regionals? Tell us what you think in the comments!

REAL LIFE. REAL NEWS. REAL VOICES.
Help us tell more of the stories that matter from voices that too often remain unheard.