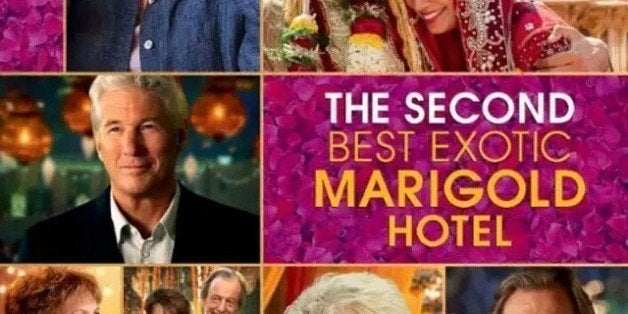 To suggest that I have been obsessed with the Marigold Hotel movies is to consider a truth that I did not think I wanted made public. Yet as I have continued to view the movies with an insatiable lust for their content, I have decided to come out and speak of my own personal phenomenon.
In fact, watching movies multiple times is nothing new to me or the people who know me. I believe it started with Born Free as a young girl. I was mesmerized by that story and being a child who had lost her father suddenly, I somehow understood that in crying for the losses in the movie, I was weeping for losses in my own intangible life that I had not yet begun to grieve. That was an epic moment that carried me unwittingly into adulthood. From that time forward, I always expected new films to find the tender places in my tattered heart that needed inspiration or mending.
Fast forward to the present. Several years ago, I was a dating a woman I was quite taken with. She asked me one day if I would follow her anywhere and without thinking about it, I answered, "probably." One day in June, despite increasing turbulence in our relationship, she took me to see The Best Exotic Marigold Hotel. I loved it, but how much I would grow to live it was not yet evident. Not long after, my girlfriend and I broke up and, feeling bereft, I returned to Best Exotic. The older characters in the movie who bravely traveled to India, not only to encounter a vividly new culture, but to give up comforts of their long-known existences in England spoke to me in a language so raw, I could barely decipher it. The people in the story who had lost partners, struggled with their own aspects of aging and varying states of financial insecurity along with the uncertainties of their futures inspired me to reach for hope instead of despair. I laughed and wept every time I returned to see the film and return I did. It was the best exotic therapy around and I brought many friends to see it with the hope that their hearts would also be sung to.
Looking back, I recognize that the first film injected into me a heavy dose of wild abandon that helped me plot my move from West Coast to East with three cats, a teenaged daughter, minimal funds, and no known job prospects but a dream of starting my own business caring for aging animals. I sold everything. We called it our Zen move. Without my beloved dependents, I might have found a way to get to India as I've always been called to that part of the world and have yet to answer. Instead, I focused on surviving the bi-coastal move and ultimately healed from the breakup. I arrived to a different kind of foreign landscape. One with harsh seasonal mood swings in a college town in Western Massachusetts. I created a new life and did not dwell often in fantasies of India but I held the examples of the Best Exotic stories close to my being. I have come to understand deeply that to begin a new journey in life, we need not follow anyone but ourselves.
The Second Best Exotic Marigold Hotel has been out for more than a month and I have been touched by it as deeply as the first -- perhaps even more -- for having survived the move and in learning to thrive in my new chosen culture, I continue to look for clues that will shape my still unknown future. One of my favorite lines in the new Best Exotic film is when Evelyn (Judy Dench) wonders aloud to Mrs. Donnelly (Maggie Smith), "How many new lives can we have?" Then she further muses, "As many as we like -- while we can." That is one of the many pearls of this film and one that makes me resonate within, for I, too intend to create new lives - new experiences of wonder and growth, learning and dreaming - for as long as I can. I still have three cats and my last child at home is in high school. I can't go spend a year in India quite yet, but I have begun learning Hindi and am doing quite well.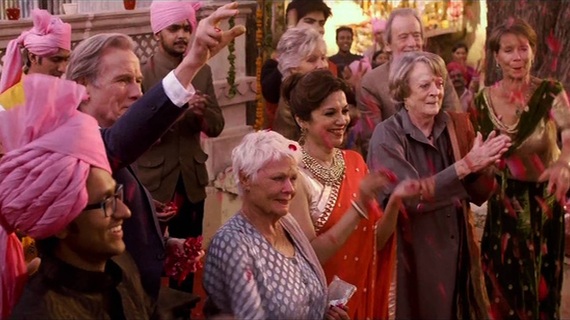 Whether you love
The Best Exotic Marigold Hotel
movies as I do matters little although I will always feel that the messages they carry are profound in pondering what other paths you may take in this lifetime and how to cope with the changes as they occur. At the end of the newer film, Mrs. Donnelly says that she spent 40 years scrubbing other people's floors and then as co-manager of a hotel halfway across the world. She says, "You never know who you will become. Don't try and control it." And to that, I say, "You're on!" I am in my 50s and I still don't know who I will become. How wonderful.
Calling all HuffPost superfans!
Sign up for membership to become a founding member and help shape HuffPost's next chapter