 What started as a joke has resulted in hundreds of New Yorkers hooking up.

"Never Sleep Alone" (NSA), a comedy-cabaret-sex therapy session hybrid, was designed as a satire of the New York dating scene, but has morphed into a micro-dating scene of its own. During each performance, Dr. Alex Schiller, the "sexual evangelist" alter ego of comedienne Roslyn Hart, gets a downtown crowd of attractive singles riled up by repeating self-affirming phrases about how sexy they are. She then unleashes them into an after party specifically designed for meeting new partners. Add a couple cocktails and it's easy to see how this formula works.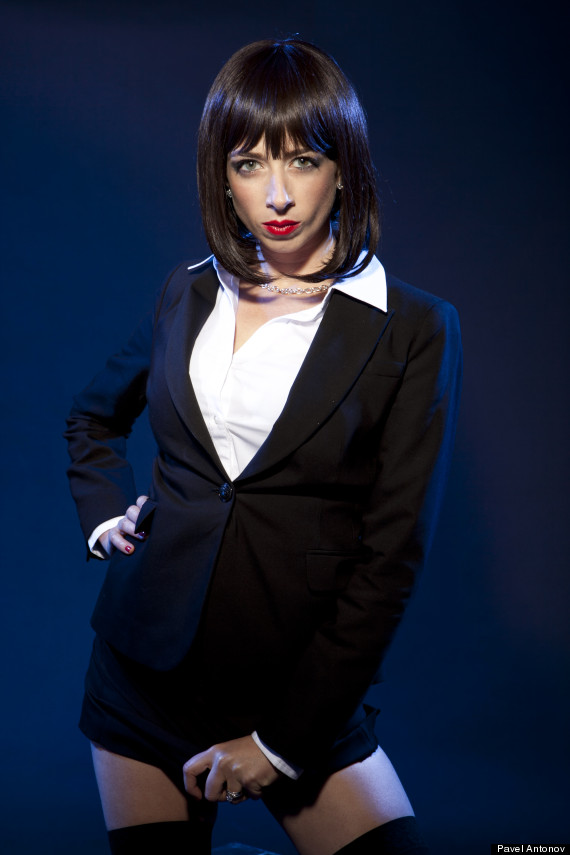 Dr. Alex. Photo: Pavel Antonov
Much of Dr. Alex's advice is absurd and offensive. Near the beginning of the show she announces she "does not help ugly people" and commands anyone that doesn't like her methods to "get the hell out." But the audience plays along -- laughing, following her instructions and growing more bold as the show continues. Somehow her twisted wisdom contains undeniable truths when put into practice. It actually seems to help people overcome their inhibitions and connect with each other. Wholesome-looking women are quickly on the laps of the dashing Italian men a table over with a just a little prodding and instruction from Dr. Alex.
After NSA's first run, people started buying tickets expecting more than a comedy show, says Hart, and the line between real and fake is growing ever more blurry. She is now writing a faux self-help book (also called "Never Sleep Alone") that her character uses in show, after audience members kept asking for it at the swag table. "People are always asking where they can buy the book and wanting to hire me for one on one consultations. I tell them, "You do realize I'm not a real doctor" and they say, "I don't care. Your advice actually works," reports Hart.
Sitting in the singles section means you get a ticket discount (and a free glass of champagne), but you better be open to some participation. Dr. Alex doesn't let her patients be shy. When I attended with a group of girlfriends during the show's spring run, my blonde friend was coaxed up on stage and happily schooled at oral techniques while Dr. Alex sang a Miley Cyrus song to her as inspiration. (Don't worry, there's a voyeurs-only section as well.) Ticket cost also includes admission to the after party, where attendees are encouraged to put their earlier flirting lessons to use. Dr. Alex even has a Hook Up Hotline (917-830-3672) for reporting successes back to her.
Part of what makes the faux seminar work is that Hart performs with completely uninhibited confidence, and it's obviously contagious for the audience. You learn about (and see) much more of Dr. Alex's body than you'd expect from your typical self-help instructor, which makes kissing a total stranger in front of a crowd seem less risqué.
I found myself blushing multiple times during the show, but I also couldn't help thinking Dr. Alex's tip about my BFF also being a cock block may actually be right.

"Never Sleep Alone" runs every Friday night through November 2nd at Joe's Pub in New York. It will begin its third New York run this Friday before heading to the U.K. to help Londoners get laid.
Popular in the Community