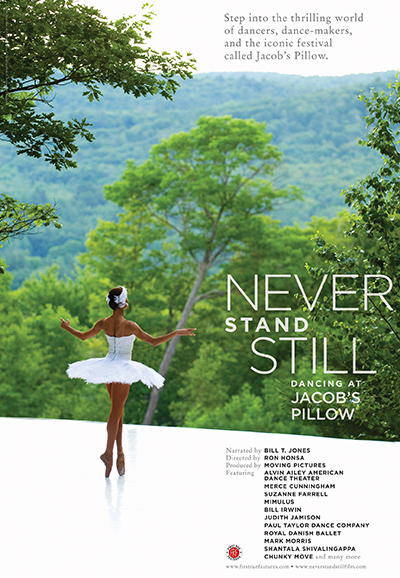 Never Stand Still is a documentary about Jacob's Pillow, home of the longest-running international dance festival in the United States. Affectionately dubbed "The Pillow," this national historic landmark has a complex and fascinating history which is illuminated quite well by director Ron Honsa through a combination of historical photographs, videos and narrative. Interviews with dance luminaries such as Merce Cunningham, Mark Morris, Judith Jamison and Paul Taylor punctuate the documentary with interesting anecdotes and observations from their own work, adding to the breadth and depth of the film.
Viewers are expertly guided through the history of the venue through rich narration provided by a well-known figure in the dance world -- Bill T. Jones. Highlights include dancer Frederic Franklin remembering his early days on the property with Ted Shawn (modern dance pioneer and founder of Jacob's Pillow) and Suzanne Farrell reminiscing about her time there.
The footage does a wonderful job of showcasing the natural surroundings at The Pillow -- 163 acres of green space in the Berkshires, dotted with rustic farmhouse buildings and an outdoor stage. The property really has a "vacation getaway" feel to it, and indeed it is known as an intimate venue that some in the dance world even refer to as a "sanctuary."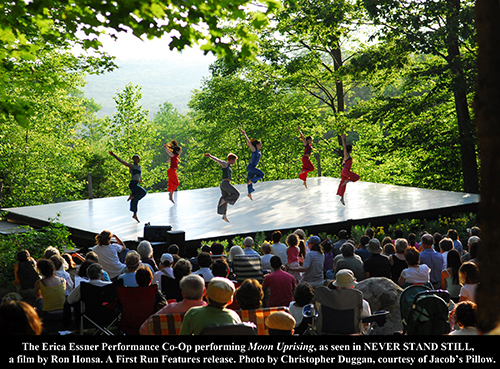 The release of this film coincides with the 80th anniversary of the Festival, and it does much to convey the diverse heritage of the annual event. Inspiration and collaboration are highlighted through interviews with Tony Award-winner Bill Irwin and dancer Rasta Thomas, and a multitude of dance clips give viewers a sampling of the range of movement styles represented throughout the Festival each year.
Never Stand Still is a tribute to Jacob's Pillow -- a testament to our tradition and roots in movement. It succeeds in its attempt to convey the mood and emotion that can exist in a physical place where so much passion, talent and excitement have come together throughout the years. There is a reverence for this piece of land in the dance world; both for its history and for what it has become today -- a place for dance that really has no equal.
Here's an extended preview for those of you who are interested in getting a glimpse of what this film looks like:
Popular in the Community