"What was that sound? Was that a shoe horn?"
"I'm not a mammal, I'm a boy."
"Doxin carbon, that's what we breathe."
I have a fresh batch of my son's scientific curiosities that play on a reel in my mind. He is 6 years old and these are just a sample of his ponderings from the past few years. While the exact phrases will fade from my memory (though perhaps not with modern digital archiving), the joy of watching him build his world one idea at a time will not.
These kid-isms are often a combination of humor, missing pieces of the puzzle, creative connections, and fascinating insights about how the world works. This recipe cooks up a dish known as early childhood. And when we take a closer look, we can often see some of the specific ingredients of science learning.
This science learning begins to build well before a child starts to ask curious questions. In Scientist in the Crib, Drs. Gopnik, Meltzoff, and Kuhl describe the way infants put together puzzle pieces about the way the world works as being similar to the way scientists accomplish the same mission--observing, experimenting, reflecting, refining, and so on.
In fact, we begin our science learning journey long before anyone hands us a copy of the Periodic Table of the Elements. And we continue this journey well after handing in our last lab report.
We learn science as we play with blocks on the rug, make lemonade in the kitchen, and climb trees in the park. We sometimes learn it in school laboratories, but most often (actually 95% of the time), we learn science outside of a formal education setting. This learning takes place in museum settings, in out-of-school time programs, on playgrounds, in grocery stores, at the doctor's office, and on tablets in our living rooms.
I work for the National Inventors Hall of Fame--an organization that sees the inherent critical value of the out-of-school time realm for science learning. I have the privilege and responsibility of inspiring creativity, innovation, and entrepreneurship in America by connecting the nation's greatest innovators with children across the country through our outreach programs.
We believe that children are natural, curious inventors from a very young age. We do not suggest they wait until they can operate a 3D printer to get their start. They can begin transforming their ideas into reality as soon as they can hold tape (and arguably, sooner).
The National Inventors Hall of Fame began operating its Camp Invention program more than 25 years ago. Most recently, we have combined our knowledge, experience, and convictions around young children as inventors with cutting-edge research in early childhood education to create Invention Playground--an invention program for preschoolers, complete with illustrated storybooks.
During the pilot phase of Invention Playground, we observed young children demonstrating empathy for human and pet challenges. We witnessed their ability to prototype and iterate. Their prototypes ranged from a fossil scanning, digging, and cleaning machine to an alien collecting device, and a cat rehabilitation contraption.
I was pleasantly amused when I saw a circuit diagram, complete with the stick figure that was making the circuit. This simple sketch reminded me that children often see what they create as an extension of themselves--the inventor, the invention process, and the invention outcome as one.
National Inventors Hall of Fame Inductee George Alcorn, who invented the X-Ray Spectrometer, shares his thoughts on early childhood learning:
"I really think that preschool education is the most important thing, because when I was young, I was reading and writing--reading the newspapers for my father, calculating baseball scores, and things like that."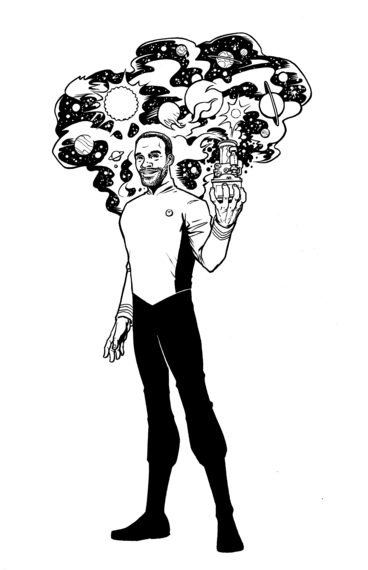 George traces his success to the time he spent under the hoods of cars with his father, talking about everything from pistons and engines to important life qualities like persistence and determination.
In one of the Invention Playground sessions, children explore their aerodynamic imaginations as they learn about George's invention and then design their own space-exploring innovations. They also get a taste test of other fascinating science careers.
In addition to its preschool programs, Camp Invention has opened up to serve children entering kindergarten through sixth grade. This addition of kindergarten now allows younger siblings to experience the joy of endless imaginative thinking and duct tape, as well!
My son, who entered kindergarten this past fall, was part of the pilot for this expansion last summer. While we naturally engage in a lot of science at home, it was only after Camp Invention that he had the inclination to start fixing his own toys. (Can you say, "Game Changer?")
His questions are getting harder. This week's bedtime ponderings included, "How do molecules form?" and "How is electricity made?" The answers, however, are getting easier, "That's a great question. Let's do some research."
REAL LIFE. REAL NEWS. REAL VOICES.
Help us tell more of the stories that matter from voices that too often remain unheard.