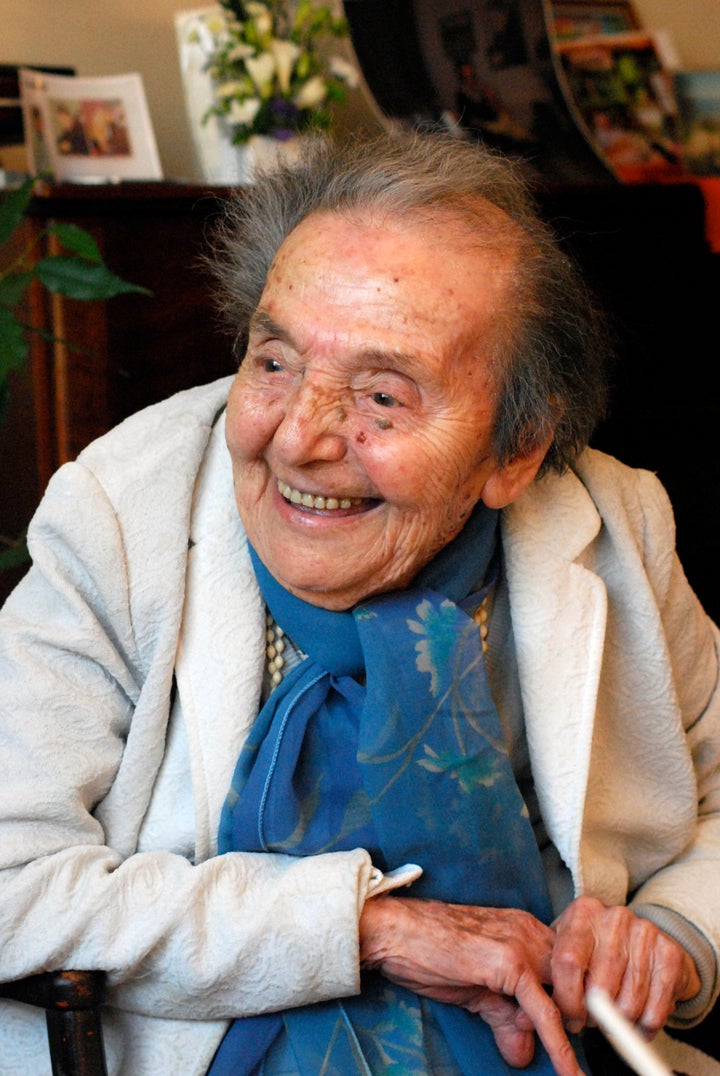 Despite her imprisonment in Theresienstadt; the murders of her mother, husband, and friends by the Nazis; and the premature death of her son years later, Alice has been victorious in her ability to live a life without bitterness. She credits music as the key to her survival, as well as her desire to acknowledge the humanity in each person, even her enemies. The following excerpt from A Century of Wisdom captures Alice's positive perspective on aging, her passion for life and music, her drive to carry on despite extreme adversity, and her appreciation for each and every day after the Holocaust.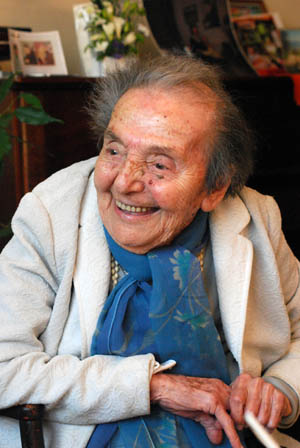 "It's not so bad!" Alice says in her most dramatic way about her advanced age. "When people come to visit, people much younger than myself, many like to tell me how bad things are, their money problems, their aches and pains. And worst of all they tell me how terrible old age is. 'It's so terrible, so terrible.' And I shock them by disagreeing. 'It's not so terrible. And I'm older than you. Rather than dwell on problems, why not look for life's gifts?' Every day is a present. Beautiful."
She says that just because she is old in years, she is not irrelevant. And more insistently Alice says, "My mind is young. My emotions and my imagination are still young." Then, with a whimsical bit of laughter, "Of course, I do have some experience."
Alice becomes even more animated in the presence of attractive young men; she enjoys admitting, "You cannot see the real me inside my wrinkled skin, the life of my emotions. What you see is only the outer face of a very old woman."
When a Czech television crew arrived at her London home for an interview in the summer of 2006, Alice was neatly dressed in a pale blue, knit skirt and matching short-sleeved sweater. As always, she was wearing canvas sneakers. That day she had chosen white ones. The chief cameraman and the director, both in their late 20s, were over six feet tall and handsome. She greeted them in Czech, giggling girlishly, and insisted that they help themselves to the tea and cookies that she had already laid out; she then excused herself quickly. About 10 minutes later a vivacious Alice reappeared wearing red sneakers, red lipstick, and a necklace. Later, when asked what was the single most important thing in the world, a most serious Alice answered, "Love, love, of course." Then, pausing to laugh heartily, she wagged her finger at the director and added, "But I don't mean sex."
Alice is always ready for something new: a new thought, a new book, a new idea, new people. Her curiosity is insatiable. Well beyond an age when many begin to turn away from everything different or unfamiliar, she welcomes nearly everything innovative. Alice recently asked to try Jacqueline Danson's iPhone. Jackie, the granddaughter of a Czech friend, watched fascinated as Alice's 107-year-old finger manipulated the keypad. And when Alice lies in bed, she exercises her mind by mentally playing entire pieces. While she is sitting and talking, her fingers move continually. When asked what she is playing, she quips, "Bach, of course."
Even though Alice has no desire for anything materialistic and has probably not bought new clothes in decades, she is both interested in and aware of fashion. She notices what others wear, touches the fabric, and offers compliments. And her attitude on sex is nothing short of astonishing, considering her age and background. Her former student Ester Maron recently introduced Alice to her daughter Michal, who is in her late 20s. Learning that the girl was a cellist in the Haifa Symphony, Alice asked her if there was a man in her life. Michal replied that she had just broken up with her most recent boyfriend. "Good," Alice said. "Keep it that way. Have sex, have fun, have someone in your life, but don't tie yourself down in marriage. Cherish your freedom and your music." In fact, whenever Alice learns that a young woman or an older single woman has a lover, she gives unsolicited advice: "Oh, that is good, but make certain that he lives in his own place. You should see him only when and if it is good for you. Keep your freedom, take care of your career, your life." Spinoza seems to be present, like a shadow, whispering in Alice's ear as her guide. Her favorite philosopher wrote that sexual passion usually leads to unhappiness. He felt that if a love is to last, it must be based on reason and friendship rather than uncontrolled passions.
Today Alice follows Spinoza's profound directive: "Do not weep; do not wax indignant. Understand." She believes that understanding is the pillar of all learning and the essential foundation for peace -- in our hearts, our cities, and our world. Before people rush to confront a neighbor, before soldiers rush to fight, "can't we try first to understand each other?" she asks. "Since when has making enemies been a solution?" Having lived through so many wars, Alice is hardly naïve when she talks about understanding. She is aware that you do not need to like or agree with someone in order to understand his point of view. Alice emphasizes, "Don't stand there and cry. Understand."
For Alice, the philosopher Spinoza vindicated her thoughts in his many volumes on reason. As she faces what are inevitably the last years of her life, she does not fritter away her cherished time with fears of death and worries about the unknown. Death, for Alice, is not unfamiliar. Again she accepts Spinoza's reasoning that death and life are part of the same infinity, or God. According to Alice, "We come from and return to infinity." She adds that she believes that "the soul lives on without the body." As she listens repeatedly to Mahler's Second Symphony, Alice finds consolation in the song for alto soloist, "Urlicht" ("Primal Light"), at the beginning of the fourth movement. Perhaps for Alice "Urlicht," with its opening words, "I come from God and I will return to God," has always been her spiritual theme song. Loosely quoting Spinoza, she says, "Things are as they are supposed to be. I am still here -- never too old so long as I breathe to wonder, to learn, and, yes, still to teach. Curiosity -- interest in others, and, above all, music. This is life."
From the book A Century of Wisdom by Caroline Stoessinger. Copyright © 2012 by Caroline Stoessinger. Reprinted by arrangement with Spiegel & Grau, an imprint of The Random House Publishing Group, a division of Random House, Inc. All rights reserved.
Related
Popular in the Community