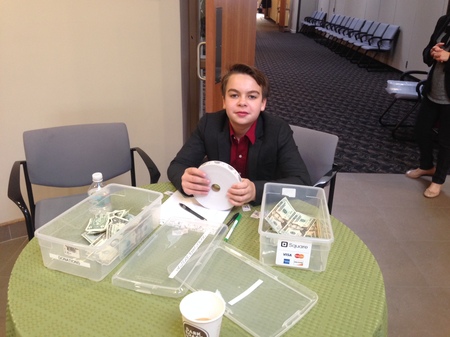 ,
Recently, I was amazed to receive an invitation from a 13 year old boy to speak at his fundraiser. This brilliant young boy, Max Bryant, decided to organize a local event in his community to raise awareness on Girls Education globally. The thought of a young American boy organizing an event to raise awareness in his community really baffled me but at the same time got me thrilled. Out of curiosity, I decided to engage the mother to learn where the boy's passion for service emanated from.
According to his mother, Max has always had a keen sense of justice since he was very little and at the age of 6, during Thanksgiving he told his mother that it was unfair for America to have so much food while other people in some parts of the world were starving. Max and his mother went online and reached out to SOS Children's Villages in Malawi where they were able to support a young boy. During the 2008 elections at the age of 7, Max already knew his civic duty as a citizen, and followed his parents for hours going door to door sensitizing people to vote and he was excited about telling people where their local polling station were. At such a tender age, it is evident that he was already a leader in his own right.
Currently in middle school, Max is part of the Student Government and Model United Nations. His interest in Education became more pronounced after watching the documentary "Waiting for Superman" and saw the challenges that kids in inner cities in America face accessing quality education. At the time he told his mother, "this is America, it is not fair that some kids should be able to get better education just because of where they live or who their parents are". As an avid reader of newspapers, Max was so sad to learn of Malala Yousafzai's shooting in Pakistan two years ago and so when he was asked as part of a school project to think of a cause he really cared about, he said Girls Education. The teacher was first taken aback because she had never heard a young boy choose a cause that is focused on supporting girls before. The teacher suggested that Max chooses another cause that was more relevant to boys and local to him, like promoting sports but he was adamant. He therefore organized the event (in which he invited me to speak), to raise awareness and fundraise, with the help of his parents. The event was incredibly well organized; from the screening of the documentary "Half the Sky", to the panel sessions, to the actual fundraiser. He was able to raise enough money to support a year's worth of tuition for 18 girls through CARE organization. During our interaction I learned that Max did not choose Girls Education because he felt sorry for the girls but because he believes that girls are equal to boys and should be granted the same opportunities.
Two months ago, UN women launched #HeForShe campaign that aims to engage male partners in the fight for gender equality and women's empowerment. Max is now a member of the campaign and he has shown us that you are never too young to champion a cause. Even though he doesn't have a sister, he understands how imperative it is for every child to have an access to education and no gender should be discriminated against.
In the book A Path Appears by Nicholas Kristof and Sheryl Wudunn, they narrate the story of a 9 year old Rachel, who, after attending church and listening to the priest share about how lack of water is a problem in Sub-Saharan Africa, decided to dedicate her 9th birthday to raise $300 to contribute towards building a well through Charity:Water. Unfortunately, Rachel got into an accident six weeks after her ninth birthday and passed on before she could witness the impact of her selfless acts of kindness. Through her birthday donation page, people continued to contribute and they were able to raise enough to provide clean water to 37,000 people.
Rachel and Max are true examples of champions of change, they believed in different causes and decided to pursue them and create an impact, with limited resources. It is therefore never too early to believe in a cause, and do something about it, and move the conversation from mere words to action.
Calling all HuffPost superfans!
Sign up for membership to become a founding member and help shape HuffPost's next chapter