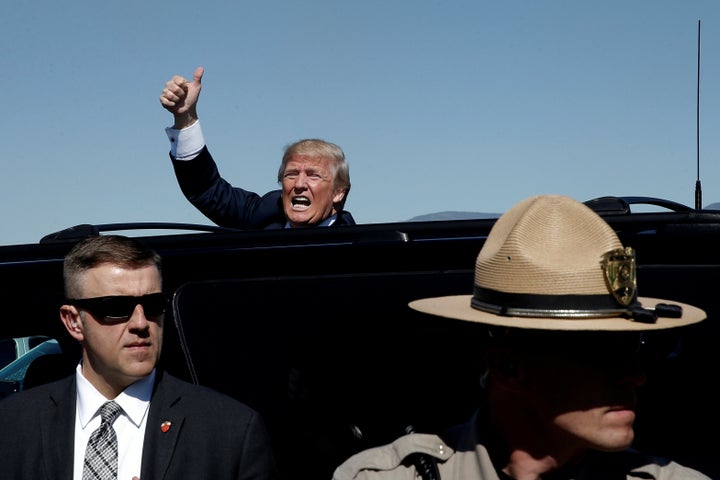 For the group of Republicans who steadfastly refuse to ever support Donald Trump, these past few weeks have been bewildering. Hillary Clinton's drop in the polls has sparked a classic bout of Democratic paranoia ― described by the more stoic members of the party as "bedwetting." But unlike campaign cycles past, the #NeverTrumpers can take little joy in their opposition's distress.
Instead, they've been left to watch as a candidate they abhor gains on one they detest. They've long since accepted the approaching political apocalypse. It's now less clear which apocalypse they're getting.
"Either outcome is bad for the country," said Rory Cooper, a GOP strategist who has worked with former House Majority Leader Eric Cantor, among others. "So the freak-out is built in. I've already been freaking out for a year and a half now."
#NeverTrump began during the Republican primary as it became increasingly clear that the real estate mogul could emerge with the nomination. It was a hodgepodge effort run by mostly GOP operatives. They launched an opposition research campaign to dig up dirt on Trump, schemed up alliances to deny him votes, attempted to recruit candidates to mount opposition bids and explored legal challenges to filing deadlines to give those candidates a chance.
None of it worked, of course. But over the summer, members of the movement could at least take satisfaction in the fact that their doomsday predictions were coming true. Trump stumbled after the convention, undone by ego and gaffes and internal campaign chaos. The electoral map looked worse than foreboding.
But then, Trump's stumbles became less frequent and Clinton's more so. The race tightened and #NeverTrump's satisfaction turned into alarm.
"It is disturbing seeing him even in the ballpark of being president ― so in that sense, yeah, it's not something that brings a lot of joy to my mornings," said Tim Miller, Jeb Bush's former communications director. "I think it's a bad sign of our republic that we are this close to electing a complete buffoon and fraud, because he encapsulates the worst qualities of a human."
Like others in the #NeverTrump contingent, Miller still thinks Trump will lose, citing unfavorable demographics and the likelihood that a candidate who loves riffing can't remain stuck to a teleprompter. For that reason, abject panic hasn't set in.
"I'm not going on background to [Buzzfeed's] McKay Coppins to tell him I have little pee stains in my panties in the evening," he said. "At the end of the day, I don't see an electoral path for Trump."
"I've already been freaking out for a year and a half now."
But he and others also acknowledge how odd it is to find calm in downplaying their own party's presidential chances.
"Since I want everybody to lose," said conservative columnist John Podhoretz, "I'm going to be pleased and horrified in equal measure no matter what happens."
If the election remains tight as Election Day approaches, pressure will mount on #NeverTrump to drop the helpless, pessimistic posture it's taken to the race. Trump supporters have already begun blaming the movement for a possible loss, with Fox News' Sean Hannity launching churlish Twitter spats with anti-Trump columnists and RNC Chairman Reince Priebus warning that Republicans who don't support Trump now will have trouble becoming the nominee in future cycles.
To Democrats, it's more about moral responsibility than political punishment. If #NeverTrump follows through on its word ― and if a hashtag isn't sacred, then what is?? ― the logical extension of the movement has to be endorsing Clinton's election. Or, as The New Republic's Brian Beutler wrote: "For those who know deep-down that Clinton is a conventional politician and an experienced bureaucrat, whereas Trump is a reckless maniac, the time to speak up has arrived."
As of now, there is little reason to think the movement will bend to either argument. Doug Heye, the RNC's former communications director, explained that while he wasn't going to vote for Trump himself, he didn't feel compelled to work against Trump's campaign.
"I look myself in the mirror every morning ― which is hard enough to do anyway ― and I can't bring myself to vote for him, and obviously I can't vote for Clinton," Heye said. "But I'm not critical of anyone who is voting for him. I understand why people want to support the nominee. I totally get that. I'm just not someone who is going to be able to support the nominee."
Miller, too, argued that there was little the movement could practically do at this juncture to unpend Trump's campaign. But Podhoretz, by contrast, was more critical of Democrats for suggesting that the burden fell on anyone other than their nominee to keep Trump out of the White House.
"This race is Hillary's to lose, it always was. And if she loses it, mainstream Democrats who try to comfort themselves by believing the fault lies in the American character will not be reckoning with their historic refusal to vet their own incredibly damaged candidate," he said. "He's awful. But so is she, and all these arguments about how he's unprecedentedly awful fail to take account of the fact that the Democratic nominee for president was all but indicted by the director of the FBI. Which means she is too."