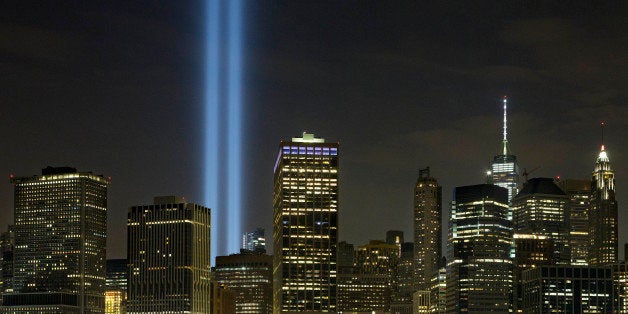 On this September 11 anniversary, we face an existential choice: Respond with hope or fear?
Fear is understandable, visceral, familiar. Nearly all of us who experienced 9/11/01 can answer, "Where were you?" with a specific, visceral memory of horror.
I will never forget the second plane banking sideways before hitting the tower, crushing all hope that the first September 11 crash was an accident.
We were at work on Capitol Hill going over the schedule when a staffer said, "Turn on the TV -- a plane crashed into the World Trade Center!" We thought, hoped, prayed it could be an accident... but that suspension of belief only lasted until the second plane's wings banked.
We filed out of the Cannon House Office Building to a briefing at the Capitol Police HQ. Saw smoke rising from the Pentagon. Walked across the Capitol esplanade, eyes blinking from deceptively bright sunshine reflecting off military vehicles... thinking, "We are at war."
By the time we got to Capitol Police HQ briefing, the first tower had fallen. People were stunned -- numb yet operational trying to find facts. We were told a plane was coming for the Capitol. All but Members and chiefs of staff were sent home until we learned that the brave passengers of Flight 93 crash landed the D.C.-bound plane in Pennsylvania. Initial estimates said 40,000 people could be killed at #WTC -- those first responders who ran in while others ran out saved literally tens of thousands of lives.
By mid-afternoon I finally caught up with my mom (Congresswoman Nancy Pelosi) who'd been in a series of briefings. For a minute, I was a relieved kid in her arms.
Then we were back to work. At an ad hoc House Democratic Caucus meeting, people were stunned, angry and defiant, talking about sending a message that terrorists did not win. The military and police were wary of having Congress return to the Capitol since more attacks were possible -- but members insisted on a show of unity.
By the early evening of September 11, members of Congress, senators, staff and families convened with anger, caring and courage at the Capitol. We took heart from vigils around the world, and headed to ours with leaders, staffers and press back across the Capitol esplanade. Already concrete barriers, military vehicles and security, unseen since the 2001 inauguration, were set up around the Capitol, some permanently.
By dusk on September 11, 2001, hundreds of people joined a defiant, unified vigil of leaders on the Capitol steps singing "God Bless America."
Today, 15 years later, as we reflect on the innocents murdered, the tireless service of first responders at Ground Zero and the enormous sacrifice of our millions of service members, veterans and military families, we must remember where we were those first few moments and ask where we want to go now -- as a people, as a society, as a country.
Do we embrace service and community, or do we let fear of the other guide our ways?
Do we engage in interfaith dialogue, or stand back as Muslims are scapegoated for the hateful acts of terrorists?
Do we build walls at our borders and in our hearts, or do we open ourselves with security and confidence to trust and hope in the humanity of others?
Do we serve our first responders still getting cancer from working the Ground Zero pile, our veterans and military who return with physical and physiological injuries, or does our rhetoric fail to match the resources they need?
Do we choose leadership of diplomacy or bellicosity?
On this day as we mourn those killed, we must create a better world for the living.
Like the Survivor Tree at the World Trade Center that grows despite the 9/11/01 conflagration, we must never forget to cultivate our democratic values, and our trust in each other.
Our world is not binary -- we can and we must take clear-eyed precautions against people who want to kill us without presuming that every other wishes us harm. Long before September 11, 2001, the United States of America was a country conceived in liberty, born in war, forged in slavery, built by refugees, uniting diverse peoples and democratizing hope around the world -- a long history of conflicting approaches to patriotism and governance.
On this 9/11 anniversary we can acknowledge the evil that murdered thousands of us, the fear of another attack, and the hope that we can face it together. Fifteen years on, isn't it time we chose inclusion and justice over the fear of the other that divides us? Isn't it time to teach our children that community not hate keeps us safe?
If we want America to truly be the Land of Liberty that we love -- and terrorists hate -- we must never forget the horror of 9/11, and we must answer its call for us to choose a future of hope over fear. Living in fear is not liberty -- living in hope and community is.
REAL LIFE. REAL NEWS. REAL VOICES.
Help us tell more of the stories that matter from voices that too often remain unheard.