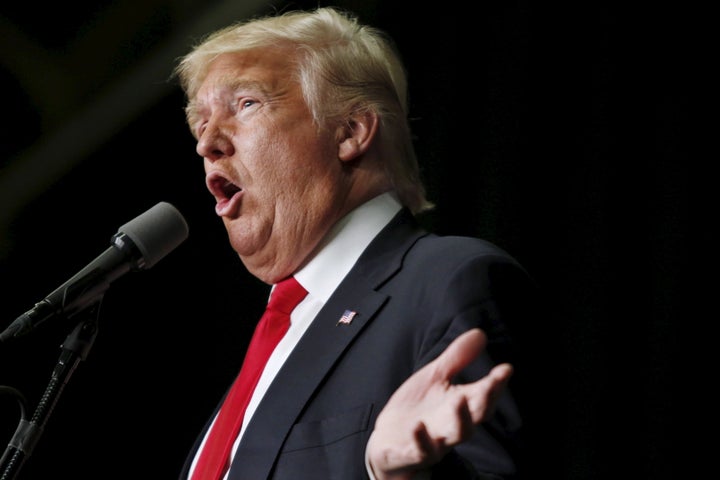 WASHINGTON -- One of the co-creators of raunchy, politically incorrect party game Cards Against Humanity donated $300 last month to a political action committee dedicated to ensuring Donald Trump never becomes president of the United States.
Eliot Weinstein, who declined to be interviewed, is part of the diverse collection of characters rallying behind the #NeverTrump movement. The group also includes Robert Smith, a former New York state judge who in 2006 wrote the decision rejecting a right to same-sex marriage in the state (Smith is the father of BuzzFeed's editor-in-chief, Ben); eBay founder Pierre Omidyar; and Keith Rabois, a PayPal alum who resigned from mobile-payments company Square amid sexual harassment allegations that he has denied.
"I'm just appalled by the idea of Trump being the nominee, or, God forbid, becoming president," said Smith, who donated $1,000 to the NeverTrump PAC. The committee, which first filed with the Federal Election Commission in March, has endorsed Sen. Ted Cruz (R-Texas) in some states and Ohio Gov. John Kasich (R) in others, rather than rallying behind a single candidate.
"We support voters doing what it takes to deny Donald Trump delegates," said Rory Cooper, a senior adviser for the PAC. That strategy got a boost on Sunday, when Cruz and Kasich announced a coordinated plan to avoid directly competing with each other in certain states so they can steal delegates from Trump. The two GOP contenders already seem to be having trouble sticking to the promise. But the NeverTrump PAC is nonetheless "encouraged that the Cruz and Kasich campaigns have decided to similarly marshal their resources," Cooper said.
NeverTrump PAC -- which was started by Republican political strategist Patrick Ruffini and Mindy Finn, the director of digital strategy for Mitt Romney's unsuccessful 2008 campaign -- had raised more than $150,000 as of March 31. Most of it came from eBay's Omidyar, who FEC filings indicate donated $100,000.
"Trumpism is dangerous," Omidyar wrote in a tweet, calling his donation "a rare political contribution during extreme times."
Smith said he agrees with the PAC's strategy, and wouldn't say if he favors Kasich or Cruz. ("Kasich's politics may be closer to mine, but Cruz has more delegates," he added.) PayPal's Rabois told The Huffington Post in an email that he simply hopes the PAC's efforts increase the odds the Republican nominee is not Trump. "[He] is a megalomaniac who lacks appreciation for Republican and conservative principles," he added.
Another anti-Trump PAC called Our Principles is dedicated to stopping Trump, rather than rallying around a particular candidate. However, Katie Packer, a Republican strategist who founded the PAC, tweeted on Monday that she was "encouraged by [Cruz and Kasich's] plans to clear way for the other in states out of reach."
That PAC had raised over $16 million by the end of March, and is spending its money on brutal attack ads against Trump. The seed donation came from Marlene Ricketts, the wife of J. Joe Ricketts, who made his fortune at online broker TD Ameritrade. Last year, the family poured millions into Wisconsin Gov. Scott Walker's PAC. After Trump learned the Ricketts were rallying against him, he tweeted: "They better be careful, they have a lot to hide!"
But there are plenty of other rich people supporting Our Principles. Paul Singer, a billionaire hedge fund manager who previously endorsed Sen. Marco Rubio (R-Fla.) and is behind a conservative PAC that supports marriage equality called American Unity, gave Our Principles $1 million in February. His donation joins smaller ones made by California billionaire William Oberndorf, who previously backed ex-Florida Gov. Jeb Bush and Texas real-estate magnate Harlan Crow.
The question still remains whether all of this political and financial heft will work against Trump. "The dump-Trump movement has a clear and convincing message—he's a dangerous charlatan—but it doesn't have a candidate," The New Yorker's John Cassidy wrote on March 3.
And Trump doesn't seem particularly bothered by all the hate. At a rally on Monday, he noted that unlike politics, "if you collude in business or if you collude in the stock market, they put you in jail."
Trump is "happy" to see his rivals coordinating against him, he added: "It shows how weak they are."
Calling all HuffPost superfans!
Sign up for membership to become a founding member and help shape HuffPost's next chapter