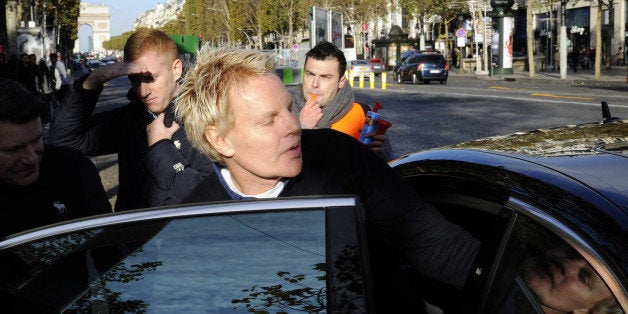 An activist investor says the replacement of Abercrombie & Fitch Chief Executive Officer Mike Jeffries is "not just needed, but absolutely required."
In a letter to the teen apparel retailer on Tuesday, Glenn Welling, the founder and chief investment officer of Engaged Capital, delivered a scathing takedown of Jeffries' recent performance at the helm of Abercrombie and called for a CEO search to begin immediately.
"The Board needs to come to the same conclusion that everyone else already has -- it is time for new leadership at Abercrombie," Welling wrote.
Jeffries' employment contract with Abercrombie is due to expire on Feb 1. His company has struggled of late, unable to draw enough fickle teen shoppers into its stores. Some analysts say the brand has lost its teen appeal entirely.
In a statement to The Huffington Post, Abercrombie said that its board and management team "welcome input from all shareholders."
"The Company has had extensive discussions with many of its shareholders, including Engaged Capital, over the past several months," the company said in the statement. "We look forward to continuing our dialogue with shareholders as we execute on our long-term plan."
Welling criticized Abercrombie's leadership for what he said were "many years of mismanagement," slamming Jeffries and his team for over-expanding in the U.S. and what he called the "costly failures" of the retailer's newest brands, Ruehl and Gilly Hicks. He also charged that the management is unable to adapt to changing apparel trends.
The investor knocked Jeffries for the repeated controversies that have surrounded him in recent years. Though the letter doesn't offer specifics, some of Jeffries' past issues have included his declaration that some people "don't belong" in Abercrombie clothes and reports that executives are worried that Jeffries' life partner has become too involved in corporate decisions.
"Publicity around Mr. Jeffries' past public statements and the apparent intrusion of his private life into Company business have caused unnecessary controversy, no doubt damaging the Company's public profile, employee morale, and likely sales," Welling wrote.
Abercrombie's company culture is also a problem, according to Welling, who cited alleged high turnover among executives over the past decade and the apparent lack of a "credible" successor for Jeffries.
Engaged Capital revealed in the letter that it has a position in Abercrombie of around 400,000 shares, or about 0.5 percent. The letter suggests that the firm would be interested in the option to sell the company to a private equity buyer.
Read the full letter here:
Calling all HuffPost superfans!
Sign up for membership to become a founding member and help shape HuffPost's next chapter