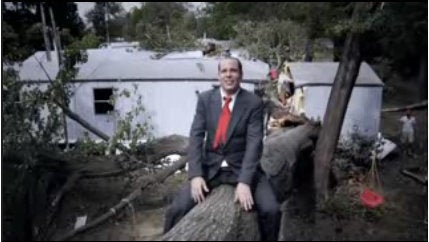 The independent liberal group Accountable America is coming out with a new 60-second spot that tweaks some familiar GOP talking points on the economy. The ad is a pretty rough, if humorous, caricature of conservatives' traditional anti-government, "up by your bootstraps" messaging in the face of Katrina-like disaster.
In the piece, a suited, slick-haired proto-Republican casually strolls through a scene of some severe weather damage, where fallen trees have torn a family's house inside out. "Hardship and adversity, bring it on," the man says, while failing to help the family take care of a large metal sheet of debris. "Just hours ago, record breaking storms blew through here, and they're making the best of it," the man says, casually stepping over one member of the family while uttering a cursory "excuse me."
"I don't think the founding fathers put FEMA in the constitution," the man says, while looking at sniffling children exposed to the elements.
"Our Republican Party isn't afraid of consequences," the man says while sawing off part of a fallen tree. "In fact, we don't even consider them," he brags, before inadvertently sawing through the rope of a child's swing, sending her crashing to the ground.
"Americans don't want government handouts," the closing title reads. "Just government in good hands."
Support HuffPost
The Stakes Have Never Been Higher
Popular in the Community