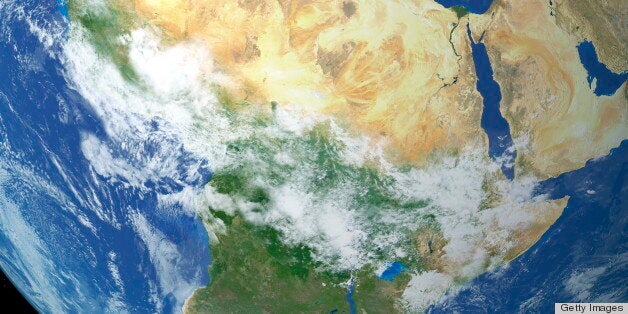 Move over, 19th-century African power struggle -- the coming scramble for continental resources may feature some new and rising players. While European nations such as Britain and France dominated Africa and vied for influence some one hundred years ago, the next geopolitical struggle could pit none other than China against an increasingly more assertive Brazilian dynamo. Officially both countries share membership in the BRICS bloc of nations and recently China and Brazil held a joint consultation on African affairs in Beijing, though in time the two might seek to carve out rival spheres of influence. For now, China has the economic advantage in Africa, though the Asian tiger lacks Brazil's "soft power" edge and cultural ties to the continent. In the event that China is perceived as too callous and unscrupulous in its business dealings, Brazil could reap maximum reward in the public relations arena.
As I discussed in a recent Al Jazeera column, Brazil and China have slightly different economic goals in Africa. On the one hand, China is enmeshed in a struggle to secure major resources, while Brazil on the other is already a resource-rich country which essentially views Africa as a means of diversifying its export markets while internationalizing production of its major oil and mining corporations. Take for example Vale, a Brazilian mining giant which is investing billions in Mozambique, Zambia, Guinea and Liberia. In time, the company seeks to become one of the largest copper producers on the continent. Another infrastructure and construction giant, Odebrecht, is operating in Angola and Mozambique. Traditionally present in the Lusophone, or Portuguese-speaking African countries, Brazilian firms are now pushing into Francophone and even Anglophone nations.
In pure financial and trade terms, China leaves Brazil in the dust. Over the past ten years or so, Beijing has carried out a number of resource-backed deals in which Africa has handed over oil and minerals in exchange for infrastructure projects. Chinese firms meanwhile enjoy financing advantages and routinely turn to China Exim Bank, the Bank of China and the China Development Bank. Brazilian firms by contrast may turn to their own national development bank or BNDES, or alternatively the Banco do Brasil. However, according to a report by Reuters, Brazilian financial institutions are technically prohibited from financing corporations operating in unstable markets. As a result, Brazilian firms don't receive nearly as much support as their Chinese counterparts.
Questionable Chinese Corporate Record
So, who is succeeding in the battle for public relations? Recently, economist Dambisa Moyo wrote an op-ed for The New York Times claiming that China has nothing to be ashamed about in Africa. "China's motives for investing in Africa are actually quite pure," Moya writes, and "the [polling] evidence does not support a claim that Africans themselves feel exploited." It is corrupt African leaders, Moya argues, who are most responsible for abuses and to "paint China's approach in Africa as uniformly hostile to workers is largely unsubstantiated."
Needless to say, Moya's piece hasn't gone unchallenged. Jolyon Ford of Oxford Analytica writes that "investors' motives are rarely pure." Chinese investment, Ford adds, will not resolve structural problems in African economies, and indeed may simply serve to "exacerbate and distort" fundamental inequities.
Furthermore, recent reporting paints a rather crass picture of Chinese corporate expansion. In 2005, Brazilian company Vale conducted feasibility studies for an iron ore mine in Gabon. Before Vale had concluded its studies, however, a Chinese joint venture muscled in on the project by promising to carry out the job more quickly while throwing in a hydro-electric plant, railway and deep water port. Ultimately the Chinese prevailed and received the contract, though local media reported that corruption might have played an underhanded role.
China Facing Public Backlash
When it comes to labor rights, too, China may face growing criticism. According to economist Moya, the ratio of African to Chinese workers exceeds 13:1 in Zambia and "there is no evidence of Chinese prisoners working there." On the other hand, the Globe and Mail paints a very different picture of the situation in Zambia. According to the paper, the Zambian government took over a Chinese-run coal mine after a string of horrific labor and safety problems. At one point, Chinese managers even shot and wounded 13 workers who protested poor working conditions. In Angola meanwhile, Reuters reports that teams of Chinese laborers carry out work assignments instead of Africans. "Where locals are employed," notes Reuters, "their rough treatment by Chinese managers has stirred bitterness."
Recent reports suggest that some Africans may be souring on the Chinese relationship. Take for example Botswana president Ian Khama, who recently remarked, "We have had some bad experiences with Chinese companies in this country." In a further aside, Khama complained that China imports its own workers at the expense of Africans. "We accept China's goods," he declared, "but they don't have to export their population to sell us those goods." Meanwhile, the head of Nigeria's central bank recently raised eyebrows when he wrote a controversial piece in the Financial Times. Mincing no words, he argued that Africa was "opening itself up to a new form of imperialism." China, he added, "is the second biggest economy in the world, an economic giant capable of the same forms of exploitation as the West. China is a major contributor to the deindustrialization of Africa and thus African underdevelopment."
Brazil's Friendly Corporate Image
Sensing an opening, Brazilian business has stepped into Africa and conducted business quite differently. Speaking with CNN, one Africa expert remarked "the stories of Brazil with Africa have also been less contentious -- you've heard stories from Zambia about miners being mistreated by their Chinese bosses but you don't hear from Mozambique or Angola when it comes to Brazilian companies." Brazil's leading trailblazer in Africa is construction firm Odebrecht, which has made a conscious decision to employ local labor on its railways works in Liberia. Reportedly, the corporation has treated its employees well.
In Angola meanwhile, Odebrecht has played an important role in carrying out infrastructure projects and has moved into such diverse sectors as supermarkets and bio-fuels. According to Inter Press Service, Odebrecht's training programs have improved the lives of many locals and in the capital city of Luanda the company has participated in urban redevelopment of slums and sanitation works. Moreover, Inter Press Service remarks, Odebrecht's "policy of employing and training local labor further increases the company's influence in the construction sector," and the corporate giant has become the largest private employer in Angola.The Battle over "Soft Power"
Faced with a restive social and political milieu in Africa, China has conducted an unprecedented media offensive in an effort to improve its public image. Nairobi now serves as a hub for China Central Television (CCTV) in Africa. Meanwhile, Xinhua news agency is expanding its coverage across the continent. In the realm of print, Beijing may count on China Daily, which just spun off a new regional edition called Africa Weekly. On the airwaves, China has even launched Xinhua radio and China Radio International, which serve up a daily diet of Mandarin instruction along with rosy accounts of bilateral Chinese-African cooperation.
Will the arrival of Chinese media enhance Beijing's soft-power reach in Africa? It all depends on whether outlets like Xinhua and CCTV can provide independent reporting and thereby gain public respectability. Needless to say, however, this might be a tall order since both Xinhua and CCTV answer to the Chinese Communist Party's propaganda ministry.
For the time being, Brazil has much less to worry about in the public relations department than China. Unlike other powers scrambling for influence in Africa, Brazil was once a colony like Angola and Mozambique and has common cultural ties to the continent. In Lusophone African countries, Brazilian soap operas command a wide audience on television. African youth, meanwhile, look up to Brazilian soccer superstars.
Nevertheless, some warn that Brazil may encounter an image problem over time. "As more investors inevitably make decisions in Africa on the basis of private interest and commercial returns," writes Alexandra Reza of Think Africa Press, "Brasilia may find it difficult to protect its national brand. Private actors with differing agendas are becoming ever more visible, and there is a risk that this will undermine Brazil's political project of portraying itself as a partner which always prioritizes mutual benefit in a spirit of co-operation and equality."
Not taking anything for granted, Brazil too has embarked on an extensive media offensive in Africa. Under former President Luiz Inácio Lula da Silva, Brazil launched government-owned TV Brasil Internacional, which is beamed to 49 African nations in Portuguese via Maputo, the capital of Mozambique. Perhaps, the new station will counteract China's big media push into Africa, though TV Brasil Internacional may have to struggle for legitimacy. According to the Council on Hemispheric Affairs, there were some initial fears that the station would simply answer to Brasilia and as a result the outlet gained an unfortunate nickname: "TV Lula."
In the new, 21st century scramble for Africa, which country holds the strong suit? On balance, China possesses incredible dynamism and economic advantages. Yet, in its zeal to acquire natural resources, Beijing's image could become tarnished while many Africans turn against the rising Asian tiger. Brazil meanwhile lacks China's economic footprint, but the South American juggernaut may trade off its cultural affinities with the African continent while cultivating its reputation as a responsible corporate player. If it is shrewd and treads lightly, Brazil may indeed give China a run for its money.
Related
Popular in the Community