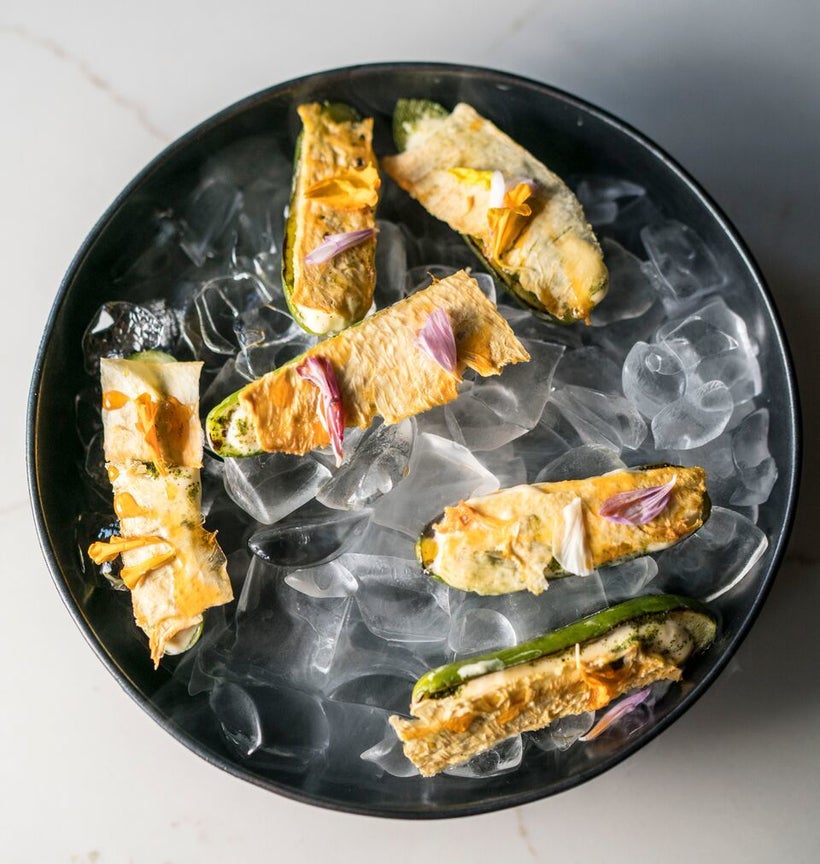 RAHI 60 Greenwich Avenue (near Perry Street)
Faithful readers of this column may have noticed that I've covered a slew of Indian restaurants lately, which has given me a good idea of just how the sub-continent's diverse cuisine is now represented in NYC, which is a far cry from the dumbed-down 100-item curry houses of the past. For one thing, the owners and chefs of these new Indian restaurants are focusing more on their own regions, from Goa to Mumbai, from Benares to Jaipur, with far less reliance on the entrenched Mogul dishes derived from the days of the Raj that have so long dominated. Rahi in Greenwich Village, opened in May, does not only feature a wider array of Indian cuisine but, thanks to Chef Chintan Pandya, from Mumbai, is doing so in a colorfully modern, individualistic way quite a bit ahead of the pack. The menu is divided into sections called "In-a-NY-Minute," which are snack-like appetizers, and "Leisurely" main courses.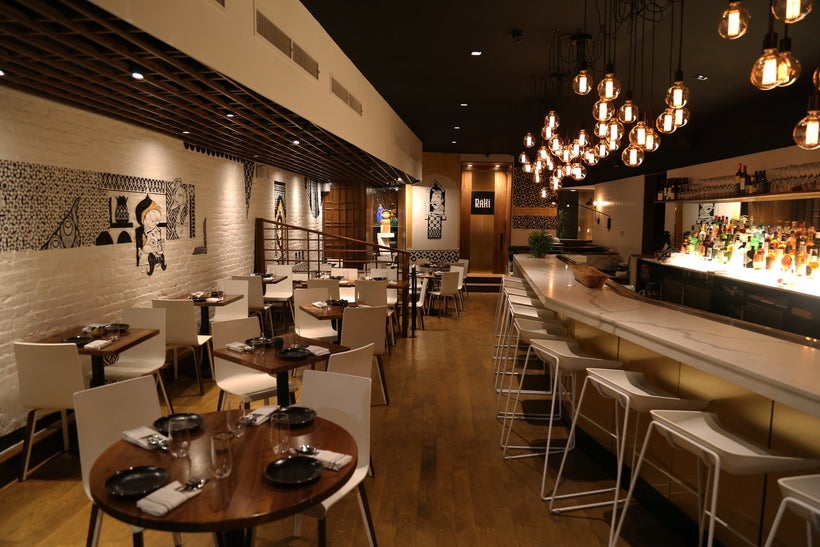 There is a five-course tasting menu at $68 and seven courses at $88, with wine pairing available. I'd recommend those routes.There really is nothing on the menu I've run across before except for Rahi's riffs on Indian themes like paneer tikka kebabs with mango, ginger, mint and goat's cheese ($14), and eggplant bharta, a Punjabi dish of mashed eggplant smoked with charcoal, with onion, cumin, coriander and puffy naan bread ($17). Otherwise every dish arrives in a beautiful presentation on individual plate surfaces—ceramic, wood, marble. As the dish arrives, you may puzzle as to which one it is that you ordered. There are no copper pots of brown stews here, no sizzling platters of orange tandoori chicken.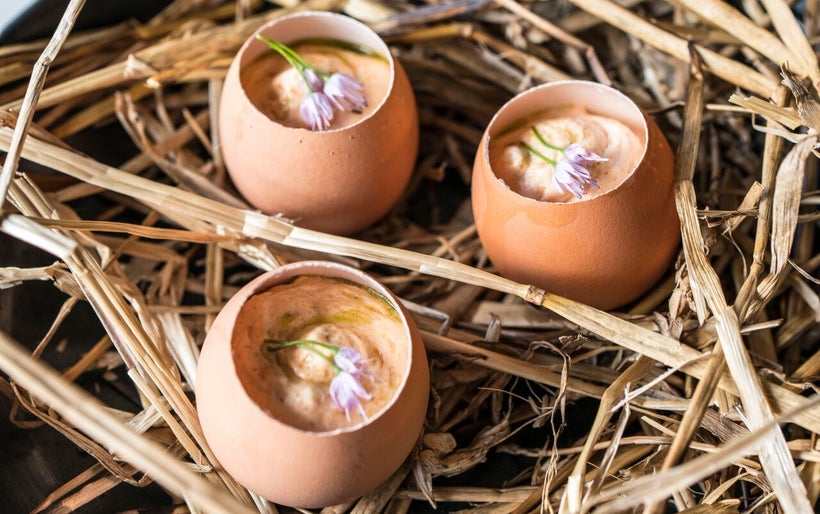 Instead you'll find a Madrasi egg roast ($14) made of a yolk set on a lush onion-tomato mousse, spiked with chili oil and sweetened with maple (above). "Kheera on the rocks" consists of grilled cucumber and yogurt with dehydrated pineapple set atop ice cubes ($14)—cute idea but not really very flavorful. Chettinad octopus ($21), a Tamil dish, also gets mousse-ed, this time with coconut, kataifi crisps and lemon zest. Tulsi chicken is fragrant with basil, hot from Thai chili and spiced with pink peppercorns and sweet orange marmalade ($15). Chorizo seekh ($16) is ground lamb served with pepper jack cheese and berry compote, which could very easily be a dish you'd get in Seattle, and I was intrigued by what a Dalhousie Shepherd's Pie ($25) would be. Named after a British Governor in the region of Himachal Pradesh, it had the look of that British pub staple, only a lot prettier, with cumin-scented mashed potato and roulette cheese to enrich the seasoned ground lamb beneath. Fragrant chicken steamed in a banana leaf ($25) with fragrant basmati rice and a coconut curry is derived from Kerala on the Malabar Coast. Juniper berry lamb chops ($28) were all right, but needed the enlivening of the chipotle peppers, jaggery sugar, ginger and salad. The closest thing to a traditional curry was duck kozhi ($32), a Kerala-style dish, with vermicelli noodles and rosy slices of duck breast in coconut milk scented with cardamom.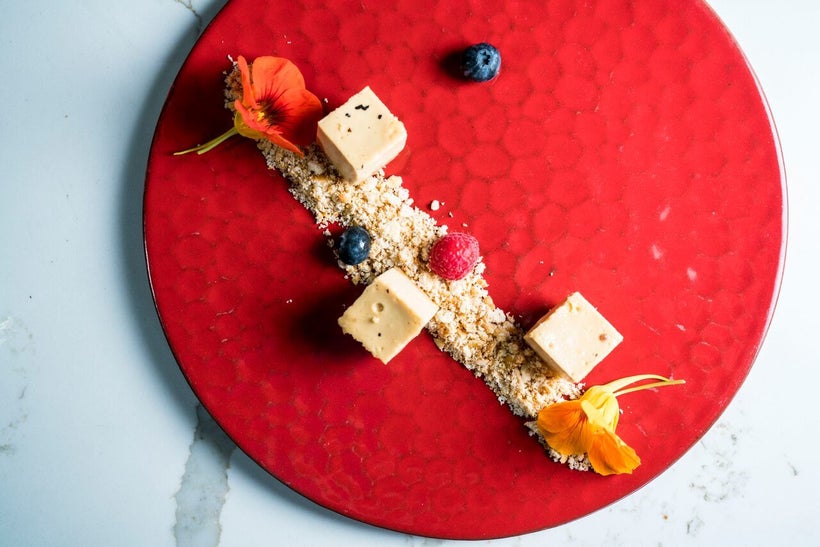 Desserts are all done with the same modern flair, not least the lovely cubes of scented cheesecake (above) set with fresh flowers on a vermillion plate (right). The façade of Rahi is a pleasing white storefront that could house any kind of West Village restaurant or boutique, but inside it looks little like any other Indian restaurant in the neighborhood. The walls are white brick, flanked by a white marble bar, and beginning at the entrance there is a series of dreamy photos that evoke the name Rahi—traveler—which owner Roni Mazumdar has chosen to distinguish his vision and Chef Pandya's cuisine. That they have succeeded shows how receptive New Yorkers and Americans have become to these new styles of Indian cooking from a country that is one-third the size of the U.S. but with three times the population.
Rahi is open nightly for dinner, Sat. and Sun. for Brunch
REAL LIFE. REAL NEWS. REAL VOICES.
Help us tell more of the stories that matter from voices that too often remain unheard.
This post was published on the now-closed HuffPost Contributor platform. Contributors control their own work and posted freely to our site. If you need to flag this entry as abusive,
send us an email
.