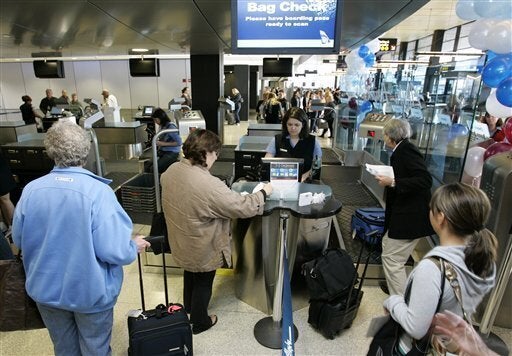 Airline customers are in for sticker shock.
New Department of Transportation rules will force airlines to advertise higher, all-inclusive prices before the end of the month, part of an effort to add transparency to the murky world of airfares. Currently, airlines can tout low "base fares" that don't include costs like government-mandated taxes, security fees and other extras like airport surcharges.
The new "full fare advertising" must be displayed by January 26, though it was originally proposed for October 24, 2011. That date was pushed back by the D.O.T. after airlines cried foul, saying they needed more time to implement the changes.
While the ultimate cost of a round-trip likely won't change -- at least by much -- industry watchers say customers will be in for a bit of a shock when advertisements debut with the new, all-inclusive prices.
"It's been a little bit of a wild, wild west with airline fees," says Travelzoo's US Web Editor Andrew Young, who recently blogged about the change. "The consumer doesn't know where to look or what to expect. This is an effort by the government to provide more transparency."
While airlines won't be required to include fees like those for checked bags -- because checking luggage isn't mandatory -- Young says carriers will have to display more prominently what they charge for extras.
"I think any time you get more information it's good for the consumer," Young says.
Other industry observers echo that sentiment.
"On international flights, this is a big win for consumers," writes Airfarewatchdog blogger Peter Thornton. "International taxes can sometimes be more than the base fare and this can be quite the sticker shock when the final price is displayed."
One-way trips will likely be affected, too, as the Feds will require specific language -- "prices are quoted for
each leg of travel but are only available for a roundtrip purchase" -- when advertising "per-leg" fares.
"For the consumer, at first, they may have to recalibrate a bit what they consider a flight deal," Travelzoo's Young says. "It's not that prices are going up, prices are just being displayed differently. So I think consumers will have to get used to that."
Airlines for America, an industry lobbying group previously called the Air Transport Association of America, issued a statement on the rules back in April 2011, calling for "a clear differentiation between the fare charged by the airlines and the government taxes and fees, which can account for roughly 20 percent of the ticket price."
On January 27, that differentiation will go the way of free meals in coach.