The History Channel hailed an image last week as a "newly rediscovered photo" that might be key to unlocking one of history's "all-time greatest mysteries" and proving that Amelia Earhart did not die in a plane crash.
But now a history buff says he discovered the photo in a book that was published two years before Earhart and navigator Fred Noonan embarked on their final flight.
Yamano said it took him just 30 minutes of searching a Japanese library website to find the photo.
"I have never believed the theory that Earhart was captured by the Japanese military, so I decided to find out for myself," Yamano told the Guardian. "I was sure that the same photo must be on record in Japan."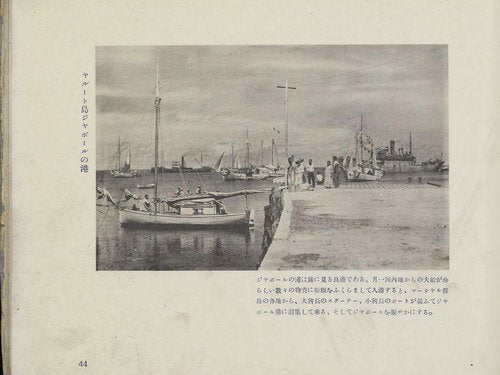 The History Channel presented the photo to viewers on Sunday, in the 2-hour documentary "Amelia Earhart: The Lost Evidence." Retired U.S. Treasury agent Les Kinney was credited as finding the former "top secret" file at the National Archives.
Kinney said he believed the photo was taken in 1937, the same year the legendary pilot and her navigator vanished during an attempted round-the-world flight.
"Kinney argues the photo must have been taken before 1943, as U.S. air forces conducted more than 30 bombing runs on Jaluit in 1943-44. He believes the plane on the barge is the Electra, and that two of the people on the dock are Earhart and Noonan."
As part of the program's investigation, Kent Gibson, a forensic analyst, said it was "very likely" that the individuals in the photo are Earhart and Noonan.
Kinney said the image "clearly indicates that Earhart was captured by the Japanese."
However, prior to the documentary airing, the US National Archives told Gizmodo they were unable to obtain any evidence supporting the photograph was taken specifically in 1937.
"There is no confirmation on either a date or content in the photograph," said James P. Pritchett, the director of public and media communications at the National Archives.
Japan's Foreign Ministry, Defense Ministry and National Archives also spoke out, saying they have no records of Earhart or Noonan being in their custody, WTVJ News reported.
Yamano told the Guardian he was surprised, "that the documentary makers didn't confirm the date of the photograph or the publication in which it originally appeared. That's the first thing they should have done."
The development comes roughly a week after the basic cable network tweeted a photo of George Washington along with the caption, "On This Day in History 1863, the Battle of Gettysburg ends."
Followers were quick to point out that Washington, who died in 1799, was not present when Gettysburg was fought.
For its part, the History Channel says investigators are "exploring the latest developments about Amelia Earhart and we will be transparent in our findings."
Calling all HuffPost superfans!
Sign up for membership to become a founding member and help shape HuffPost's next chapter
BEFORE YOU GO