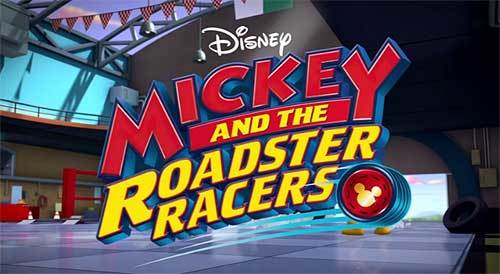 Well, if you want your kid to catch "Roadsters" 's actual debut on this cable channel, that isn't scheduled to happen 'til early January of 2017. Which is an awful long time for any 3-to-5 year-old to wait.
There is another solution to this preschoolers-don't-like-to-wait problem. One that would then allow your kid to get the jump on all of the other members of their kindergarten crew. Giving them the chance to view an episode of "Mickey and the Roadster Racers" almost two full months ahead of their toddler buddies.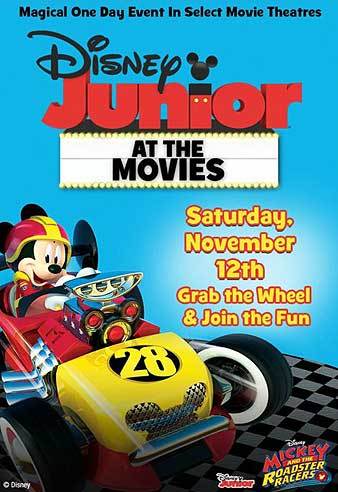 The fun starts at 10 a.m. Which is admittedly a little early. But the idea behind the scheduling of this particular Fathom Event is that busy families with lots of do on a Saturday can catch this preschool program in the morning and then spend the rest of their day running errands (like – for example – taking their toddler's older sibling to a soccer match).
And Fathom Events & Disney Junior are making an effort to make sure that adults who make it to the theater this Saturday by 10 a.m. will then be rewarded for taking their child to this special-preschoolers-at-the-movies programming event. You see, every single person who purchases an admission to "Disney Junior at the Movies – Mickey's BIG Celebration" will also receive a $5 gift card. Which can then be used at the Disney Store or for online shopping.
And speaking of adults … Fathom Events does have some Disney-related events for the older members of the family in the works. Earlier this year, while "Newsies" was wrapping up its North American tour in Los Angeles with a stand at the historic Pantages Theater, Fathom collaborated with Disney Theatrical to create a film version of this stage production. Not only that, but to insure that the movie version of this Tony Award-winner was really appointment viewing, many cast members from the original Broadway production of this musical were persuaded to rejoin the show for this taping in LA.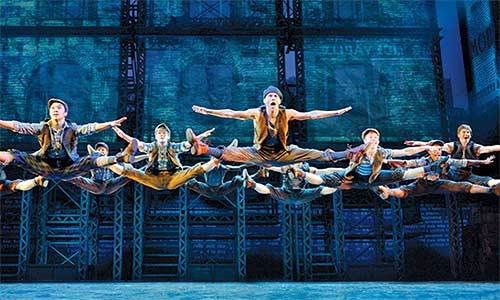 Fathoms' "Newsies" event has yet to be officially scheduled. But look for a crisp digital version of this Disney Theatrical production to screen a theater near you sometime in 2017.
Getting back to "Disney Junior at the Movies – Mickey's BIG Celebration," the "BIG Celebration" portion of this Saturday morning's event is in recognition of Mickey Mouse's 88th birthday. Which is usually held on the 18th of November, in commemoration of the day "Steamboat Willie" (i.e., the black & white short that originally put the Mouse on the map, thanks to its then-innovative use of synchronized sound) debuted at NYC's Colony Theater back in 1928.
"To make 'Disney Junior at the Movies' feel like a real birthday party, the kids who attend this Fathom Event won't just sit there. They'll be encouraged to regularly get up out of their seats by much-beloved Disney Junior characters like Miles from Tomorrowland," said VP of Programming Kymberli Frueh. "Based on what's going on up on screen over the course of this 70 minute-long program, these kids will be encouraged to stand up, clap, & sing. This portion of the show will be very interactive."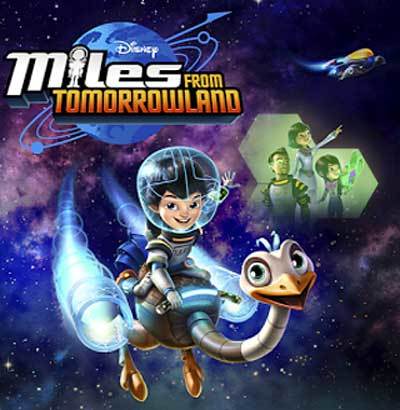 This kid-friendly program has been in the works for over a year now. And if Fathom CEO John Rubey has his way, it'll be the first of many Disney-related events.
"There's a great interest within Fathom and its owners in exploring all sorts of possibilities in the Disney relationship. And I think you're going to see a lot more of it in 2017 & 2018." John stated.
But for now, it's all about the premiere of the successor series for "Mickey Mouse Clubhouse." Which sends the Sensational Six & their uniquely personalized race cars on all around the globe. Not to mention all of the hometown adventures that this classic Disney characters have as they zoom their vehicles up & down Hot Dog Hills.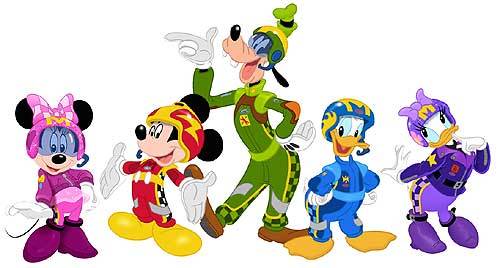 So if you'd like your child to be among the first to see "Mickey and the Roadster Racers," be sure and check out "Disney Junior at the Movies – Mickey's BIG Celebration." Presented by Disney Junior and Fathom Events, this one-time-only showing get underway this Saturday morning beginning at 10 a.m. (local time).
Related
Popular in the Community