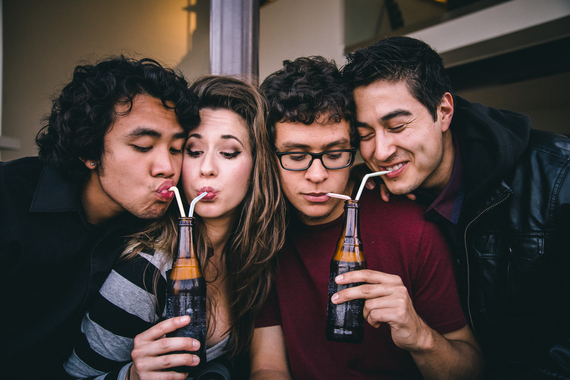 There are many layers to Los Angeles than what appears on television. In the music world, there is a flavor for every taste as long as you have the wherewithal to look. Quality music can be found in underground warehouses, dive bars, and even street corners. Where there are ears to listen there are musicians to perform. From the depths of Los Angeles comes the eclectic rock-pop group Mleo (pronounced muh-lee-oh).
Though born in Sacramento, Mleo is a four piece band that is comprised of Audrey Reed (lead vocals), Victor San Pedro (guitar), Nick De La O (bass), and Elias Vasquez (drums). The upcoming release of their latest track "Ridiculous" is already receiving sparkling reviews from fans and music aficionados alike. With their last album Sunken City that was released to rave reviews in 2014, "Ridiculous" promises to showcase their signature sound as well as some new and evolved elements. Set for release on October 7th of this year, Mleo hopes to see a meteoric rise in the musical stratosphere.
Mleo originally began as a trio in 2012 with members Reed, San Pedro and De La O being friends since their teens. As their young minds grew and developed, one thing was always certain: music was their path. There was no doubt that all three of them would continue their sonic journey in Los Angeles. Having performed together since high school, they have a unique chemistry that is rooted in their longtime friendship and history. There is something to be said about a group that has remained so loyal to each other, not just about their music, but about their dynamic.
Creating music and sharing it with the world is one of the most personal forms of expression in the artistic world. To write songs with friends who not only know each other on a musical level but on a personal level creates a sound that is so much more evocative than writing songs with a roomful of studio musicians. While studio musicians provide an unrivaled technique, friends provide a one-of-a-kind experience.
Their skills as songwriters are apparent, but it is their progressive soundscapes that are truly ear-catching. Reed's tantalizing vocals are what make first contact with your auditory cortex as her delicate, yet powerful words pull the listener in. Though Sunken City is a successful record that demonstrates Mleo's signature sound and talent, the track "Ridiculous" hones in on that sound, really capturing the heart of the band's aural alchemy.
The instrumentation is subtle and uplifting, lending a sonic hand to Reed's voice with sumptuous guitar melodies, swaying bass-lines and swanky drum beats. Together they have conjured a palpable magic that has manifested itself into "Ridiculous." Borrowing elements from jazz, funk, indie rock/pop, R&B, hip hop and hard rock, Mleo displays a variety of musical perspectives which are never stagnant and always fresh. Identifying from so many varying genres sounds cluttered, but they have managed to utilize only the most appropriate aspects of these sounds while infusing them into their own signature sound. The end result is something that is cohesive as well as diverse.
Popular in the Community