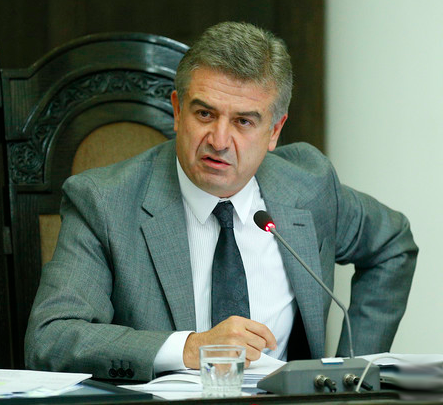 Image: Armenia's new Prime Minister Karen Karapetyan. Public Domain
Hundreds of Armenian bigwigs were in a festive mood as they filed into a concert hall in the capital of Yerevan on December 3, 2010, for a concert by opera star Placido Domingo.
The upbeat mood didn't last long for one of the preeners, though.
When the wife of Mayor Gagik Beglaryan tried to sit next to President Serzh Sargsyan, one of Sargsyan's aides told her the seats on either side of the president are reserved for the prime minister and the head of Armenia's Apostolic Church.
The wife, Nouneh Nikolyan, was furious. She complained bitterly about it to her husband, who was not at the concert.
The next day Beglaryan demanded a meeting with the aide, Aram Kandayan.
The mayor, surrounded by bodyguards, took Kandayan to a factory and beat the hell out of him, according to news accounts.
Armenia has had a history of politicians using their positions to get away with assaulting someone they're angry with, but Sargsyan was unable to ignore this one. By attacking a Sargsyan aide, Beglaryan was mounting a direct challenge to the president's authority.
Sargsyan fired him as mayor.
This sordid chapter led to Karen Karapetyan, the head of Russia's natural-gas operation in Armenia, obtaining his first public-leadership position.
Sargsyan named Karapetyan mayor of Yerevan a few days after firing Beglaryan in December of 2010. Karapetyan kept the post only a year before returning to Gazprom.
Now Sargsyan has thrown Karapetyan into another emergency situation: The tense aftermath of an armed group's police-station takeover in July that turned into a general uprising against the Sargsyan regime.
This time Karapetyan has stepped into Armenia's second-most-important position, the prime ministership.
He replaces Hovik Abrahamyan, whom Sargsyan made a sacrificial lamb for Armenia's continuing economic problems and for the government's inept handling of the police-station takeover.
Because Karapetyan assumed both the mayor's and prime minister's positions reluctantly -- to bail the government out of jams -- some political analysts are dubbing him the "accidental politician."
Underscoring that designation, his tenure as prime minister is likely to be only seven months longer than his 12 months in the mayor's post.
That's because Armenia is changing from a strong-president to a parliamentary system in 19 months. Sargsyan changed the constitution in December of 2015 because it would have limited him to two terms in the nation's highest office, the presidency.
The new system makes the prime minister instead of the president the nation's premier leader, and Sargsyan is expected to become prime minister when the new political system goes into effect in 2018.
This means that Karapetyan will stay in the prime minister's post only 19 months.
Will he able to make a difference in that limited time frame, even if he wants to? Probably not.
And his background suggests he won't want to make a difference.
Here are some things to remember about him:
1. Karapetyan is pro-Russian at a time when a growing number of Armenians believe the country's best chance for prosperity is looking toward Europe.
He built his fortune working for Gazprom, first in Armenia and then in Russia.
He was CEO of Gazprom's Armenian subsidiary, ArmRosGazprom, from 2001 to 2010. He left the Yerevan mayor's post in December 2011 to become first vice president of Gazprom Bank in Moscow. He has been deputy general director of Gazprom Mezhregiongaz since November 2012.
With his continued career success tied to Russia, Karapetyan is unlikely to take any steps as prime minister to move Armenia away from its dependence on Moscow.
2. Karapetyan is unlikely to do anything for Armenia's little guys, the rank-and-file whose lives get worse each year. In fact, if his past performance is a predictor, he's likely to try to make things worse for the little guys.
Although Karapetyan was mayor of Yerevan only a year, many residents remember his attempt to get rid of the city's street vendors.
His justification was that those selling vegetables, fruits, household items and crafts on the street were involved in the shadow economy -- economic activities that were unregistered and thus yielding no tax money for the government.
His crackdown led to hundreds of vendors protesting and to sympathy demonstrations by the public at large.
"Isn't it obvious that if I had another job, I wouldn't be standing in the cold, selling fruits and chocolate to make ends meet?" wailed one of the vendors, pensioner Karen Hakobyan. "Of course, Karen Karapetyan wants to see Yerevan free of street vendors' stalls when he looks at them out of the windows of his luxury limousine. But what am I to do? Is the mayor going to support my family?"
Although Karapetyan has been in the prime minister's post only a few days, he has already signaled that he plans another attempt to crush the shadow economy -- this time not just in Yerevan but in the nation as a whole. "The Armenian economy has no chance of being reformed without a fight against the shadow economy," he asserted.
3. Karapetyan is likely to be a caretaker rather than a trailblazer in the prime minister's post. In other words, he's likely to talk a good game but do little.
Borrowing a street vendor analogy, Karapetyan won't want to upset the apple cart for Sargsyan before Sargsyan moves into the prime minister's post in 2018.
After the police-station takeover ignited a general uprising against the Sargsyan regime, the shaken president promised economic and political reform, including a government of national unity that includes opposition figures in the cabinet.
He also fired Abrahamyan as prime minister to demonstrate that he's serious about reform -- whether he is or not.
If he had wanted a reformist prime minister, however, he would have chosen someone besides Karapetyan, who has been a cautious business executive most of his life.
That has prompted many observers to conclude that Karapetyan will simply be trying to keep domestic political turmoil from boiling over during his tenure as prime minister, and not making substantive policy changes.
A fresh face in the prime minister's position will give some Armenians hope that the anemic economy will improve, the gap between rich and poor will shrink, and corruption won't be as pervasive.
I don't have the heart to remind those who are clinging to hope that Armenia has had 18 prime ministers in its 25 years of independence, and is still one of the poorest countries in the former Soviet Union.
Armine Sahakyan is a human rights activist based in Armenia. A columnist with the Kyiv Post and a blogger with The Huffington Post, she writes on human rights and democracy in Russia and the former Soviet Union.
Related
Popular in the Community