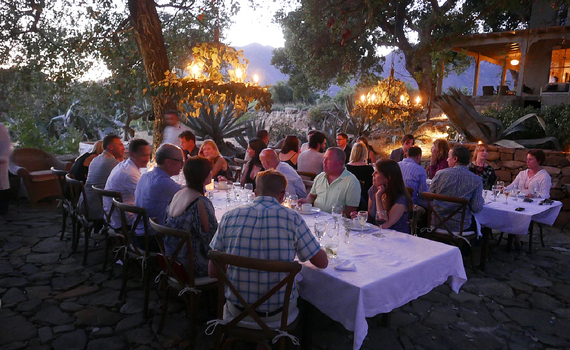 Guests at the VIP Dinner at the Thacher House, 4424 Thacher Road, Ojai Hosted by Alan Polsky. Photo by EMS.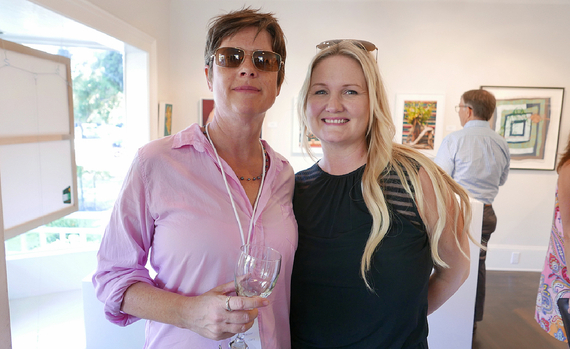 Heather Sobo of Porch Gallery Ojai and Lila Glasoe Francese, President of The Carolyn GlasoeBailey Foundation. Photo by EMS.
The Carolyn GlasoeBailey Foundation presents : Fierce Generosity, the Carolyn GlasoeBailey Memorial Exhibition in collaboration with Porch Gallery Ojai
Announcing The Carolyn GlasoeBailey Foundation's 2016 Artist Award and Rob Fischer as the First Recipient
July 21-August 21, 2016. Opening Weekend Events: July 23 and 24, 2016, Porch Gallery Ojai.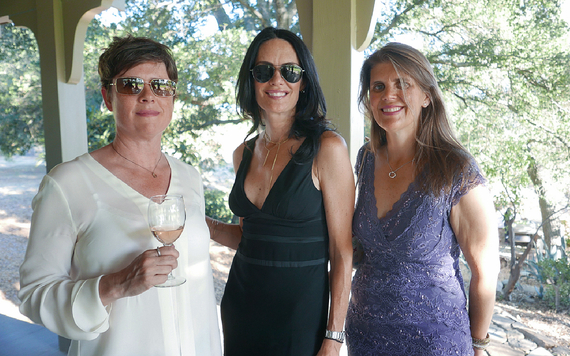 Heather Stobo of Porch Gallery Ojai with Carolyn's Minnesota friends and collectors Jennifer Armetta and CGB Board Member Mary Morrison. Photo by EMS.
As Los Angeles' art scene becomes more internationalized with mega galleries from London to Berlin to Manhattan setting up tentpoles throughout, not to mention the new trust fund galleries of limitless wealth saturating the city with weekly calendars choked of world class exhibitions, it's no surprise that the city's influence will spread. Like rolling wild fires to Orange County to Palm Desert to Lancaster, it's only appropriate a small nestled town of Ojai reaps the new zeitgeist. Just south of Santa Barbara and near the coast of Ventura, Ojai is known as a Shangra La, an oasis of relaxing and healing. Its spas are legendary. What Ojai has in abundance (healthy living, great food, gentle lifestyle) they lack in commercialization. There's no Starbucks, no fast food, no Gap, no Tiffany's, and no contemporary art scene like Palm Springs, Laguna beach, La Jolla, and perhaps, Costa Mesa.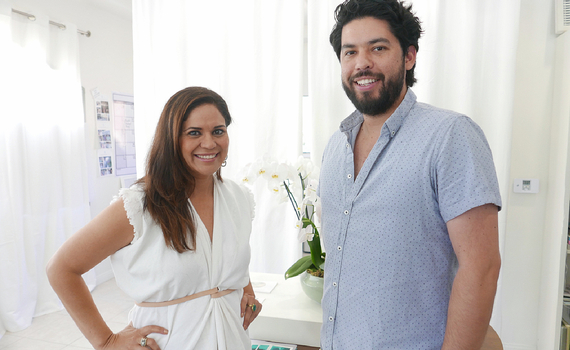 Miki Garcia, Executive Director of MCASB and Frederick Janka, Director of Development of MCASB. Photo by EMS.
Then there's the phenomena of singularity (a hypothetical moment in time when artificial intelligence and other technologies have become so advanced that humanity undergoes a dramatic and irreversible change.) Singularity or the dawn of contemporary arts in Ojai may have started before we knew it. Porch Girls Productions, owned by Heather Stobo and Lisa Casoni, officially took over management of Porch Gallery in May of 2013. The Porch Gallery Ojai is located in a historic building in downtown Ojai at 310 E. Matilija Street. Stobo and Casoni are eager to create a contemporary art scene in Ojai. Their desire is to show serious art for the sophisticated buyer. Ojai has money and if they can tap into that purse they will be the pioneers of a new art scene and a new outpost for Los Angeles patronage.
Prior to Porch Gallery, Ojai was the place to hide and forget the problems of big city life. It was a place for family, not a place of fraternizing, schmoozing, and networking. A prevailing attitude among artists in Ojai is to enjoy the perks of solitude and bliss. As long as theres fresh oranges, and wine, and tequila they're good. They think...I'll see you in Beverly Hills where your city life is miserable and the art openings are full of moochers and has-beens, then come back to Ojai and leave life's issues at the doorstep of Ventura.
For me, I had the privilege to cover the weekend of art events on behalf of the Carolyn GlasoeBailey Foundation hosted by Porch Gallery Ojai. It is described as "The Carloyn GlasoeBailey (CGB) Foundation's Fierce Generosity memorial exhibit will be presented in collaboration with Porch Gallery Ojai. To honor Carolyn Glasoe's contributions to the art world, this exhibition will feature the works of over 35 artists that were influenced and impacted by GlasoeBailey's career, including Sanford Biggers, Enoc Perez, Ry Rocklen, Sterling Ruby, Melanie Schiff, and Xaviera Simmons. Proceeds from the sales will benefit The CGB Foundation.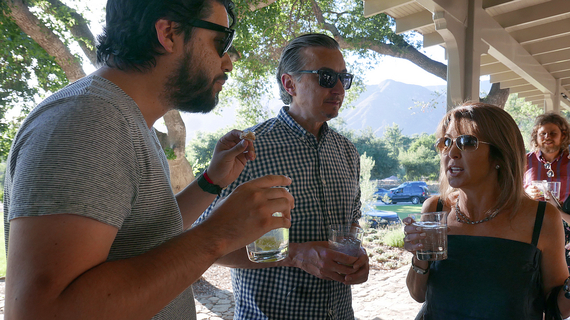 Frederick Janka, Director of Development of MCASB, John Connelly, MCASB Board President Jacquelyn Klein Brown. Photo by EMS.
"I met Carolyn in 2001, when I was installing my show at her gallery. She came in, introduced herself, and I thought immediately, "This is one cool dealer." She made me feel welcome. She was intelligent and witty," remarks artist Enoc Perez. "She was the kind of person that I liked to work with-not arrogant- but frank and generous. I will miss her. I wish that my generation of art dealers were more like her."
"She lit up a room and inspired all who knew her," remarks MCA Santa Barbara Executive Director Miki Garcia. "Carolyn taught me so much about art and passion. MCA would never be where it is today without her determination and vision."
The opening weekend of the exhibition, taking place on July 23 and 24, will coincide with the unveiling of a public sculpture by Rob Fischer, the first artist recipient of The CGB Foundation's artist award. Fischer's new sculpture will be exhibited at the foundation's forthcoming exhibition space in Ojai, California. This specific work is a sister-piece to Fischer's Glass House, Beautiful City series of sculptures that will be installed on Park Avenue in New York during the summer of 2016. "
Rob Fischer (b. 1968) is known for his solo museum exhibitions at The Hammer Museum, Los Angeles, CA; Whitney Museum of American Art at Altria, New York, NY; and Santa Barbara Contemporary Arts Forum, Santa Barbara, CA.
The CGB Foundation was established in 2016 by Lila Glasoe Francese, Glasoe's sister, and Chris Bailey, Glasoe's widower, with the objective to continue Glasoe's commitment to the arts and sciences. They say, "Carolyn Glasoe started her career at the age of 19 when she opened her first art gallery in her hometown of Minneapolis. In 2000, she moved to New York where she co-founded the Dee Glasoe Gallery in the Chelsea Art District. In 2002 Glasoe left New York, returning to her home base of Ojai to concentrate on curating private art collections for her clientele worldwide. Glasoe's life ended at the young age of 46 after a year and a half battle with Glioblastoma brain cancer. She was mother to a beautiful nine-year-old boy Matson West Bailey and wife to entrepreneur Chris Bailey."
Fierce Generosity is presented in collaboration with The Carolyn GlasoeBailey Foundation and Porch Gallery Ojai from July 21 through August 21, 2016. Porch Gallery Ojai is located at 310 E. Matilija Ave. in Ojai. Please visit www.carolynglasoebaileyfoundation.org and www.porchgalleryojai.com for additional information about the exhibition, related events hosted during the opening weekend, future collaborative efforts, and the full list of participating artists.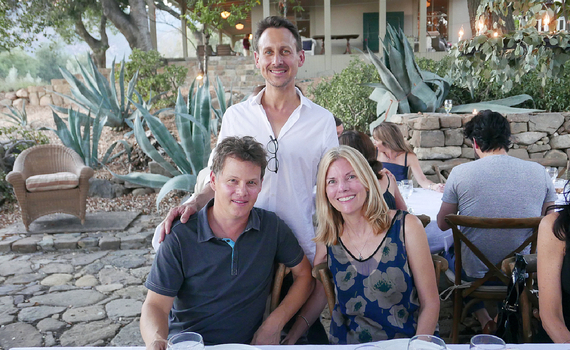 LA art dealer Adam Biesk, CGB Artist Award Recipient Rob Fischer and Collector Carolyn Reece. Photo by EMS.
Ultimately, I embrace the hopes of Porch Gallery Ojai and the The Carolyn GlasoeBailey Foundation in bringing a new attitude to the region, an attitude that forms a coalition with Santa Barbara down to San Diego and beyond in making Ojai arts not only unique but has it's special place in arts history.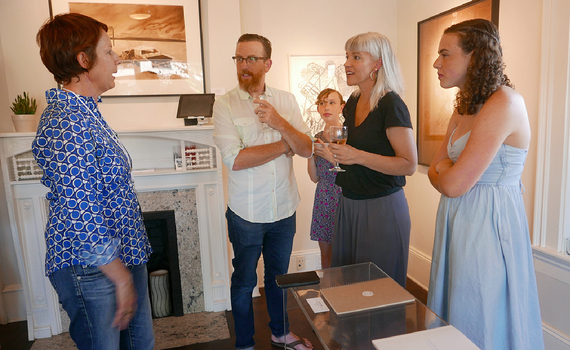 Lisa Casoni Porch Gallery Ojai and guests at the Fierce Generosity: The Carolyn Glasoe Memorial Exhibition opening. Photo by EMS.
This article is part of an ongoing photojournalism survey of art exhibition openings titled EMS N(art)rative. Through my lens I document a photographic essay or visual "N(art)rative" that captures the happenings, personalities, collectors, gallerists, artists and the art itself; all elements that form the richly varied and textured fabric of the SoCal art world. This reconnaissance offers a unique view for serious art world players to obtain news and information on the current pulse of what's in the now, yet capturing timeless indelible images for posterity and legacy. Here is EMS N(art)rative Forty.
Related
Popular in the Community