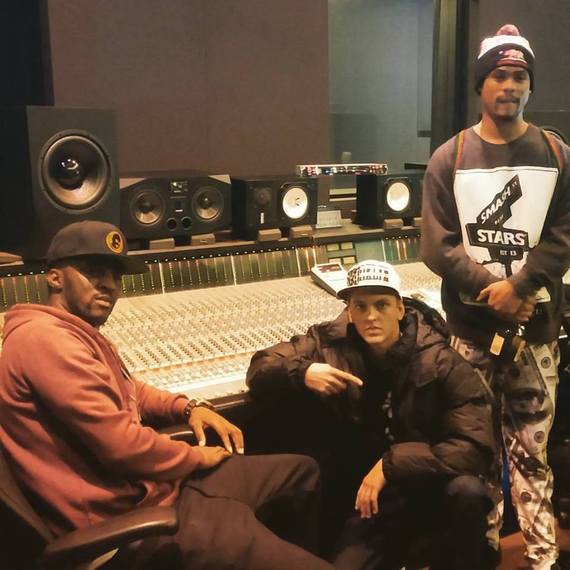 In the days of old, musical genres were once clearly defined. As music and the production of sound began to transform and evolve, the lines between genres became creatively blurred like the smudging of oil pastels. Styles like blues and rock, reggae and cumbia, and now EDM and rap, have seamlessly merged into their own cohesive sounds.
A newer genre that has been popping up in the electronic music scene is EDM rap which combines the uptempo BPMs of electronic music with the flow of hip hop lyricism. While EDM rap have been appearing more and more in the realm of top 40, new artists of this genre are continually changing this sub-genre. The newest person to join this musical style is 19-year-old Arizona rapper, CJ Kerns who goes by the moniker Frequency. Though young in age and experience, Frequency speaks to the new generation of music-listeners, a generation who have spent more of their lives in the technological era than in the analogue era.
The first installment of his debut double-album titled Fire And Lightning: The Lightning Side will be released in February 2016 featuring lyrics based on his early life experiences as a teenager growing up in a broken home. Frequency began rapping at the age of 9-years-old, free-styling at school and parties with his friends. In August of 2015, he was discovered by the small label, Hood and Associates, after his sister, model Amber Kerns, recommended that they take a listen. He was signed to the company based off of the concept of him reaching a wider audience by performing at major festivals in both rap and EDM genres.
Frequency began recording Fire And Lightning in September of 2015, laying down 24 tracks at Park Style Records in South San Francisco. Since then, he has recorded 35 songs, some of which will make his album released this month and some which will be saved for a future project. He briefly graced the stage at the NOS Events Center in San Bernadino during the 2015 XO Gold Cup, a new Cannabis Convention put on by Caviar Gold, and promises to appear on many more stages in the near future.
REAL LIFE. REAL NEWS. REAL VOICES.
Help us tell more of the stories that matter from voices that too often remain unheard.