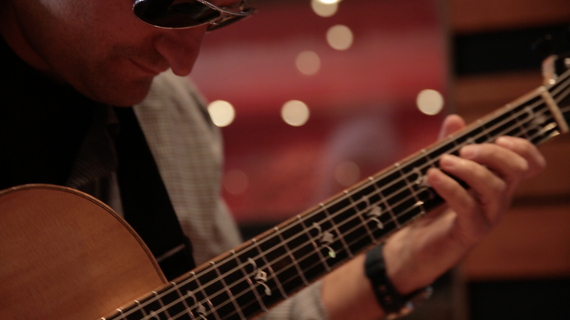 Though jazz was never dead, it has definitely been seeing a resurgence within the past few years. Not only has it been regaining popularity, but it has also evolved, keeping its same technical sensibilities but adding new elements that are keeping the genre fresh and very much alive. Hailing from the legendary music town of New York City are jazz/rock fusion visionaries, Gideon King & City Blog, musical masterminds of instrumental sorcery.
Boasting a large scale band that includes guitar, two bass players (electric and upright), piano, two drummers, saxophone, flute, trumpet, several vocalists and even a member of Steely Dan, Gideon King & City Blog is not just an ensemble but an experience. An aurally rich group filled with sophisticated musicality, their newest self-titled album is full of vibrant arrangements, edgy lyrics, and chilled-out vibes.
Gideon King, the musical genius behind this legendary studio project, is a talented and ambitious composer who spent his entire upbringing surrounded by a highly musical family. Playing guitar since he was ten years old, he is also a talented producer known for his varying degrees of styles that span across pop, funk, rock, jazz and fusion. Throughout his life, he has found musical inspiration from Steely Dan, John Coltrane, Neil Young, Earth, Wind & Fire, Wayne Shorter, John Scofield, Seal, Pat Metheny and many more in the worlds of classical, jazz and pop.
James Genus, who is one of the group's two bass players, performed on all but one of the compositions on the album. Genus' legendary skills on the bass have become world-renowned as he has played bass for Herbie Hancock, Daft Punk as well as the Saturday Night Live Band. Matt Penman, who specializes in upright bass, plays on the bluegrass/funk track "Glide" and is a staple in the New York jazz community. Drummers Willard Dyson and Donald Edwards both add an eclectic flair, each of them offering their unique flavors to the ensemble. Kevin Hays plays keys for the group and has toured with John Scofield and recorded with Brad Mehldau. On the saxophone, tenor sax and flute, is Donny McCaslin who contributes his sounds to the tracks "See In Double and "New York Is."

Established vocalist Marc Broussard who is known for his unique style of "bayou soul," adds a complex layer of sound that supports the richness and texture of the music. Carolyn Leonhart has long been a regular member of Steely Dan's vocal team and sings both lead and background on the album. With such a stellar group of vocalists that also include Grace Weber, Elliott Skinner and Saul Kurtz, City Blog offers a full sound that envelops and enraptures, from its harmonious ensemble to its powerful singers.
King's ambition is limitless. Not only did he commit to creating one of the world's greatest fusion studio products, he accomplished it and managed to assemble an unbelievable team of legendary musicians to make it happen. Set to release on September 26th, their album travels across the skin, leaving goosebumps in its wake. Gideon King is a visionary who has been deeply immersed within the New York music scene his entire life. The city itself plays a role in his music, a character that emerges throughout the album. At times, the album is reminiscent of a bygone era but amidst the nostalgia, it is also a reflection of the modern evolution of jazz. If New York could be characterized by a sound, Gideon King & City Blog would be it.
Related
Popular in the Community