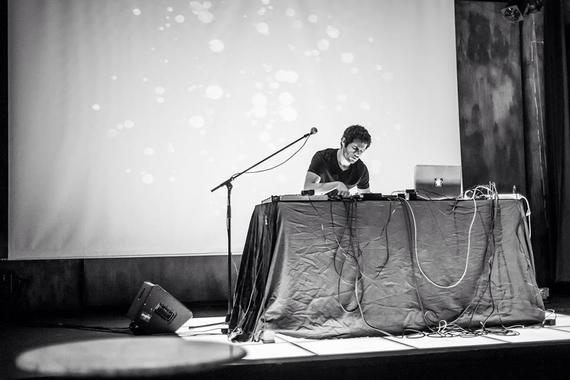 The genre of electronic music has vastly evolved since the early days of techno. It is no longer simply an underground phenomenon but now a trusted method of production spanning almost every style of music. Talented musicians such as James Blake have combined soulful lyrics and melodies with electronically produced sounds. This fusion has changed the perception of how music is made as well as the perception of electronic music as a respected genre. Brooklyn-based artist goste is an experimental electronic music producer. His sounds have been compared to that of James Blake, Mount Kimbie, Chet Faker, Helado Negro, Prefuse 73 and even Tom Waits. Though goste's similarities to these artists is apparent, they do not wholly speak for the true depth of his sound.
Goste (Owen Ross) is quickly accelerating in success. With a U.S. and European tour already under his belt for his record Deleted Scenes which was released in 2013, his six track EP titled Eugene has already found a home in the ears of many underground aficionados. Goste is not only a skilled producer, but also a technically trained instrumentalist. After graduating from the famous Berklee College of Music in Boston and touring the U.S. as a guitarist, he moved to New York to seek inspiration and inspiration he found. The combination of his experimentation with electronic sounds and his aptitude for musical composition creates a striking sonic experience. He mixes formal song and lyric structure with a hint of avant garde. Singing all of his own tracks, a rarity in the electronic world, his smokey voice adds an intimate element to his music. The sultry, throaty tone of his voice is reminiscent of classic blues singers, projecting raw emotion with each note.
In his past tracks, such as "To Pretend" and "Into: T.S.A.R.," he is on a path to discovering his unique soundscape. The evolution of his music is apparent in the journey that his tracks take you on when listened to in succession. Eugene encompasses how far he's come and the truly remarkable achievement in sound that he has shaped with his mind. Slow, broken beats paired with haunting vocals, profound lyrics and prismatic tones sends a chilling vibration through the nervous system. Music that can evoke an involuntary physical reaction can only come from the brain of a deeply connected individual. To be in touch with human senses and emotions is vital for an artist. Sound is a universal language that can raise or lower blood pressure, make you laugh, cry, smile, or riot. His live performances must be extremely visceral experiences.
In production, vocals, and instrumentals, goste has succeeded with his third album, Eugene. While the tone of the album is somewhat melancholy and at times morose, there is always something so sensual and alluring about the dark side. His sound is a fusion of opposites: delicate and dissonant, ethereal and nebulous, sensual and forlorn, organic and electronic. Goste's tracks reflect the duality within the human spirit. He takes us on a journey through his mind as he artfully connects his lyrics with skillful wordplay. Owen Ross is a new artist to keep your third eye on in 2015.
Popular in the Community