EDITOR'S NOTE: PLEASE USE THIS IMAGE AS SOCIAL MEDIA THUMBNAIL http://images.huffingtonpost.com/2015-10-02-1443827685-6939268-kfjhallway.jpg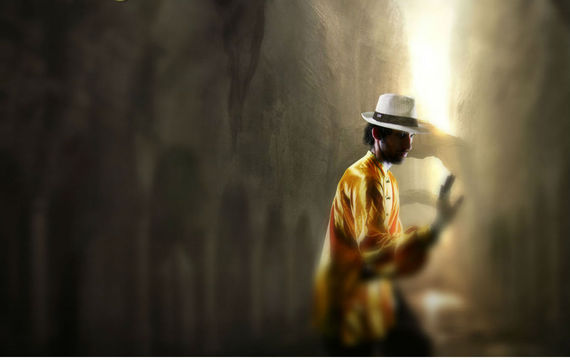 Humor is one of the most significant contributors to human connection. Some types of humor evoke laughter and other types of humor raise eyebrows. It can convey a strong message, be meaningless or meaningful or simply improve the quality of one's life. Musicians have long since utilized the power of comedy to reach a wider audience and communicate philosophies, narratives and ideas. From the legendary Frank Zappa to the modern musings of Reggie Watts, humor and music can create a potent combination.
Hailing from The Shire in Scotland is the psychedelic pop-rock musician, Craig Snape who goes by the name of Kung Fu Jesus. Not only is he the singer and songwriter, but he also plays guitar, keyboards, bass guitar and drum-loops as well as sings some of his own backup vocals. His bandmates include Robert Hamill on accordion, Phil O'Shea on keyboards, drum-loops and arrangements and Keiran Allan as backing vocals and spiritual dancer. With such a colorful moniker, the imagination begins to swirl around any number of strange images that the name Kung Fu Jesus conjures.
He awakens the mind before one even hears the music. Based upon his compositions, I can deduce that Kung Fu Jesus is a part monk, part Thor type of character whose favorite colors are rainbows and fireworks and has the spirit of a sage and the heart of an activist. How accurate that description is, I might never know, but I'll keep it for now. Having already been featured in Emmy award-winning documentaries and receiving continuous radio play on the BBC among other stations, Kung Fu Jesus is beginning to garner a following that is growing exponentially.
His new record Celestial Gold is a blend of elements from hip hop, classic rock 'n' roll, world rhythms, psychedelia, indie pop and the harmonies of old school surf rock. Though very unique, he has been compared to the likes of Beck, Iggy Pop and Damon Albarn. He has created a sound that is as comical as it is poignant while his instrumental skills and musical arrangements showcase his well-rounded talents. A composer of dreams, he crafts airy landscapes of sounds and textures with an uplifting cadence that leaves his audience feeling elated.
Paired with dreamy instrumentals, Kung Fu Jesus is also a prolific and inspiring writer whose lyrics express matters such as spiritual ideology, mythology, social injustice, love, tongue-in-cheek humor, fun and so much more. His music is danceable, singable and thought-provoking. The breezy and romantic track "Rainbow Road" sings of the album's namesake with its happy cowbell and toe-tapping rhythm. Fantastical tracks such as "Double Dragon," "God of Thunder" and "Fenris Wolf" show his love for Bruce Lee and his deep connection with mythology, particularly of the Norse and Egyptian varieties.
While the majority of his songs seem to retain their uplifting vibe and cadence throughout Celestial Gold, he also touches on more obscure topics creating an intriguing dichotomy between light and dark. The track "Smartphones" discusses the sinister nature of technology and how enslaved the world has become by their electronic devices. He daringly sings a sardonic song about Kurt Cobain's suicide and even denigrates the beloved Christmas icon, St. Nicholas. From Norse mythology to mental enslavement, no topic is off limits for Kung Fu Jesus. Never afraid to break through the confines of societal norms, he forges his own sonic path that his true fans will valiantly follow.
REAL LIFE. REAL NEWS. REAL VOICES.
Help us tell more of the stories that matter from voices that too often remain unheard.