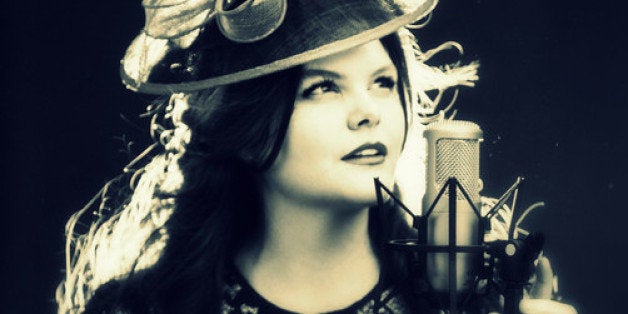 Shadows have many layers. They contain a chill, dark core, a complete absence of light blocked by an opaque object, like when the moon casts its shadow over the earth. On the outermost edge of the shadow, is a less dark region known as the penumbra, a space where light and dark commingle. Much can be analogized with the penumbra, like how it represents the dichotomy of human nature or the limbo of twilight before dawn. Los Angeles musician, May Devun, is the musical manifestation of the penumbra with her newest album, aptly titled, Penumbra Lounge.
Previously a critically acclaimed progressive metal guitarist and composer, Devun completely changed her musical trajectory, leaving the darkness of the rock world for the penumbra of R&B lounge music. Her versatility is apparent in that she has found success in both genres as well as creating a signature sound. To new listeners, this genre jump may seem drastic but because of Devun's passion for music, the change came naturally and seamlessly to her.
Penumbra Lounge offers Devun a new aspect of her craft to explore as she adventurously leaps into a newfound sonic landscape. Beginning anew with a fresh style leads to worlds of inspiration. Chilling melodies and sanguine vocals in the opening track "Echoes In The Dark" lure the listener into an obscure sonic palace full of haunting reverberations and sadness. "We Walk Alone" has an enticing beat that tickles the eardrums and drifts across the skin like a cool breeze. Reminiscent of great female vocalists such as Fiona Apple, Adele and Tori Amos, she shares their power and conviction while still remaining unique. Though Devun has left the metal scene, she still plays in the darkness, evoking one's deepest, hidden emotions and secrets.
Almost all of Devun's tracks air on the somber side of the musical experience setting a heavy, yet calming atmosphere. Her musical style is contemplative, emotive and introspective. "Only Fool Here" is one of her more upbeat tracks, in comparison to the rest, on Penumbra Lounge with its sweet piano melody and doo-be-doos. Her lyrics tell tales of the hearts sorrows in its many forms and her powerful voice sends these lyrics through your mind like an electrical current. Though this album is deeply soulful and rooted in rhythm and blues, there are elements of her metal influences peppered throughout Penumbra Lounge.
Soaked in drama, epic in scale, and profoundly woeful, Devun's new solo album is honest and pure. With no holding back, she masterfully crafts an album that is as heavy as it is delicate. Listeners can easily become lost and entranced by her hypnotic voice, manifesting each note of her music into an emotion. Her talent is apparent in her vast vocal range and knack for songwriting. Just at the beginning of her new solo career, there is no telling where her musical evolution will take her. Like the penumbra of the horizon at twilight, Devun revels in the shadows while still looking to the light.
Popular in the Community