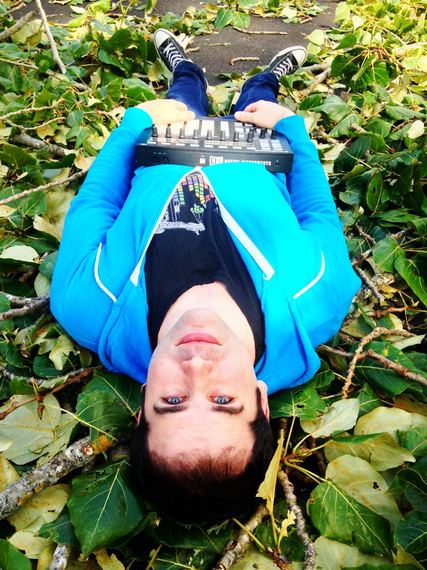 Seattle has always been a city of innovation, especially in the world of music. Not needing to list the countless array of legendary musicians that have emerged from the "Emerald City," it will always remain a thriving incubator of talent. Seattle-based Michael Hazani whose performance alias is Qualia, is a new and deeply emotive indie rock project who is quickly gaining momentum in the underground music world.
Qualia was initially formed as a band in 2014 as a means of escape for Hazani from his daytime shackles as a freelance songwriter and producer for hire. Their debut track "This Is The Color Of My Dreams" was released that same year and instantly received attention because of its uncompromising lyricism and fully immersive soundscapes that whisked the listener away into the world of Qualia. The success of this track bolstered an East Coast tour which broadened their reach and gave Hazani a taste of the life he had long been thirsting for.
Hazani's accolades include being a semi-finalist in the prestigious International Songwriting Competition two years running and winning the John Lennon Songwriting Competition in 2014. In addition to these accolades, the group was also officially selected to play the A3E exposition at the highly acclaimed Berklee College of Music of which all the band members are alumni. Though mostly a solo project now, all of his hard work and musical prowess has been poured into Qualia which combines the familiarity of past music sensibilities with a style of indie rock for a new generation.
Heartfelt vocals, retro-electronic elements, moving choruses and lush soundscapes comprise his newest release Triptych. This three song EP is filled with all of the emotional candor one would hope to hear from an artist hailing from Seattle. Qualia's catchy melodies and poetic lyrical progressions let the listener glide through the ebbs and crescendos of his songs. Triptych is an EP that changes upon each listen as you slowly begin to understand his style and soul.
The EP begins with the upbeat and poppy track "Presque Vu" which is nostalgic of the simple and carefree nature of youth. Reminiscent of the emo-music sensation that swept through the late 1990s and early 2000s, Qualia adds new life to a familiar sound. The most evocative track of Triptych,"Guillotine," follows with a haunting introduction as his vocals slowly lead the listener into the song while impending instrumentals progress and build. "Guillotine" creates an escalating sensation, like being pulled acquiescently in a direction with your eyes closed.
In addition to singing and writing all three tracks, Hazani also contributed keys and electronic production during the recording process. The studio musicians who recorded on the album were Shawn Crowder on drums, Pier Luigi Salami on keys, mixing by Jay Marcovitz and mastering by Fred Sladkey. Triptych integrates imagination, drama, emotion and narrative while remaining cohesive in sound and organic in its origins. Though he did have studio musicians when recording the album, Qualia's live shows utilize a solo electronic setup that remains faithful to the integrity of his music. Currently located in Seattle, he plans to tour the West Coast before the end of 2015.
Popular in the Community