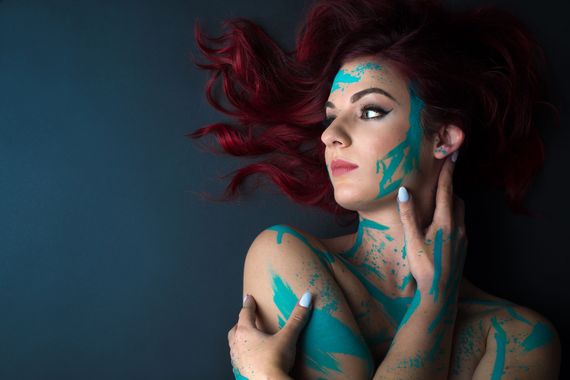 The resurgence of the female voice is creating a shift in the music industry. Inundated by images and sounds of manufactured pop stars, finding genuine talent speaking raw human emotion is giving meaning back to the female voice. Shining brightly amidst the miasma of mainstream is Los Angeles based singer/songwriter Tetra, the emotive queen of electropop.
Studying at the highly acclaimed Berklee College of Music in Boston, Tetra's vocal abilities are as powerful as they are gossamer, and as commanding as they are empathetic. Her innate talent was manifested long before her time spent at Berklee. She began singing and songwriting at a very young age but it wasn't until her collaboration with singer, songwriter and producer, Ben Cohen that her true sound came oozing out of her like magma emerging from a dormant volcano. The sound had always been there, it just took the right timing and elements to evoke it.
Her new seven song EP titled Meter is melodic and eloquently produced as well as exquisitely mastered. Anthemic and melancholy at times, her transparent lyrics make this album highly evocative and connective to the listener. Singing candidly about the duality of human emotions has become lost in mainstream pop music. Tetra's voice, her vocal voice as well as her message, creates a vast, sonic landscape that takes the listener on an emotional and unforgettable journey.
The thumping, mischievous track "Bad Things" opens the album with a sensual allure and velvety vocals that instantly hook the listener. The ethereal tone of "Limbo" shows Tetra's range both vocally and lyrically. "Got You Alone" shows an edgier, more dark side of Tetra that is both haunting and titillating. "Reason To Breathe" introduces once again the thumping pulse of electronic beats as she confesses her soul's desires, weaknesses and vulnerabilities.
"Poison" pulls us in with a crescendo, casting the listener into Tetra's witchy, lyrical spell. Softening up a bit with a chilling piano melody is "Ruby Red Lips," a mysteriously intriguing track that leaves you wondering of whom these ruby red lips are attached to. Concluding Meter is "The Tunnel," an eerie and iridescent soundscape created by Tetra's spellbinding world.
Beautiful, brave, poetic and honest, like a siren who knows not of her alluring gift, Tetra's EP Meter is explosive. She brings listeners deep into her narrative, taking us on a sonic journey through her psyche. Laying bare her vulnerabilities, strengths, weaknesses and more, the spectrum of human emotion she evokes is vast. Mysterious yet transparent, Tetra allows her listeners to take a subjective approach to her music. What one may hear as a song about heartache another may hear as a song of empowerment. Thus is the universal beauty of music.
Without the need to disguise herself in a grandiose facade, she has made herself even more beautiful than the glitterati of the mainstream music industry. It is easy to be swallowed by sellouts and pop icons, but Tetra has achieved true success through honesty, authenticity, talent and a beauty that is outside of and within her. Tetra is a musical pioneer that is keeping the power of the female voice conscious and awake.
Popular in the Community