If you read me with any regularity, you'll know I'm obsessed with trying every new beauty product on the market that I can get my greedy little hands on. And if I didn't write about my findings, I'd no doubt be diagnosed with some sort of a compulsive disorder. So thanks for reading -- you guys are the difference between a journalism career and a mental illness.
Now onto my favorites for the month: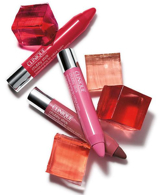 Chubby Sticks, Clinique's popular moisturizing lip balm, is now available in eight new shades, and yes, I had to have them all. And then I had to take pictures. Let's all pretend that's normal behavior.
The new colors include shades of orange, violet, red, pink, and brown, all sheer enough to be wearable, but vivid enough to replace regular lipstick. The retractable pencil-style packaging makes precise application painless, even when you're applying in a moving car without a mirror, which is not recommended, just how I tend to apply my makeup these days.
$16 at Clinique.com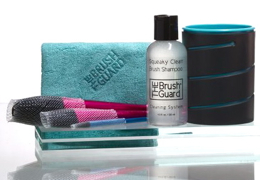 The Brush Guard Cleaning Kit contains everything you need to clean makeup brushes thoroughly without damaging delicate bristles. If only I'd found this kit before screwing up my sable brushes with a too-vigorous washing.
Part of the genius of the cleaning system is the washing cup, which uses a textured surface to gently but thoroughly scrub gunk off the brushes. Equally revelatory is the Brush Guard, a mesh sleeve that slips over bristles to help them keep their shape, and allows them to dry in the ideal position, bristles facing down. After drying, the Brush Guard can be used as a protective sleeve when brushes are not in use.
Cleaning kit $19.95 at TheBrushGuard.com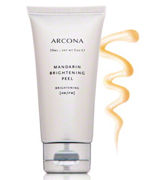 Regular face masks can feel like a chore, but the ARCONA Mandarin Brightening Peel smells like orange candy, which makes the process somewhat more enticing. And it leaves my skin smooth and glowing, thanks to exfoliating alpha hydroxy acids, antioxidant-rich mandarin extract, and Sepiwhite, a promising new skin brightener recent clinical studies have been shown to lighten dark spots and uneven pigmentation. Use once a week; sniff daily.
$78 at Arcona.com.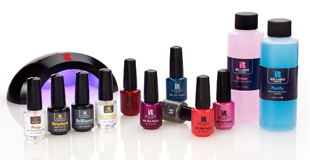 There's a handful of at-home gel manicure kits on the market, and the truth is they all work just fine. But out of the bunch, Red Carpet Manicure is my personal favorite, both for range of colors and affordability. The polish is available in 57 shades, everything from bright neons to flashy glitters to demure neutrals, and is reasonably priced at $10 a bottle. Starter kits, which have everything you need to give yourself at least a dozen gel manicures, start at $60.
The application process is exactly like a gel manicure at a salon, with several layers of gel polish applied, each one being cured under an LED light. It isn't any more difficult than painting your nails with regular polish, but it is more time consuming, and as the manicure can last 2-3 weeks, so can any mistakes you make. My advice, learned the hard way -- finish one hand before you start the next. The polish remains wet until the final coat, so it's easy to smudge. Also, some colors require three coats for full opacity, though the instructions only say to apply two, as is often the case with ordinary nail lacquer.
$3.99 to $79.99 at ULTA.com.
Related