Beautiful, tiny (about 1mm) opalescent whitebait eggs cosy up in amongst fibrous mats, which keep them safe and hydrated.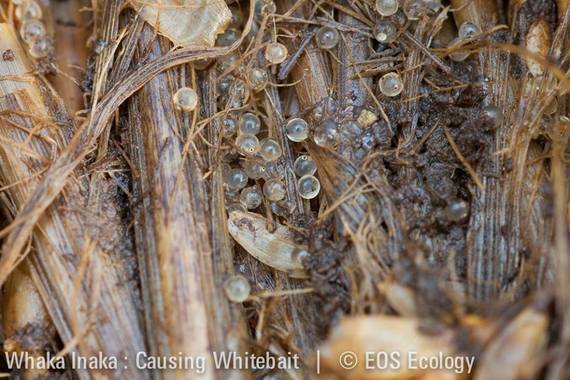 Whitebait consists of five species of galaxiids, and inanga (also known as 'inaka' in South Island dialect) are the most common of this group of freshwater fish in New Zealand.
Adult inaka lay their eggs mostly on spring tides, during the full or new moon, and are found on the high-tide line, way above the usual water levels.
The water levels go back to normal, so it is important that the eggs stay damp and hidden (from land predators). The water levels stay low enough so the caviar is also safe from being found and eaten by predators living in the water.
At the next spring tide at the end of one lunar cycle, the eggs are ready to hatch once the water level rises high enough to bring them home into the flow of things. Tiny inaka hatchlings make their way out to the big open sea, returning to our streams in six months time as part of the whitebait run. They live in our streams until they are old enough to head back down to the lower reaches of our rivers, to mate and lay eggs to mark the beginning of the next batch of newbies.
Inaka spawning season is around February to May/June, and this new moon coincides with king tides. King tides are extra strong spring tides (perigean spring tides), that happen when the moon is closest to the earth.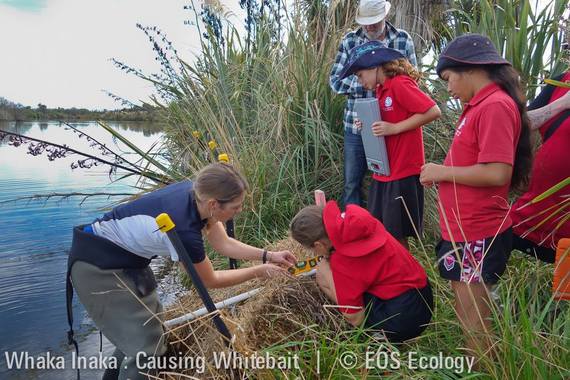 Whaka Inaka, 'Causing Whitebait', is a wonderful project in Christchurch, South Island, where scientists like Shelley McMurtrie, Kirsty Brennan and Mike Hickford are applying what they have learnt about whitebait spawning and behaviour, to 'cause' more whitebait to happen, by sharing their skills, knowledge, and passion with schools, teachers, parents, and landowners.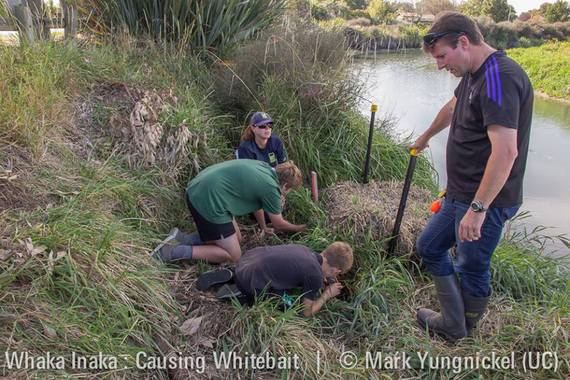 Whitebait is a traditional delicacy across New Zealand, and people are getting together to make sure there is more whitebait for generations to come, by learning to take care of river banks as well as looking out for and providing whitebait spawning environments, like adding hay bales to the riverbanks in the spawning areas, which according to Team Whaka Inaka, is a great temporary way to cause more of these beautiful fishes, and also a useful tool with further research.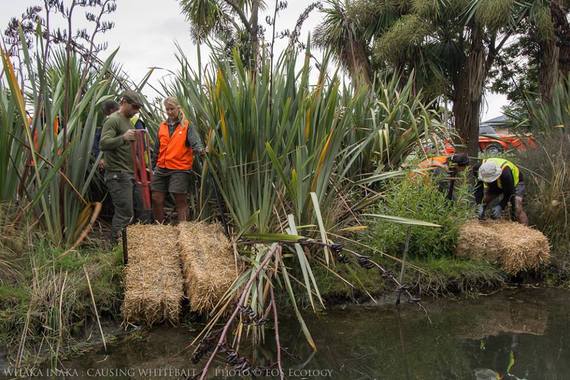 (For more details and a beautifully written story about how this project is going and how it is important, check this out this post.
Whaka Inaka is a collaboration between EOS Ecology (project lead), Ngai Tahu, and the University of Canterbury.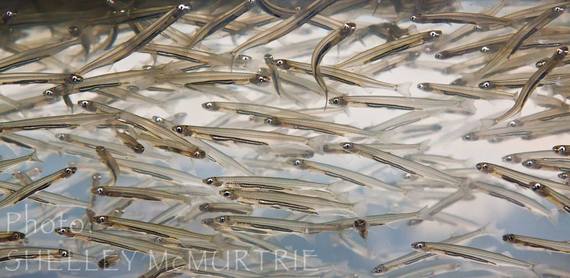 Calling all HuffPost superfans!
Sign up for membership to become a founding member and help shape HuffPost's next chapter