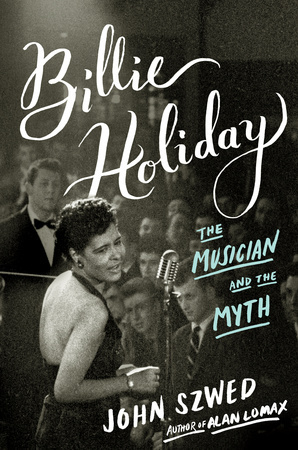 To kick off jazz appreciation month on the centenary of her birth, jazz writer John Szwed has just released Billie Holiday: The Musician and the Myth . As iconic as Lady Day is, the woman, artist and her personality, her singular jazz artistry is shrouded in misconceptions. Szwed adroitly re-frames the dialogue in his economic and, ultimately vital, understanding of Holiday's true musical achievements.
The development of her sound in her early career have often been ignored, and Szwed corrects this by charting her crucial artistic development with her early collaborations with Teddy Wilson, a lyrical jazz pianist forging innovations on the whole genre, and saxophonist Lester Young, whose musical mystique with Billie was indelible. Holiday gave Young the title "Prez," and he crowned her Lady Day.
The central deconstruction by Szwed, and his central thesis, is to examine what Holiday brought to jazz vocals and her singular style, sometimes delivered consciously, more times out spontaneous musical instinct in the performance moment. Bandleader Artie Shaw cited that Holiday kept rhythmic time like an instrumentalist, and Szwed further explains it as not her famed delayed, or lagging-behind-the beat-rhythm, connected to West African and Afro-Caribbean forms.
Holiday's innovations in note-bending and precise diction also influenced everyone from virtuoso jazz musicians to Frank Sinatra, and a generation of female vocalists. Of course, all the technical devises Holiday used were invisible behind her persona and vocal style. She knew the limitations of her voice, but made the most of her contralto range, from reedy top notes to growling vocal crashes. She told stories with her vocalese. Like Thelonious Monk, her chromatically, exploratory style, could connect everything musically.
Musicians worked with Holiday as an equal partner, not as backup, which was the standard during the big-band era. Holiday's pivotal work with Artie Shaw's band is assessed with needed clarification of why Holiday left the band. It was Holiday's choice to sidestep the charged racial environments around her performing with an all-white band, whose members, starting with Shaw wanted her to continue with them.
Holiday moved on as a solo act in the heady artistic atmosphere of the New York's racially inclusive Cafe Society, where she opened as their first headliner in a milieu that completely supported her artistry. It was at Cafe Society that Holiday made history singing "Strange Fruit." Everyone wanted to work with her, from Louis Armstrong to Leonard Bernstein, not to mention two generations of jazz vanguard musicians in the '40s and '50s who were defining various genres.
Szwed insightful analysis of the circumstances of Holiday's memoir Lady Sings the Blues. With Szwed bringing to light deletions the publishers and her co-writer William Dufty made to streamline the text. They had a a certain downtrodden persona of Holiday they wanted conveyed in the book. Among other things, Holiday's frank content about explicit drug use, for instance, or unflattering anecdotes about other celebrities were deleted. It fills in a lot of the relevant blanks and they are fascinating in themselves. Holiday went along with certain facts that were beefed up or toned down, because she did it because she desperately needed the money.
In sections about Holidays most famous songs -- "Fine and Mellow", "Lover Man", "Don't Explain", "Big Stuff", "God Bless the Child" -- her important performances at Carnegie Hall and recording career milestones are deftly condensed by Szwed.
The book paints a vivid and dimensional portrait of Holiday's day-to-day life, often turbulent and depressing, but past all of the backstage gossip and self-destructive singer tales. Lady Day's real live as an artist, woman and innovator, is given her full musical due, finally.

Billie Holiday: The Musician and the Myth by John Szwed | Viking Press
REAL LIFE. REAL NEWS. REAL VOICES.
Help us tell more of the stories that matter from voices that too often remain unheard.