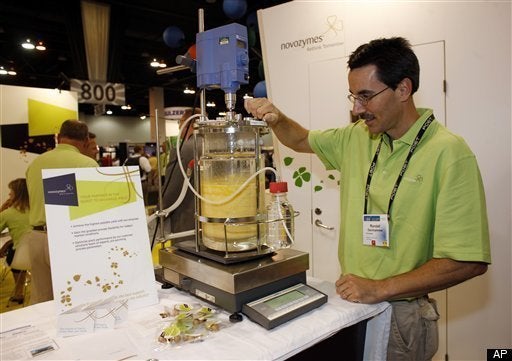 With two important policy announcements, the Obama Administration is putting the nation on track to increase its production and use of clean-burning, American-made biofuels.
That's good news for all Americans who care about protecting the environment, combating climate change, generating good-paying jobs, reviving rural communities, and reducing our dependence on imported petroleum.
With its new biofuels strategy announced February 3, the Administration is right on target in four important ways.
First, the strategy recognizes the importance of setting a bold national goal, similar to President Kennedy's call to put a man on the moon. Thus, the Administration is recommitting the nation to the goal mandated by Congress in the 2007 energy bill - producing and using 36 billion gallons of biofuels by 2022.
Second, the Administration understands that the nation needs every proven or promising biofuels technology, from existing corn ethanol to the newer cellulosic (non-grain-based) technologies and the most visionary "next generation" technologies. New or old, we need them all. Yes, it is essential that all the newer technologies - from those closest to fruition to those that are still years from commercialization - have every opportunity to succeed.
But the strategy also recognizes that it would be premature to abandon near-commercial technologies, such as cellulosic ethanol, in favor of "drop in" fuels that are still years away. One renewable fuel need not be cannibalized for other technologies to succeed.
Third, the Administration is addressing the concerns about federal loan guarantee programs that are being raised by cellulosic and next generation ethanol technology programs. The national recession and the financial crisis have made it more difficult for every industry, including biofuels, to obtain the capital and credit that are the lifeblood of the economy. The loan guarantee programs must be made to work for cellulosic ethanol producers if this plan is to succeed and its goals to be achieved.
Fourth, this plan rightly recognizes that producing and using American-made biofuels such as ethanol is essential to generating good-paying jobs and taking charge of America's energy future.
The U.S. ethanol industry supports almost 400,000 jobs, providing a strong economic base for many rural communities. According to the 2010 U.S. Ethanol Industry Salary study, nearly 75% of ethanol industry employees earn more than $50,000 a year, and 99% receive healthcare benefits from their employers.
As President Obama understands, supporting the U.S. biofuels industry isn't only good energy policy and good environmental policy. It's also good economic policy, good job-creating policy, good healthcare policy, and good rural development policy.
To add to the good news, the U.S. Environmental Protection Agency (EPA) has issued its final rule for implementing the Renewable Fuels Standard that under-girds the national goal of producing and using 36 billion gallons of biofuels.
Among other provisions, the Renewable Fuels Standard will set mandatory blend levels for renewable fuels in all motor fuels. Also, it will create a framework for calculating the carbon reductions achieved by biofuels.
EPA is right when it declares that ethanol from all sources - grain-based, cellulosic, and the newest technologies - provides significant greenhouse gas reductions, compared to gasoline. According to EPA's modeling, corn-based ethanol achieves a 21% greenhouse gas reduction, while cellulosic ethanol achieves a reduction of 73-130%, depending upon feedstock and conversion processes. All these greenhouse gas reductions exceed those mandated by the existing Renewable Fuels Standard.
However, there's still one pitfall in the EPA's modeling. The 21% greenhouse gas reduction results when the unproven idea of "international indirect land use change" is included in the calculation. Without this dubious concept - which holds that the production of corn-based ethanol in the U.S. results in the destruction of rainforests elsewhere in the world - this biofuel would be credited with a 52% greenhouse gas reduction.
Nonetheless, the EPA has developed a workable program that will achieve the fossil fuel replacement goals outlined in the national energy legislation and embraced by the Obama Administration. With public policies moving forward on the right track, America can continue the journey from dirty fossil fuels to cleaner alternative fuels from all sources.
Related
Popular in the Community