WASHINGTON -- The New Black Panther Party member who stood in front of a single Philadelphia polling station on Election Day, and drew a disproportionate amount of critical attention from conservative media, was "nonthreatening" and "relatively pleasant to speak with," said a retired military intelligence officer who investigated the man.
"What we observed was absolutely nonthreatening, nonbelligerent, and non-intimidating," Kerry Patton told The Huffington Post on Thursday. Patton looked into the reports of a man in "semi-military" garb that seized headlines on Fox News on Tuesday and have continued this week.
On Wednesday night, Fox's Sean Hannity returned to video clips of the man, identified by the network as a New Black Panther Party (NBPP) member named Jerry Jackson, calling them "new disturbing examples of voter intimidation" and interviewing former presidential candidate Herman Cain about the tactic.
But Patton, who had observed Jackson repeatedly on Election Day, occasionally concealed by the bushes across the street, and eventually had a conversation with him, said the idea that the man was intimidating voters was a mischaracterization of what happened.
"The uniformed NBPP member was nonthreatening," he told HuffPost. "In fact, he was actually relatively pleasant to speak with -- willing to participate in some, let's just say, 'small talk.'"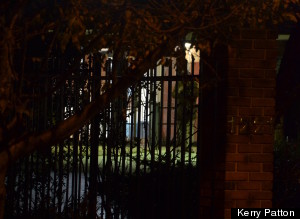 New Black Panther Party member outside a Philadelphia polling station. (Photo by Kerry Patton)
Dubbed by a gleeful conservative media "SEAL Team November 6" -- after the Navy SEAL Team 6 members who took down Osama bin Laden last year -- the retired operatives pledged to pay particular attention to any repeat of a 2008 episode in which several members of the New Black Panthers appeared to pressure voters to support Barack Obama at a polling station in Philadelphia. The Justice Department investigated the case, but dropped it after no one stepped forward to claim he or she had been intimidated over voting.
Still, Fox and other conservative outlets were eager to highlight the appearance of a single man at a Philadelphia polling station this year, describing him as "standing guard" and lurking "in a way that appears to be intimidating." Early on Tuesday, Fox's own video appeared to show him standing calmly by the doorway, at one point even holding the door open for an elderly woman as she arrived to vote, although that was later edited out.
From the start, Ben Brink, the retired Navy SEAL who led the military observers group, insisted their plan was to dispassionately assess the situation of voter intimidation, not to hunt exclusively for examples of it.
When Fox's Gretchen Carlson introduced Brink for an interview Monday morning by saying that "Navy SEALs plan to show up to fight back," Brink responded by clarifying that his team had no intention of "engaging any intimidators."
"They're observing polls in places like Philadelphia and a number of other cities, and they will be posting anything to YouTube and will make reports to police and election officials and, of course, the press," Brink said.
"We took the threat of voter intimidation very seriously," said Patton, who will soon publish the first novel in a trilogy about war and spying. At the same time, he said, "We also felt it was critical to analyze the situation with absolute zero bias. We knew what happened in 2008, but that was then. We live in the now and realize we cannot resolve yesterday's issues."
Brink and his cohort are not exactly nonpartisan. Brink himself devotes much energy to encouraging veterans and active-duty military members to vote, something he believes Democratic groups have long sought to discourage, and he has written in the past about the left-wing scourge of voter fraud. In his 2012 book, The Dead Always Vote Democrat, Brink argued that Democrats have a long history of ballot-box stuffing and other forms of "cheating" to win elections.
"For the Democrats to claim that election fraud is a myth is disingenuous at the very least," Brink wrote. "It is this authors' [sic] belief that Democrat resistance hides a more sinister purpose. Highly inaccurate voter rolls stuffed with felons, non-citizens, duplicates, and the dead enable fraud."
But by midday Tuesday, as Fox continued to replay clips of the New Black Panther Party member standing at the polling station, Brink lamented to HuffPost that the fellow "has been reported on ad nauseam."
"Right now, Philly has lots of rumors that we are tracking down -- but only one dejected, unarmed NBPP seen so far," he said in an email.
REAL LIFE. REAL NEWS. REAL VOICES.
Help us tell more of the stories that matter from voices that too often remain unheard.
BEFORE YOU GO
PHOTO GALLERY
100 Years Of Election Night Winners