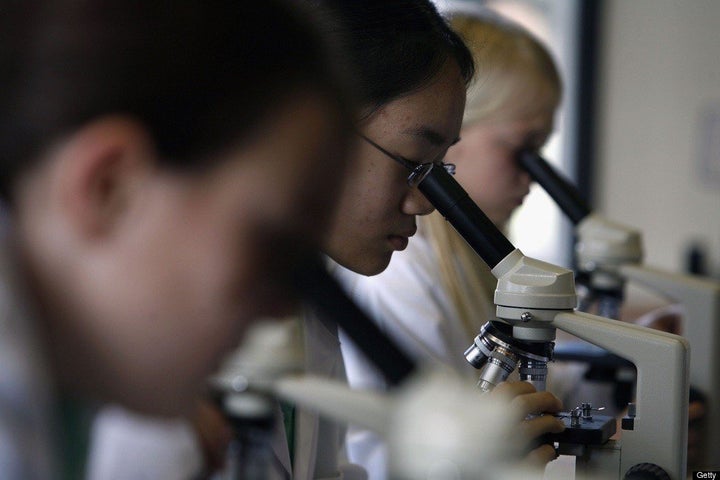 In the wake of President Barack Obama's recent State of the Union Address -- in which he lamented that the "quality of our math and science education lags behind many other nations" -- comes an extraordinary new book by five Harvard College students promoting science education to high school students. Success with Science: The Winners' Guide to High School Research was written by five current or recent Harvard undergraduates, all of whom won national or international recognition during high school at major science competitions and events, including the Intel International Science and Engineering Fair; the Siemens Competition in Math, Science and Technology; and the Intel Science Talent Search. They wrote the book to inspire more high school students to become involved in hands-on research and to experience the excitement of competing in science competitions on a national and international level.
The importance of the book, published this week and available on Amazon.com, is underscored by the fact that the foreword was written by Nobel Laureate Dudley Herschbach, winner of the Nobel Prize in Chemistry in 1986, who served as faculty advisor for the book. Success with Science was published by Research Corporation for Science Advancement, the foundation that I head, because engaging high school students in the sciences is crucial to growing future scientists -- and, therefore, maintaining American economic preeminence -- and because hands-on research is the best way to instill in students a love of the rigor and approach of scientific inquiry.
The five co-authors have each embarked on their own exceptional careers in science and are eager to pass on some of the insights and advice that have helped fuel their own successes. They are:
•Shiv Gaglani of Melbourne Beach, FL, who has graduated from Harvard College and has deferred attending an MD/MBA program at the Johns Hopkins School of Medicine and Harvard Business School to work on multiple writing/educational projects like Success with Science;
•Maria Elena de Obaldia of Moorestown, NJ, who is now completing her PhD in Immunology at the University of Pennsylvania as a Howard Hughes Medical Institute "Med into Grad" Scholar.
•Scott Duke Kominers of Bethesda, MD, who is completing his PhD in Business Economics at Harvard University as an NSF Graduate Research Fellow, a Terence M. Considine Fellow, and a Yahoo! Key Scientific Challenges Program Fellow.
•Dayan "Jack" Li of Greenbelt, MD, who is completing his bachelor's degree in Molecular and Cellular Biology at Harvard and applying to MD/PhD programs; and
•Carol Y. Suh of Rancho Palos Verde, CA, who is finishing her bachelor's degree in Molecular and Cellular Biology at Harvard and applying to PhD programs where she can undertake stem cell research.
As President Obama said in his 2011 State of the Union Address:
"Maintaining our leadership in research and technology is crucial to America's success. But if we want to win the future -- if we want innovation to produce jobs in America and not overseas -- then we also have to win the race to educate our kids.
Think about it. Over the next 10 years, nearly half of all new jobs will require education that goes beyond a high school education. And yet, as many as a quarter of our students aren't even finishing high school. The quality of our math and science education lags behind many other nations. America has fallen to ninth in the proportion of young people with a college degree. And so the question is whether all of us -- as citizens, and as parents -- are willing to do what's necessary to give every child a chance to succeed."
Success with Science does just that. It gives every high school student an opportunity to understand the exhilaration of scientific discovery and the advice and tips needed to increase their chances of success. Most notably, the advice and guidance comes from students who are from their same generation - current and recent college students who are only a few years older.
"We had two goals in mind while writing this book," said Shiv Gaglani, the primary author and editor of Success with Science. "First, we wanted to motivate our younger peers to discover the benefits and excitement that come with science research. Second, we aimed to provide these students with a practical guide that will help them to succeed in their research endeavors."
America's stature as an economic superpower was built on scientific and technological innovation. And our ability to maintain that preeminence -- and the jobs that flow from it -- will depend on that same capacity to innovate in coming decades. That capacity will, in turn, depend on our ability to grow scientists, and nothing can compete with hands-on research for engaging students in the sciences.
That's what makes Success with Science so important. It enables students to share with other students their insights and experiences from high school science competitions, their tips on starting and developing a research project, and their advice on how to increase one's chances of success. In so doing, they advance a crucial national priority and increase the potential for the economic prosperity that all Americans hope for in the years ahead.
James M. Gentile is president and CEO of Research Corporation for Science Advancement (www.rescorp.org), America's second-oldest foundation, founded in 1912, and the first dedicated wholly to science. Success with Science: The Winners' Guide to High School Research is available through Amazon.com and at www.successwithscience.org
Related
Popular in the Community