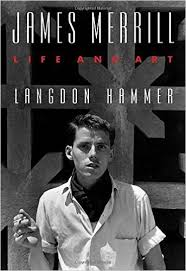 The first biography of Merrill, one of my favorite poets, whose cultural milieu, as described here, I wish to understand better: "After college at Amherst and a period of adventure in Europe, Merrill returned to the New York art world of the 1950s (he was friendly with W. H. Auden, Maya Deren, Truman Capote, Larry Rivers, Elizabeth Bishop, and other midcentury luminaries) and began publishing poems, plays, and novels. In 1953, he fell in love with an aspiring writer, David Jackson. They explored 'boys and bars' as they made their life together in Connecticut and later in Greece and Key West. At the same time, improbably, they carried on a forty-year conversation with spirits of the Other World by means of a Ouija board. The board became a source of poetic inspiration for Merrill, culminating in his prizewinning, uncanny, one-of-a-kind work The Changing Light at Sandover."
Merrill's implication is that poetry is always a rhetorical act, and the best poetry will be that which is most aware of, and for that reason least taken in by, the power of its own rhetoric. "Anybody starting to write today," he reflects, "has at least ten kinds of poem, each different from the other, on which to pattern his own," and none of them has a privileged claim to truth--they are all styles. Hence the priority Merrill places on surface, manner, sound. "Words just aren't that meaningful in themselves," he says boldly. "De la musique avant toute chose. The best writers can usually be recognized by their rhythms. An act of Chekhov has a movement unlike anything in the world." This is Robert Frost's doctrine of "sentence-sounds," except it is Frost's idea carried to a further level, shorn of its association with a homey New England realism, and made explicitly theatrical.
Langdon Hammer on James Merrill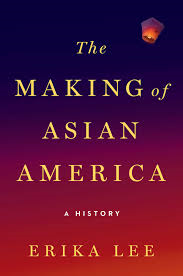 Asian Americans, in the new wave of assimilation and integration (and resistance from certain quarters), are in the middle of an intense redefinition of their identity. This book has a wide historical sweep much needed at this time: "An epic history of global journeys and new beginnings, this book shows how generations of Asian immigrants and their American-born descendants have transformed the United States, from sailors who came on the first trans-Pacific ships in the 1500s to the Japanese Americans incarcerated during World War II. Over the past fifty years, a new Asian America has emerged out of community activism and the arrival of new immigrants and refugees. No longer a 'despised minority,' Asian Americans are now held up as America's 'model minorities' in ways that reveal the complicated role that race still plays in the United States."
Despite this high rejection rate [South Asian applicants denied admission by the U.S. Bureau of Immigration from 1911 to 1915], opponents to South Asian immigration remained convinced that a federal immigration law was the only permanent solution to the "Hindu problem." Several bills were introduced into Congress in 1913 and 1914 proposing to exclude South Asians along the same lines as the Chinese Exclusion Act, but no bill resulted. Total exclusion would have to wait. In the meantime, South Asians began to organize a protest against their exclusion from North America that would have long-standing repercussions around the world.

It began in Canada. Canadian lawmakers were mistaken in believing that they had completely solved the "Hindu" immigration problem with the 1908 Continuous Journey decree. South Asians, already chafing under British colonial rule in India, saw the law as blatantly discriminatory, and some launched a campaign to challenge it. The most spectacular of these involved Gurdit Singh, a Sikh contractor, and a ship called the Komagata Maru.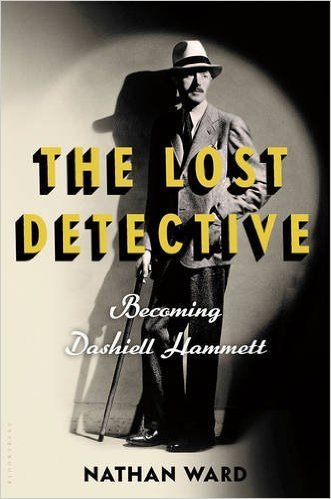 In recent years, Hammett has grown in my estimation as one of the indispensable modernist writers, who took the detective story genre to flights of existential despair not always accessible to the more canonical figures. As this book explains, "Before he became a household name as America's gretest hard-boiled crime writer, before the years of celebrity and McCarthy-era blacklisting chronicled by his companion, Lillian Hellman, Hammett led a life of action. Leaving school at fourteen, he eventually found work with the Pinkerton National Detective Agency, where he worked off and on as an operative from 1915 until early 1922, when the tuberculosis he contracted during his Army service in WWI finally forced him to retire, prompting one of America's most acclaimed writing careers."
"Something's got to be done to keep the gals moderately content while I'm out of order," Hammett told Hellman. Such drunken letters were no doubt meant to manipulate a swift return by his new lover, but they mostly sketched a gamey picture of life in Hollywood. When he surmised that Hellman had been with another man, he proudly called her a "she-Hammett." "Alcohol has had me pretty much out of touch," Hammett explained in another letter from April 1931, when he also wrote Alfred Knopf, "I think The Thin Man will be my last detective novel." Most of it did not yet exist.
Dashiell Hammett documentary
Anis Shivani is the author of several critically acclaimed books of fiction, poetry, and criticism, the most recent of which is the novel Karachi Raj (HarperCollins/Fourth Estate), released this summer.
REAL LIFE. REAL NEWS. REAL VOICES.
Help us tell more of the stories that matter from voices that too often remain unheard.