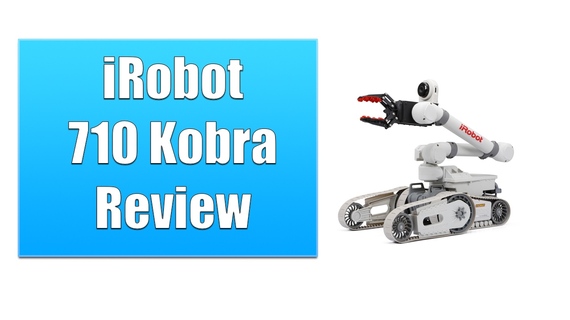 Did you ever notice that everything is getting smaller? A pound of coffee is now 12 ounces if you're lucky. Sure, we all know that is annoying, but sometimes we cheer the shrinking of our stuff. Tiny robots, paper thin laptops and miniature cameras are technical marvels and certainly have their place, but sometimes I miss big stuff.
Thankfully, I have just spent a fun filled weekend playing with the New Bright iRobot Endeavor 710 Kobra Robot (sample received for our review, no other compensation was provided). This robot is big, loud, powerful and a ton of fun!
Please watch our full video review of the New Bright iRobot 710 Kobra -
Oh The Things You Can Do With a Robot Claw
Once a 39" robot claw, that climbs stairs and can see in the dark enters your home, the possibilities are endless! The kids are going to have a blast trying to pickup cups, balls, other robots, their siblings...pretty much anything.
While playing with the iRobot is definitely fun, controlling it can be a challenge. There are a number of different motors and joints and you need to figure out the right movements to grab your desired object. For younger kids, navigating the robot precisely can get frustrating, but for older kids it actually adds a new level of play to the toy robot. It almost becomes like a puzzle to figure out the right combination of moves to capture your prize.
Here are some of the key features on the iRobot 710 Kobra -



Fully Articulated Arm & Claw


360 Turning Radius


4-Way Directional Drive


Articulated Front Treads


HD Video Camera with WiFi and Night Vision


Fully Extends to 39 Inches


Includes Multi-Function Transmitter


9 Individually Controllable Motors


2.4GHz Technology with 100 Foot Range


With the holidays right around the corner, if you have kids who like building, exploring, driving and destroying - the New Bright iRobot Endeavor 710 Kobra makes an excellent gift. As a bonus for parents - it takes up a huge amount of room under the tree!
REAL LIFE. REAL NEWS. REAL VOICES.
Help us tell more of the stories that matter from voices that too often remain unheard.