 By Solarina Ho and Patrick Rucker
TORONTO/WASHINGTON, Jan 9 (Reuters) - Political pressure to quickly improve the safety of crude oil rail shipments intensified in Washington on Thursday, while Canadian officials said two of the cars involved in the latest fiery derailment were of an older variety long faulted by regulators.
After two more dramatic oil-train incidents in just two weeks, several U.S. lawmakers urged swift measures from Transportation Secretary Anthony Foxx, who in turn promised that tougher federal standards for tank cars would come "in weeks, not months," according to North Dakota's Republican Senator John Hoeven.
"The recent derailments and accidents involving crude oil are alarming," Senator Jay Rockefeller, chairman of the Commerce, Science and Transportation Committee, and energy committee chair Senator Ron Wyden wrote in a letter to regulators. "Taken together, the growing number of incidents requires prompt and decisive action."
The mounting calls come after two recent oil-train incidents in North Dakota and Canada, both of which are believed to have involved a type of tank car that was built before voluntary new standards were adopted in October 2011.
The older model cars, which have been cited as flawed and prone to puncture, have become a focal point in the debate on rail safety regulation as crude-by-rail shipments across the continent surge with the rise of shale oil production.
A Canadian National Railway spokesman said on Thursday that two of the five crude tank cars that derailed and caught fire in New Brunswick on Tuesday were the older DOT-111 models, citing information the company received from the Association of American Railroads.
The older cars were also said to have been involved in the dramatic oil train collision in North Dakota 10 days ago, investigators have said, the latest in a spate of such incidents that have shocked officials and the public with their explosive force and fiery eruption. No one was injured in either case.
While it is not clear what role, if any, the older cars played in the eruptions, regulators are facing more calls from rail operators - who are responsible for the shipments, but do not typically own or lease the tank cars - to press ahead with new rules that would either force owners to upgrade the older versions or pull them out of service.
The railroads and tank car manufacturers support measures to either retrofit or phase out the older fleet, but energy groups have opposed it because they say the cost of retrofitting roughly 80,000 cars could be prohibitive.

Tuesday's accident revived memories of a devastating crash last July, when a runaway train carrying light crude from North Dakota's Bakken region exploded in the heart of the town of Lac-Megantic, Quebec, killing 47. That train included DOT-111 cars.
The New Brunswick train derailed in a rural area near a small village in eastern Canada. A total of 19 cars and one locomotive on the 122-car, four-locomotive train went off the rails. Three cars, one of them a crude tanker, were still burning on Thursday.
CN Rail did not specify whether the crude tanker still on fire was an old or new model or whether the newer versions of the DOT-111 fared any better than the older ones in the crash.
Three of the five derailed crude tank cars were new DOT-111 models that comply with higher U.S. standards ordered after October 2011, CN spokesman Mark Hallman said in an email.
Unlike three other such incidents, the crude shipment came from Western Canada, not North Dakota, officials have said. Some of it was destined for Irving Oil's Saint John refinery.
Hallman said CN and the Transportation Safety Board (TSB) of Canada were still investigating the nature of the damage to the tank cars and the volume of product affected.
The U.S. Pipeline and Hazardous Materials Safety Administration is in the process of assessing feedback on proposed new rules on DOT-111 specification, but it is not clear when a final decision will be made or how it would be phased in. The Association of American Railroads has recommended that even newer models get upgrades.

As new drilling techniques have increased oil production in areas of the country where pipelines are scarce, train shipments have emerged as the preferred way to reach distant refiners. Nearly one-tenth of U.S. oil production is now shipped by rail, up from almost nothing just four years ago.
In addition to the rail car design, officials are also concerned that shippers may be incorrectly labelling the contents of their tank cars, which may be more flammable than expected due to the ultra-light nature of Bakken crude.
"There is growing concern that some oil shipments are improperly classified under federal hazardous material standards," Senators Rockefeller and Wyden wrote.
Foxx, the transportation secretary, told lawmakers that he planned to meet with rail and oil executives next week in order to understand the derailments, and also to visit North Dakota's oil patch in coming weeks to see the situation on the ground, Hoeven, a senator from North Dakota, said after the meeting.

Before You Go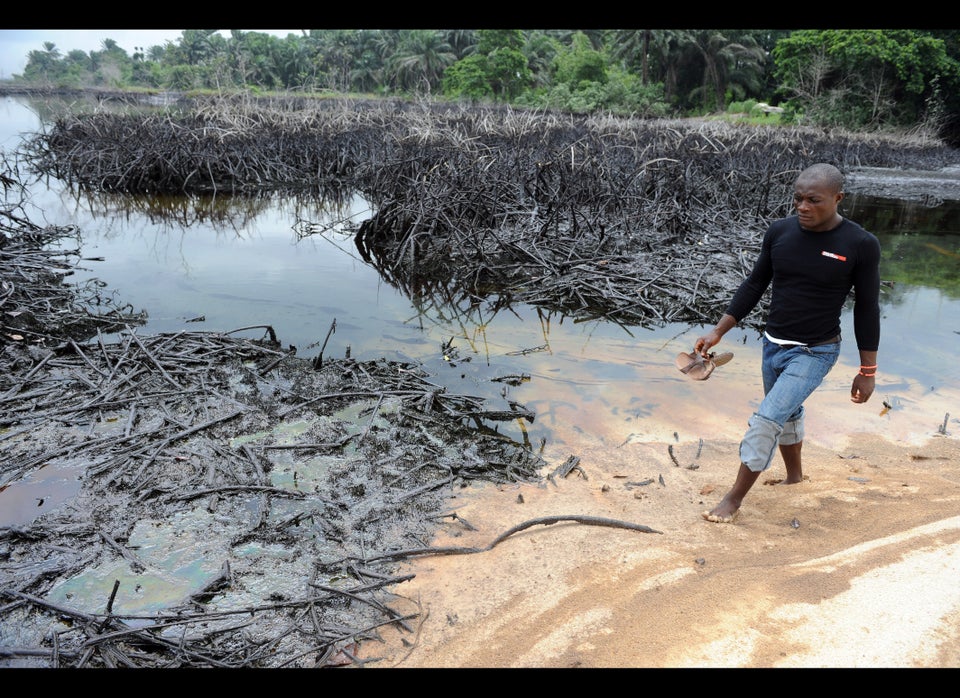 Oil Spills Since The Gulf Disaster
Popular in the Community