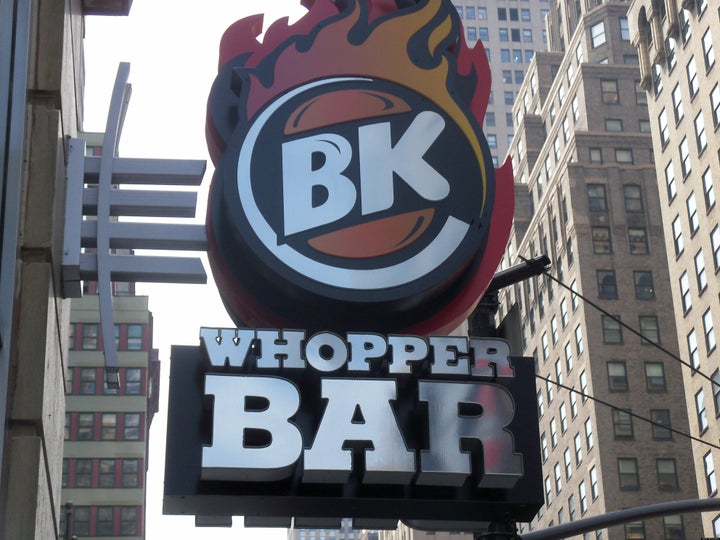 New York City Burger King lovers should schedule an appointment with their cardiologist, because the BK Whopper Bar has arrived in Times Square.
The restaurant's been flame broiling burgers for about two weeks, and on Tuesday, members of the press were invited to try some of the King's latest creations.
The most New York-centric of all the recently concocted burgers isn't available for public consumption yet. The New York Pizza Burger is slated to appear next month.
But the folks at Burger King were kind enough to let media get a sneak peak of the massive, meat, cheese and marinara monster.
Four quarter-pound Whopper patties lay on top of a nine-and-a-half inch sesame seed bun. The burgers are then covered in pepperoni, mozzarella cheese, marinara and Tuscan pesto sauce.
The Burger King folks made sure to emphasize that this burger is meant to be shared. My hat's off to the lonely soul who takes this thing on by themselves.
The mozzarella and marinara go perfectly well with the burger, but the pesto sauce has an artificial aftertaste and doesn't fit with the rest of the burger. Diners can always ask for a pizza burger sans pesto if they prefer.
The most enjoyable amalgamation of meat and cheese was the BK Black and Bleu Steakhouse XT. If you can manage to remember its insanely long name, the Black and Bleu will reward you with tangy bleu cheese crumbles, crispy bacon and a blackened Cajun sauce.
The Meat Beast Whopper was exactly that. Coming in at around 1,250 calories, the Beast piles pepperoni and bacon on top of a quarter-pound beef patty. It's probably too much meat, even for an animal flesh fanatic.
The Whopper Bar also boasts a tasty California Whopper, which swaps ketchup for guacamole. It is reportedly the most popular of the new Whopper clan.
The Burger King team excitedly told me that, once the liquor license arrives, beer will be a-flowin'.
So, if you want it "your way" and that way almost invariably involves eating something with parents, stop by the new BK. It's at 561 Fashion Ave in a not-so-obnoxious section of Times Square.
Related
Popular in the Community