Should you find yourself in Nassau, (that's Bahamas, not Long Island, New York), Thursday, May 5 through Saturday, May 7, then there's no way you can miss the second Junkanoo Carnival.
Junkanoo, for the uninitiated, is one of the Caribbean's epic parties dating back centuries. It's typically celebrated in a grand parade held Boxing Day, the day after Christmas to Americans, and on New Year's Day. And the biggest celebration takes place in The Bahamas.
No one is quite sure when or how Junkanoo started or what it stands for. Some say the name itself originated with a legendary African Prince named John Canoe who outwitted the British and may have been from the Akan people of Ghana. Others believe the name is an adaptation of the French expression "gens inconnus," meaning "unknown" or "masked people." In the 18th century, enslaved people marked their three days off during Christmas with a celebration that included singing and dancing in colorful masks as they visited each other's homes.
Primed to become one of the Caribbean's biggest spring celebrations, Junkanoo Carnival, as the name suggests, is a combination of Junkanoo and Carnival, which is celebrated widely throughout the Caribbean. And this year marks the second one.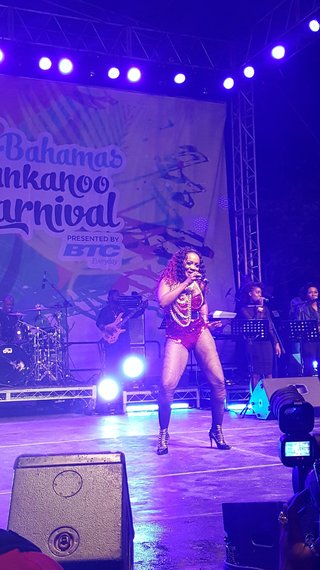 Festivities actually began with the Carnival Kickoff a few weeks ago, April 15 and 16, on Grand Bahama Island in Freeport, at Taino Beach. That is where I got a taste of Junkanoo Carnival.
After the brief flight (just under two hours from Atlanta), things kickstarted with a gathering of folks at the all-inclusive Lighthouse Pointe at the Grand Lucayan. Our gracious host was beautiful Bahamian native Ernestine Moxyz, who loves sharing her beloved island with strangers like moi. There was another Atlanta resident from the Atlanta Tribune and Toronto native and radio host Red. Others would join us the next day. But the night before Carnival Kickoff was all ours and we spent it deliciously well at the restaurant Sabor at the Pelican Bay Hotel, just a brief stroll from Lighthouse Pointe.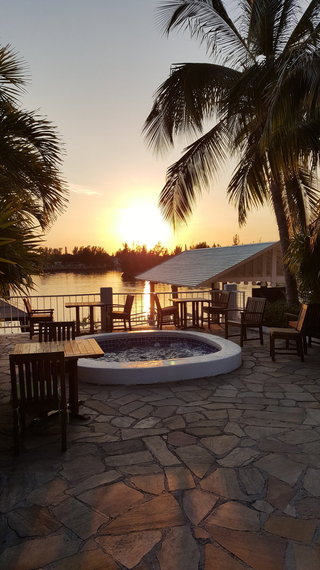 Sabor is beautifully situated on the water and has a very romantic vibe, but not too romantic to make fast friends uncomfortable. The sunset was glorious. Throughout the night, the tattering of boats glistened in the moonlight. Since I have made it a point to sample the many variations of the Moscow Mule in and around Atlanta, I certainly couldn't pass up a Rum Mule in The Bahamas. It was refreshing (there's just something about that ginger) and the food was even better. Chef Emmanuel Smith treated us to a tasty lobster bisque and, in The Bahamas, conch fritters are a must. Even though everyone serves them, they never grow tiresome. For my entrée, I chose the Baked Bahamian Grouper and didn't regret a single bite. Some of us tried the Hot Chocolate Lava Cake with Vanilla Ice Cream and some of us denied ourselves the pleasure.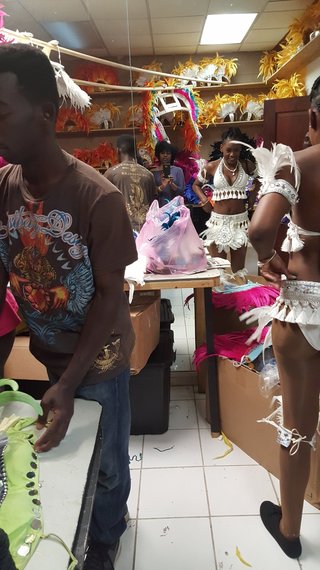 The next morning we were up bright and early learning about the Junkanoo Carnival. We made a stop where we met Junkanoo costume maker Thomas Curry Jr., known as the "Big J.R." to all others around him. To hear him tell it, his creativity began in his mother's womb. He also credits his mother, who was a wiz with straw, a craft skill highly valued in The Bahamas, as an early influence. We chatted with him as he was tightening up a costume for Ginger Moxey, one of the forces behind Junkanoo Carnival.
Officially he said he began his illustrious costume-making career at just age five and now has 33 years in the game. He also leads Platinum Knights, a group of almost 500 people that revelers anticipate every year at the Junkanoo parade New Year's Day. Amazingly he conceives and works on costumes for them all. Using just sponge, cardboard, wire and loads of affordable bling here for Junkanoo Carnival, he has once again created stunners. Junkanoo costuming is not cheap and easily runs into the thousands, which is why many spend as much as a year in preparation.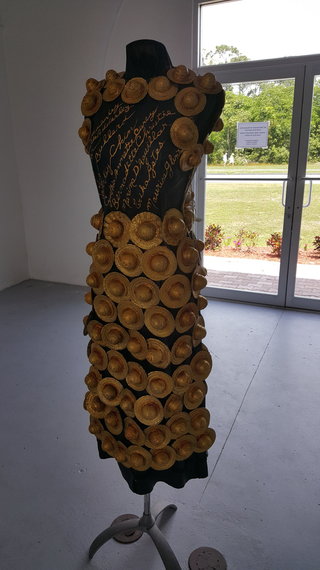 Once we left this introduction to one slice of Junkanoo and Junkanoo Carnival, we were transported to the relatively new Grand Bahama Arts & Craft Centre. There we found large canvases of imaginative art by local artists, brightly decorated sea shells, Bahamian couture, stylish straw purses, tempting jams (those you spread on bread) and more.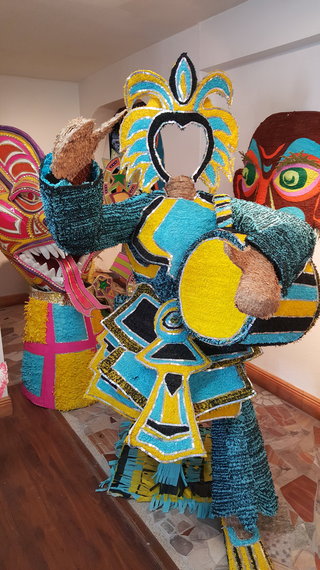 Since time was running short, the Bahamian Brewery would be a no go. But there were no tears because the Junkanoo Museum of The Bahamas turned out to be a blast. Forget those stodgy tours. This is culture-tainment!! Not only did we (which now included a French journalist and another Atlanta writer) get to admire the many costumes, which have changed over the years, but we also got an experiential glimpse as donned hats, played makeshift instruments like cowbells, blew our whistles and marched and dance with the Junkanoo spirit.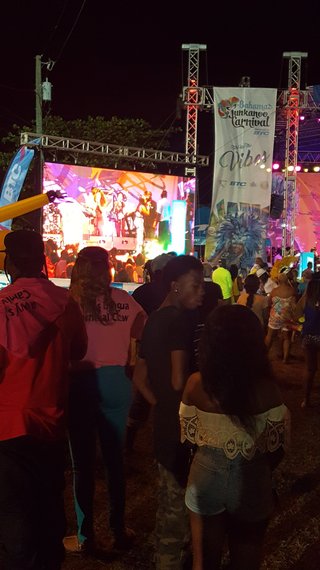 Later at Taino Beach, things did not go quite as planned. Festivities hit a few difficulties and got pushed back and then there was rain. Still spirits were quite high and they should have been. Conch fritters anyone? Yes, yes and, thankfully, they were everywhere. The weather finally did cooperate and artists started hitting the stage. Now, as much as The Bahamas wants to welcome folks like you and I, they also want to encourage national pride among their fellow Bahamians. So they have a Bahamas Junkanoo Carnival Song Competition. Artists submit songs that can represent at Junkanoo Carnival and showcase them. Music Masters is how most know it and the winner gets a $20,000 prize. The Carnival Kick-Off is a showdown of the semi-finalists vying to get to Nassau and the money!
After performances from novices and experts too, some folks have energy for the Midnight Rush. I can't say I was one of them. Next time I know to save up my strength. Luckily there was a live broadcast on the Bahamian channel and I got to watch the rest from bed.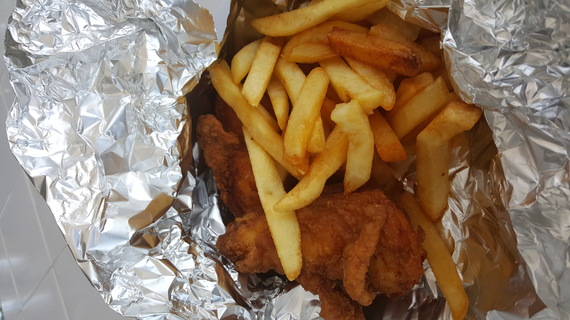 The next day was leisurely and so I checked out some of the property restaurants. Breakfast at Willy Broadleaf is popular. I like Portobello's more. It and Waves Bar and Grill are for Lighthouse Pointe guests only and that was fine with me. I grew particularly fond of the yummy drinks at Waves and Chicken in the Bag, which is a Bahamian thing. It was in foil and not a bag but my stomach wasn't complaining. We did skip out to check out the Grand Bahama Air Show also at Taino Beach. It was joy seeing the smiles of amazement on the young kids' faces.
Now the hands down star of the dining experience was Churchill's. Should you find yourself in the area, do not, I repeat, DO NOT miss dining at Churchill's. Is there anything better than an amazing meal in a beautiful spot (we're talking high ceilings, stunning hanging chandeliers, inviti pillars, impeccably set tables) with a gifted singer quietly serenading in the background and five-star service? Maybe. Dining with Ernestine and the three other ladies of our motley crew on our last night together, I indulged in a little bubbly, but also sampled the concoction they call the Golden Cadillac, made with Galliano, Crème De Cacao White and heavy cream. The Coconut and Wild Mushroom Bisque left me speechless and the lobster was divine. Coconut shrimp is usually a winner and that held true. The Passion Fruit Crème Brulee was a game changer. And the service, once again, was how it should be done.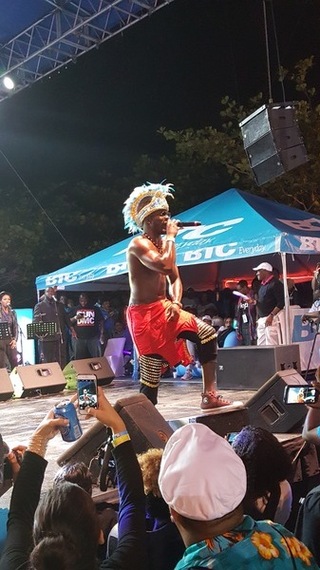 A full belly gave me all the energy I needed for a true marathon. So I thought. We jumped on the shuttle van and were joined by Avvy Bahamas, one of the singers competing for that $20,000 in Nassau. The crowd at Taino Beach was in full party mode. There were costumes and lots of energy. The two female hosts commanded the stage, cracking the crowd up with their keen observations. One host investigated whether the abs of one of the male performers were actually real. Others showed how to bring the spirit and the crowd delighted. Cherished seasoned performers Visage truly brought the party.
We didn't do it all because we were flying out hours later and some of us needed some rest. Now that I know how it goes down, I will store up on sleep and do it properly next year as I also make my way to Nassau! Will you join me?
Calling all HuffPost superfans!
Sign up for membership to become a founding member and help shape HuffPost's next chapter