CBS's new Matt LeBlanc sitcom Man With a Plan needs a Plan B.
Debuting at 8:30 p.m. ET on Monday, Man With a Plan seems to hope that if it blends enough time-tested comedy elements - impossible but lovable kids, quirky parents and LeBlanc - they will add up to a winning combination.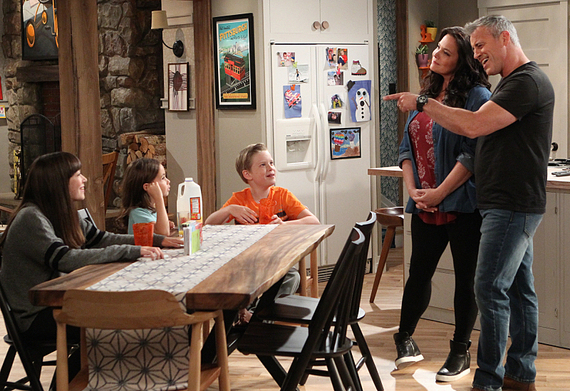 They don't. They add up to a serviceable sitcom, one that's relatively painless to watch without offering anything fresh or compelling.
As with too many sitcoms, it feels like the writing sets up a series of unremarkable jokes rather than, say, developing characters.
LeBlanc plays Adam, a contractor who is happily married to Andi (Liza Snyder). They have three kids: Kate (Grace Kaufman), who is just becoming a teenager; Teddy (Matthew McCann); and Emme (Hala Finley), who has just started kindergarten.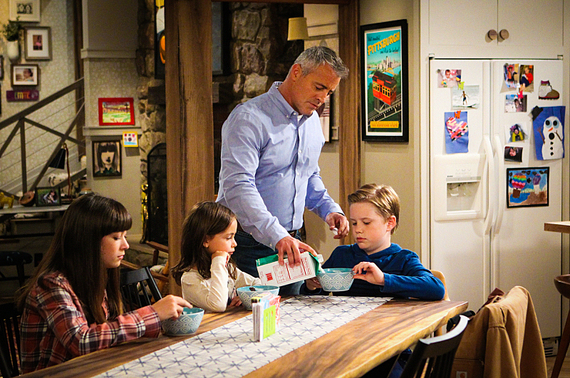 Because all three (above) are now in school, Andi is returning to her job as a nurse. That means Adam has to take over supervision of the home front, which he soon realizes is a very different role than coming back at 6:30 and being "Daddy Fun Times."
It's a premise anyone who has had kids or has been a kid understands. Man With a Plan still seems to feel it has to lurch its way through an explanation and illustration.
In the course of the first episode, we see Adam being overconfident that there's nothing to it, startled that kids can be thoughtless slobs, overwhelmed that he can't seem to turn things on day one, and finally exhilarated when he finds the magic solution that seems to change the whole game on day two.
The magic solution, by the way, stems from his discovery that contemporary kids are addicted to their electronic devices.
Whoa! Who would have ever guessed?
The fact Man With a Plan sees that as fresh turf reflects the comedy level on which the show is operating, and it's not entirely explained by the fact that LeBlanc's Adam is in many ways the quintessential lunkhead sitcom Dad.
To reinforce that point, he ruminates on whether "jackass" is one word or two. There is an extended scene in which he leaves the house to take the kids to school and forgets the kids.
More problematic is that Man With a Plan doesn't seem to have figured out a tone.
Just when the interaction between Adam and Andi seems to have settled into tolerantly playful, they have an exchange in which he barks some very nasty things.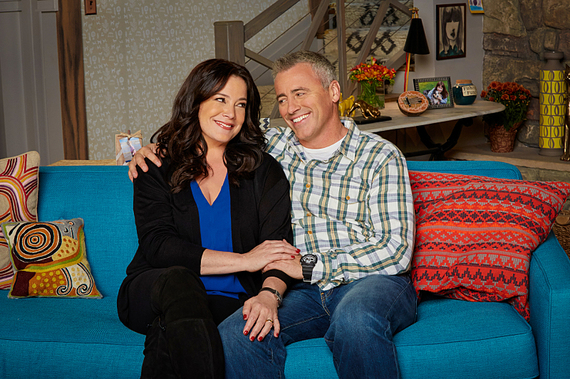 That can work in sitcoms, back to Ralph and Alice Kramden in The Honeymooners. We just have to know the characters well enough to understand that's how they talk. We don't know Adam and Andi well enough yet to be anything except startled.
And by the way, viewers may also start to wonder exactly how Adam is going to run a contracting business when he never seems to go to any job sites. Is this like the Tesla of construction? Has he developed houses that build themselves?
LeBlanc, Snyder and the kids all deliver their material well, as do the members of what will apparently be a fairly large ancillary cast.
But the material itself feels uninspired. Our first indication of a personality for Teddy is that he can't keep from sticking his hands into his pants.
Really? That's all they got?
Between Man With a Plan and Kevin Can Wait, CBS seems to be hoping we're ready for a modest revival of good-hearted Dumb Dads this season.
For Dumb Dads to work, though, there have to be smart comic brains behind them.
REAL LIFE. REAL NEWS. REAL VOICES.
Help us tell more of the stories that matter from voices that too often remain unheard.