Seattle's New Century Theatre Company recently premiered Festen, an intricate portrait of seriously dysfunctional family whose issues come to a head when everyone returns home for the patriarch's 60th birthday. The show is brilliantly staged and keeps the audience on edge speculating and wondering who did what and how it will be resolved (or not). And there's a real sense that the audience is confined to witness this family in circumstances where if often feels like being in a pressure cooker about to blow.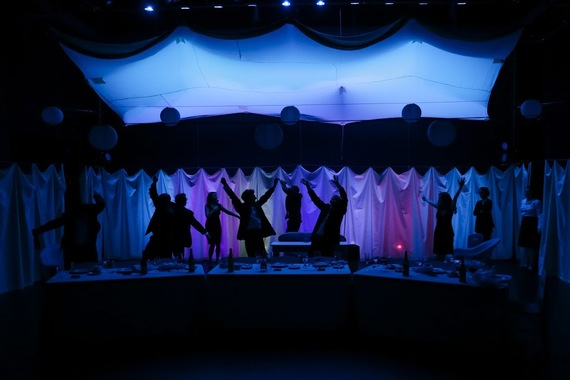 And blow it does when the eldest son confronts his father in front of the party guests. Then, the question becomes - is the son Christian, portrayed with great skill and finesse by Connor Toms, telling the truth or simply delusional?
No spoiler here. Go experience Festen for yourself. Here's how New Century Theatre Company describes the show:
"Festen takes place at a family-run hotel in the countryside where friends and family have gathered to celebrate patriarch, Helge's 60th birthday. Dark secrets revealed during the course of the evening expose the false cheeriness of the family as Helge's adult son, Christian struggles to set himself free from his past. Both horrific and ridiculous, this dysfunctional birthday party will be a night to remember."
And it was, in fact, a night and a show to remember. The actors were skillful, playing their parts with just enough drama and angst to make them believable. The staging was complex without taking away from the central dark theme. And the way in which the story flowed was exactly what was needed to have the audience involved and entertained.
All in all, Festen is a gem of a dramatic show that is not for the faint of heart. It sucks you in and takes you on a roller coaster ride that left me feeling more alive than when I walked in the door. Festen runs through November 21 at 12th Avenue Arts in Seattle's Capitol Hill neighborhood.
Calling all HuffPost superfans!
Sign up for membership to become a founding member and help shape HuffPost's next chapter