Salero
621 W Randolph Street
312- 466-1000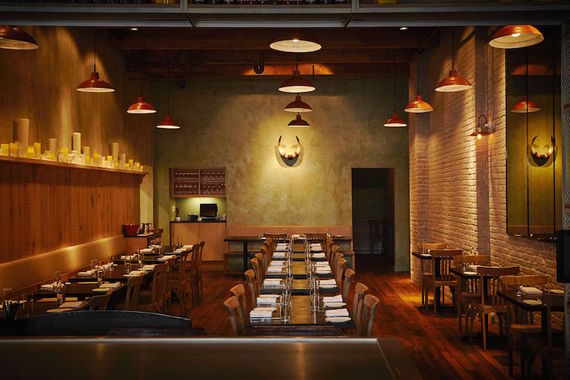 Ashlee Aubin has a résumé bound to get him investors to open Salero, where he is chef-partner: He did stints at Chicago's Zealous and Alinea, then opened his own place, Wood, in Lakeview. Salero ("salt shaker") is a modern Spanish restaurant and every bit an expression of Austin's own personality: He calls it "Midwest, inspired by Spain."
I dined outside, a lot less noisy than inside a room of white stucco, high ceiling, rustic iron chandeliers, and a set of bull's horns. The tapas, or pintxos, are lavish, from grilled shishito peppers ($5) with an appropriate sea salt crunch to a tempura-fried pimento pepper stuffed with more shishitos and housemade.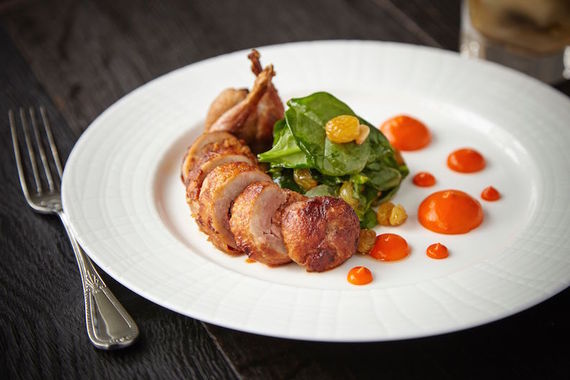 Aubin and chef de cuisine Anderson Hardy charm you with the entradas (appetizers) like marvelous chorizo-stuffed quail with wilted spinach, garlic, golden raisins, pine nuts, piquillo pepper puree ($14), a small dish with very big aspirations. Gulf shrimp, heads on and very juicy, were quickly grilled à la plancha and served with a grits cake, pepitas, huitlacoche mushroom puree and a spicy piperade ($15).
On the platos fuertes main course menu, don't miss the confit of potatoes à la plancha with a sunny side up egg, green romesco, sweet grilled eggplant and tetilla cheese ($25), or the juicy, nicely chewy hanger steak with crispy zucchini fritter, tender sweetbreads, roasted carrots, black garlic and grilled tomato gilded with a lush Béarnaise ($29).
Try at least one dessert (all $10), either the flan with fresh cheese, annatto seed, blood orange gel and saba caramel, or the piping hot churros fingers with whipped, salted chocolate, espresso pudding and milk jam.
Aubin manifests all the virtues of contemporary Chicago dining--big flavors, big portions, moderate prices, all within a personalized framework of dishes that are all his yet owe so much to the traditions he loves.
Honey Butter Fried Chicken
3361 N. Elston Ave.
773-478-4000
http://www.honeybutter.com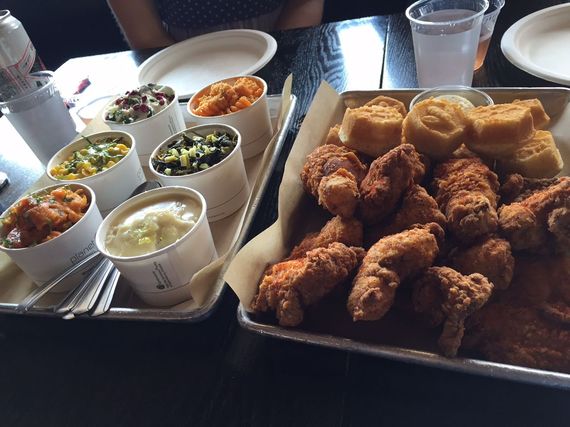 "We believe that you should feel good about your food--where it comes from, how it's prepared, how it is served and by whom. So when you eat our chicken, our sides and desserts, we hope you'll spend some time thinking about the ideas behind every bite."
So reads the home page of Honey Butter Fried Chicken, written by owners Joshua Culp and Christine Cikowski, who buy antibiotic-free chickens and convert used frying oil into bio-fuel.
Treating great ingredients the right way, from chicken to desserts, makes an enormous difference easily understood from your first bite of creamed corn with Thai green curry ($3.75) and the chocolate toffee cocoa nib cookie ($2). The glory of Honey Butter Fried Chicken is, of course, meaty pieces of poultry, slathered with their housemade honey butter, among the best chicken I've had--two pieces with corn muffins $8, four pieces $15, 8 pieces $28. They add schmaltz (chicken fat) to the smashed potatoes ($3.75); the collards get a dose of bacon and tangy preserved lemon ($3.50). I'm not yet sure why pimento cheese is such a Southern favorite, but the version here comes melted over macaroni with garlicky breadcrumbs ($3.75), so I'll give it a begrudging but admiring shrug.
Midwestern hospitality can be infectious, so ten minutes after you're inside, you'll feel like an old friend to the owners and servers. Half an hour later, you might be singing their playlist right along with them.

Open for lunch and dinner Wed.-Sun.
Pub Royale
2049 W Division Street
773-661-6874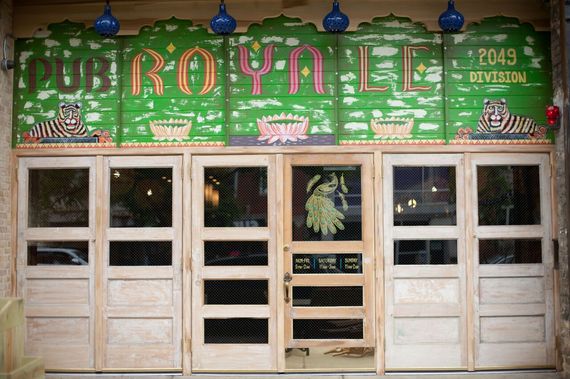 You need search no further for Anglo-Indian fare in Chicago than Pub Royale because nowhere else will you find it. Fortunately what Matt Eisler and Kevin Hiesner, along with culinary developer Jason Vaughan, have fashioned in this neighborhood near Ukrainian Village is a winning example of this not-so-unusual amalgam of food and drink.
This cheery, six-month old gastropub, with dozens of beer on tap, along with cider and wines, has a décor like a Hollywood set for a 1930s movie in the Punjab, including a white peacock. I can't comment on the noise level because I was there at lunch, but I can imagine it's not like a tea party after six PM.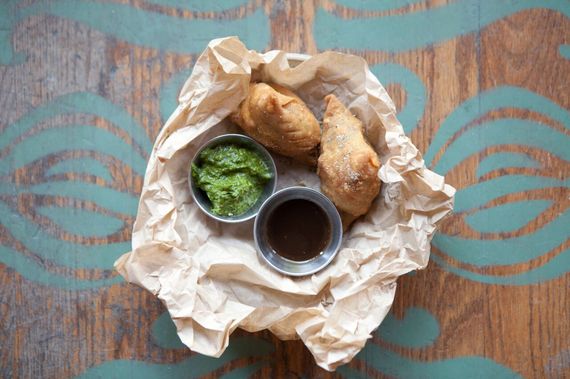 The menu is arranged on a broadsheet, and with prices that range from $4 to $13, you are likely to binge, and the portions are of good enough size to share. There's a tilt towards vegetables in dishes like crisp, fried samosas filled with potatoes, onion and peas, and delicious peanut noodles with eggplant, long beans and shredded cilantro. The Gobi Manchurian is a fine dish of cauliflower, sweet and spicy Manchurian sauce, sesame and cashew, and there's a terrific garlic-scented, smoky naan bread with fried onion, butter and touch of coriander. I ate everything greedily, not least a marvelously aromatic India hot chicken with "crazy pickles" and "chewy" naan.
For dessert "banoffee sweet stack" is everything it suggests--bananas, peanut butter, caramel, and whole wheat flatbread, rather like an IHOP brunch item.
Pub Royale would pass for contemporary Indian, but the owners and kitchen have given everything a distinct twist that shies away from the muddy-sauced staples of so many Indian restaurantsPub Royale is far more inventive, more concentrated on textures, and whatever the Anglo connection, it's really more about the amusing décor than about the good old days of the Raj.

Open for lunch and dinner Mon.-Fri., for brunch Sat. & Sun.