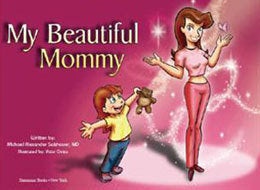 What does one tell a child who's mother has just come home with a brand new nose? What does one say to the son who's mother is 150 lbs lighter and almost unrecognizable? These are the questions answered in My Beautiful Mommy, a new kids book that goes on sale, of course, this coming Mother's Day.
According to the Newsweek article, the book features:
a perky mother explaining to her child why she's having cosmetic surgery (a nose job and tummy tuck). Naturally, it has a happy ending: mommy winds up "even more" beautiful than before, and her daughter is thrilled.
Like Newsweek, you're probably wondering:
What's the market for a children's picture book about moms getting cosmetic surgery? No one specifically tracks the number of tummy-tuck-and-breast-implant combos (or "mommy makeovers," as they're called), but according to the latest numbers from the American Society of Plastic Surgeons, breast augmentation was the most popular cosmetic surgery procedure last year, with 348,000 performed (up 6 percent over 2006). Of those, about one-third were for women over 40 who often opt for implants to restore lost volume in their breasts due to aging or pregnancy weight gain. There were 148,000 tummy tucks--up 1 percent from the previous year.
The book is written by Dr. Michael Salzhauer, a board-certified plastic surgeon in Bal Harbour, Fla.
Salzhauer got the idea for a book after noticing that women were coming into his office with their kids in tow. He says that mysterious doctor's visits can be frightening for children. "Parents generally tend to go into this denial thing. They just try to ignore the kids' questions completely." But, he adds, children "fill in the blanks in their imagination" and then feel worse when they see "mommy with bandages," he says. "With the tummy tucks, [the mothers] can't lift anything. They're in bed. The kids have questions."
To see hilarious coverage on My Beautiful Mommy from HuffPost sister site 23/6 click here.
You can check out some HuffPost coverage of the similarly inappropriate children's "virtual fashion site!", Miss Bimbo, here and here.