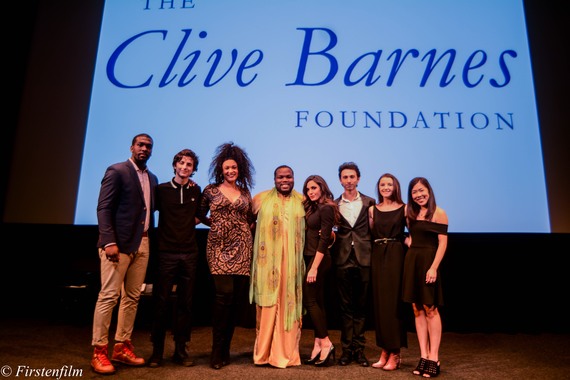 The 7th Annual Clive Barnes Award finalists prior to the awards ceremony at the Walter Reade Theater, Lincoln Center. From L to R: Khris Davis, Timothée Chalamet, Nora Schell, Juwan Crawley, Elena D'Amario, Spartak Hoxha, Indiana Woodward, and Andrea Yorita (Photo: Al Firstenberg)
Khris Davis won the 2016 Clive Barnes Award for Theatre for his knockout performance in Marco Ramirez's The Royale, while Indiana Woodward, a standout member of the corps de ballet at New York City Ballet, won the Clive Barnes Award for Dance. The awards were announced amid an enthusiastic gathering of veteran performers, critics and fans at Lincoln Center's Walter Reade Theater on Monday, January 9.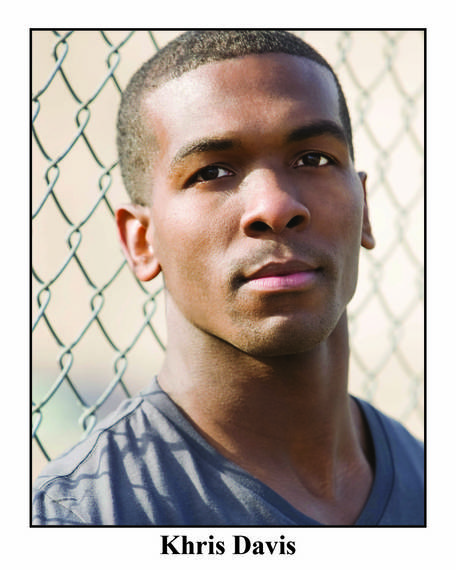 The prolific theater and dance critic Clive Barnes, whose influence spanned two continents before his death in 2008, was an astute spotter of emerging talent. In Britain, he was an early champion of George Balanchine and Martha Graham. He also singled out the 19-year old Mikhail Baryshnikov while he was still a student at the Vaganova School in Leningrad.
Barnes' widow, Valerie Taylor-Barnes, a former soloist with The Royal Ballet, noted that "the very last review that Clive wrote included a prediction about the (then) very young Daniil Simkin for whom he foresaw a great future. Others whom he spotted early on include Isabella Boylston, Fernando Bujones, Julio Bocca and Alexandra Ferri."
In recent years, Taylor-Barnes has kept her husband's spirit alive in a gracious and practical manner: by bestowing recognition - and $5,000 - on two young, up-and-coming artists each year.
Finalists for these awards all receive a cash prize as well. This year the distinguished group included Juwan Crawley and Nora Schell from the Off Broadway parody Spamilton, Timothée Chalamet from John Patrick Shanley's Prodigal Son, New York City Ballet's Spartak Hoxha, Elena D'Amario of Parsons Dance and Andrea Yorita of Philadelphia's contemporary dance troupe BalletX. They were nominated by a committee that included William H. Ausman, Siobhan Burns, Diana Byer, Frank DiLella, George Dorris, Barbara Hoffman, Arthur Mitchell, Patrick Pacheco, James Sutton, Craig Wright, and Taylor-Barnes.
Theater critic Michael Riedel played emcee. Joel Grey, fresh from The Cherry Orchard at the Roundabout, and New York City Ballet principal Ashley Bouder presented. Last year's winners, Dave Thomas Brown (The Legend of Georgia McBride) and Gabe Stone Shayer (American Ballet Theatre), reminisced on the year gone by. Brown noted half-seriously, half-whimsically that the Clive Barnes Awards are "the opposite of a lifetime achievement award."
His comment threw into relief the lack of appetite for risk-taking in the American performing arts world, where grants and competitions are heavily skewed toward artists who've already achieved substantial recognition.
Taylor-Barnes maintains that "Clive was always excited and curious about all new things in theater; at the same time he had a wonderful capacity to dismiss those that he felt to be bogus and insincere."
Previous Clive Barnes Award winners include Nina Arianda (2010), who subsequently took home a Tony in 2012 for Venus in Fur, Lloyd Mayor (2013), who has embraced a number of high-profile roles in his relatively brief tenure at the Martha Graham Dance Company, and Alex Sharp (2014), who in 2015 became the youngest Tony Award winner for Best Actor in a Play for The Curious Incident of the Dog in the Night-Time.
As Monday's awards ceremony drew to a close, Taylor-Barnes sent the young artists on their way with the Foundation's "best wishes for a wonderful life in the land of make-believe," promising them that "we will always have your backs."
Related
Popular in the Community