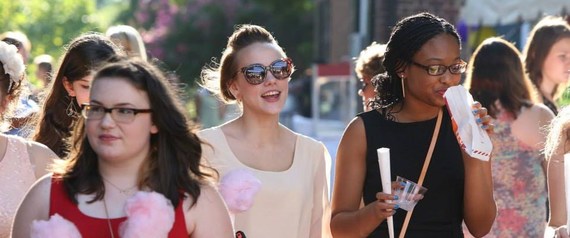 Photo Caption: Salem College located in Winston-Salem, North Carolina
Photo Credit: Jordan Brannock Photography
With the influx of college-bound high school girls applying to women's colleges, colleges for women are becoming the new college cool.
Now, some of you young ladies might be thinking, "No way, not for me, I had enough girl drama in high school." (An understandable sentiment held by many who ultimately decide to attend a women's college, I might add.) The girls who changed their minds took the time to see if a single-sex college was right for them. Those that decided it was the best fit say it's the best decision they've ever made.
So why is there an increased interest in women's colleges? And how do I know that the women who decided to attend are thrilled that they did?

For the past two-years I've connected with women's colleges across the country as well as with their future students, current students, and recent alumnae intending to blog about my findings. During this time I learned about the many wonderful things going on in the world of women's colleges, all contributing to this cool influx.
Learning about new facilities, buildings and/or residence halls being built or renovated to accommodate new and future students was inspirational. Hearing about the extraordinary support provided by alumnae, by generously giving of their money and/or time, was remarkable. Seeing women's colleges cement their relevant for future generations of women by continuing to add new areas of study or update current programs makes me proud to be an advocate of women's colleges.
Speaking with students, they shared their stories and dreams with me as they entered college or progressed as students. Each has a unique personality; some are confident and outgoing, while others are more shy and reserved. What they have in common is that they are academically focused, mature, and fairly independent. In the end, regardless of their individual stories, dreams or personality, they are all amazing!
When I speak with recent alumnae, they all say the same thing; they felt well prepared to continue on to graduate school or launch a career after graduation. Many credit their alma mater as being the place where they found their voices and only now do they truly appreciate the many advantages of attending a women's college. As they reflect upon their college selection process, they realize that they would have missed out on a fantastic opportunity had they not included women's colleges on their campus visit list.
Now, I'll share with you the top reasons students are choosing women's colleges.
Excellent academics/programs (majors) of interest with small classroom sizes
Empowering environment that provides leadership opportunities, study abroad possibilities, and the chance for self-discovery
Exceptional professors and faculty who are accessible and supportive
Alumnae connections and loyalty
Sisterhood
And campus life is far from dull! Women's colleges offer a variety of campus activities and traditions (some are crazy-fun, others are somber) that form a cohesive community and foster friendships that last a lifetime. If you like the idea of not being distracted by boys in the classroom, but still want to meet them, all-women colleges provide the best of both worlds. Many women's colleges are located close to coed colleges, providing ample opportunity to mingle.
So there you have it--why women's colleges are fast becoming the new college cool.
I hope I have piqued your curiosity and you are eager to learn more. If so, I encourage you to decide for yourself whether a women's college will provide you with the space and support that inspires, empowers, and transforms, as so many other young women have experienced.
Take the first step. Get to know the women's colleges that offer your major with the right geographic and admission requirements. If you're unfamiliar with the colleges that are for women, visit my blog: Advantages of a Women's College. Here you will find a comprehensive listing of all women's colleges located in the United States with links to the college Web sites.
Visit the campuses of women's colleges that look promising, and who knows, you might find yourself going from "No way" to "Yes" after learning more.
Related
Popular in the Community