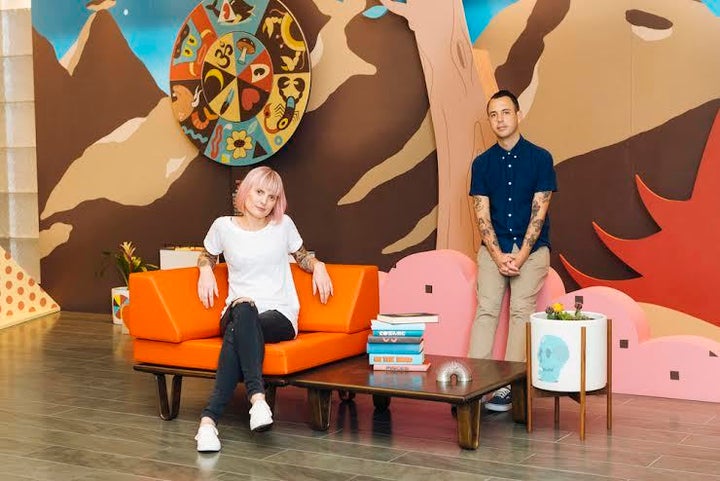 The LA-based Australian born husband and wife team DABS MYLA have a new art and design project at the Viacom building in Times Square. Mostly known for their widespread tags and murals in the streets of LA and worldwide, the two collaborated with mid-century furniture manufacturer Modernica to create one of their largest projects in New York to date, an interactive playground of sorts that encourages visitors to truly engage (touch, listen, and play) with a plethora of painterly and sculptural elements prominently featured in their two-part installation.
As you enter the lobby of the building, you are met with a vibrant, cartoonish mise en scène-esque installation that features handmade board games, hand-painted records with a turntable, zodiac wheels with real fortunes, a retro cassette player with the couple's mix, and a sound-proofed tipi for any visitor seeking refuge from the chaos of Times Square.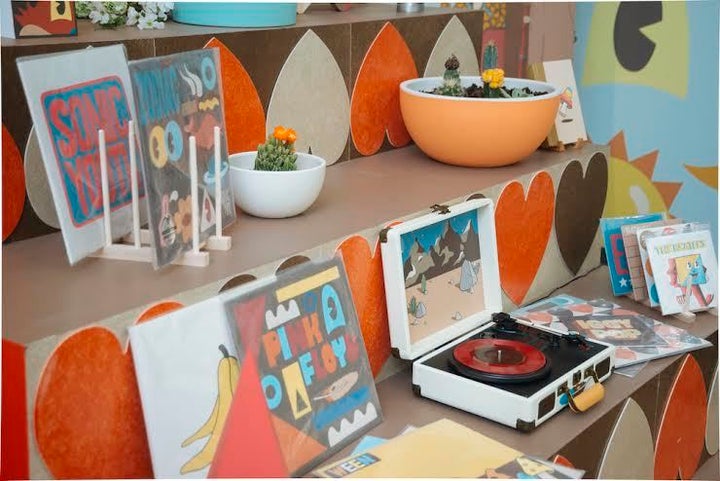 The installation, titled New Cosmic, a nod to the many astrological references in the work, also includes an animated video on the building's façade that incorporates the couple's signature style of characters from Golden Age animation of the 1930s through 60s.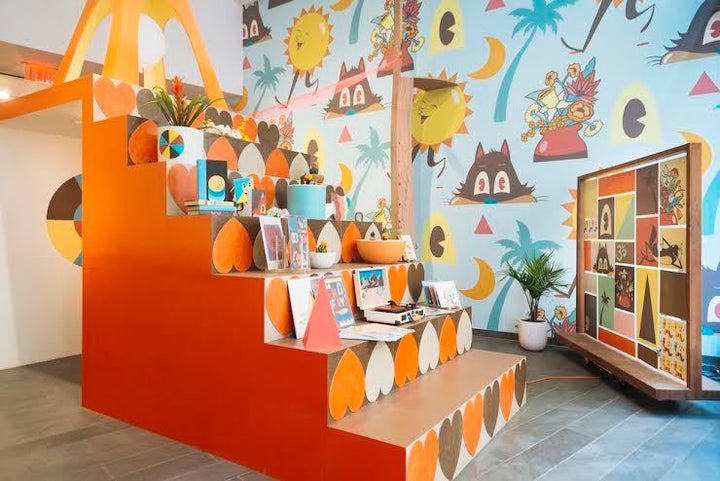 I spoke with DABS MYLA about what sparked the idea for this new installation.
What inspired you to transition from painting outdoor murals to creating installations?
We have been working together for about 11 years, and when we started first working on exhibitions together we were both very interested in building installations. We both loved the idea of creating environments and having exhibitions that were beyond just paintings on a wall.
The first exhibition we had together in 2006 we built an installation and from that point we have been continuing to push the element of installation and the possibilities of what we can create within a space to completely transform it.
As artists who often collaborate with other artists, what was the experience of collaborating with a furniture manufacturer such as Modernica?
Our 'New Cosmic' installation is the second time we have collaborated with Modernica. The first time we worked with them was last year when we teamed up with them on 'Before and Further' our solo exhibition and installation in Los Angeles. They are an amazing company and have the same passion for mid century North American design as we do as well as they also pay a lot of attention to detail which is something that we are also striving towards...so collaborating with them is such and easy process and so enjoyable.
What were the challenges of creating work in an unconventional space as opposed to a traditional gallery?
It was interesting working in a space like the Viacom lobby. There were a few restrictions to the surfaces in the building but that challenge made the installation take shape in a different way than a conventional gallery space would. We were also mindful of each area and its purpose. Part of the installation is in a waiting area, so we wanted to put plenty of small details for people to interact with and to keep people interested in the space while they wait.
You cite a trip to India's Jantar Mantar and another one to Joshua Tree as big inspirations for this project. As artists do you think it's important to find time to explore the world outside of the studio? If so, how has other travel inspired you?

We really love working in our studio and we work long hours on paintings and planning for projects there...but we really love traveling and the break away from our studio work which is an important part of our creative process.
We are often leaving our studio in Los Angeles to work on murals, installations and projects around the world and from these experiences together we find inspiration from the places we visit and use that in our work.

What would be your dream project in the near future?
We would love to paint an entire small town! Everything from the houses, details inside the houses, lampposts, letterboxes...everything!!! It would take us months and months but we would love the challenge!!!
Below find a great playlist the artists made to go with the installation.